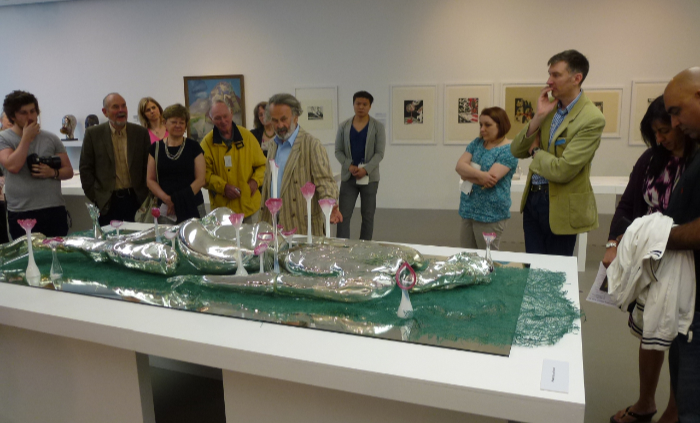 In memory of Erwin Eisch (18 April 1927 – 25 January 2022)
Here Helmut Ricke shares his recollections of Erwin Eisch, a pioneer of the studio glass movement and founder of Bild-Werk Frauenau in Germany.
It didn't hit the glass world unexpectedly, but still it came as a shock, as a turning point and at the same time as a conclusion. Erwin Eisch, the last representative of the founding generation of the International Studio Glass Movement, died on 25 January in Zwiesel, near Frauenau, Germany, at the age of 94.
Thus ended the life of an artist whose importance for free working with glass, in Germany and far beyond, can hardly be overestimated. His historic role as inspiration for Harvey Littleton on his crucial European trip in 1962 is undisputed. His work built the bridge from Europe to the USA for modern glass.
The stages of his long artistic life are well known: 1946 to 1949 an apprenticeship as a glass engraver in his father's workshop, 1949 to 1952 and 1956 to 1959 studies at the Academy of Fine Arts in Munich, where he was also a member of the artists' group SPUR; in 1960 shaking up the Munich art scene with the group RADAMA, and their spectacular exhibition for the fictional artist Bolus Krim. His return to Frauenau and work in the family business there, and soon at his own furnace.
From 1960/61 he undertook intensive "provocation of form" through freely designed non-functional vessel objects; 1962 saw his first solo exhibition in Stuttgart and the beginning of the friendship with Littleton and, from 1964, numerous trips to conferences and courses in the United States, Europe and Japan.
In Frauenau, with Eisch's participation, the glass museum got off the ground. Bild-Werk Frauenau was founded as an International Summer Academy. Symposia were organised and the idea of a Bavarian Forest National Park and other projects in the region were promoted.
The focus of Erwin Eisch's art was, for him, the human in the broadest sense. This applied above all to his painting, which was always a priority, but also to his glass works, with which he always endeavoured to achieve the spontaneous, emotional effects of his painting. When working with glass, the hot material formed directly at the furnace became his very own medium. The behaviour of the flowing, molten glass mass in the fire, which became the starting point for the Studio Glass Movement, remained his preferred means of expression throughout his life, and he never renounced its spontaneous effect.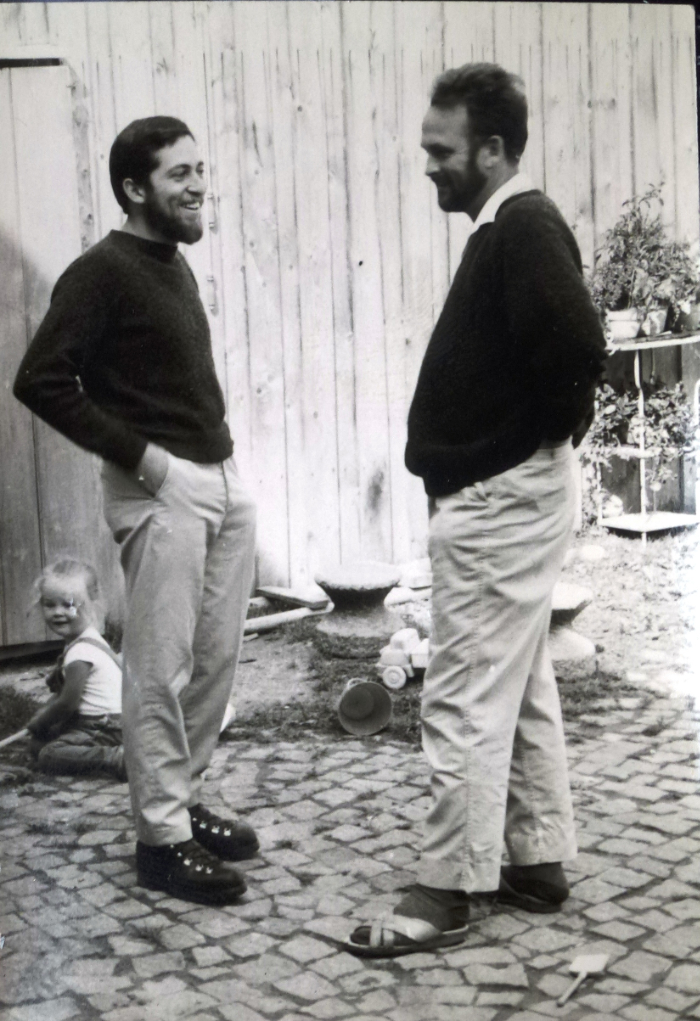 He often used moulds prepared by his wife, the sculptor Gretel Eisch, for his objects. These pieces were then shaped through free forming at the furnace and subsequent painting, gilding and engraving. Short titles, quotes or half-sentences often became the carrier of meaning. The occasional poetic cut of these words was always part of the overall effect and encouraged the viewer to engage with the work.
Every inch a man of conviction, Eisch fought for his views throughout his life. Formative experiences in the Nazi era, in the war and in the immediate post-war period formed an important background for his life and his creative work, but did not prevent him from often giving his work a humorous edge.
Conversations with him were always lively and eye-opening. If you met him in exhibitions or jury meetings, there was always engaged discussion. But for him it was not about being right, or about self-aggrandisement or one's infallibility, but about a firm attitude that had to be defended.
Erwin Eisch will be missed not only because of his art, but also as an unmistakable voice in the discourse of international glass art.
By Helmut Ricke
Main image: Erwin Eisch at his solo exhibition at the UK's National Glass Centre in 2013, with his 'Narcissus' installation in the foreground. This was a version of his important 1971 piece and went to the V&A museum in London.
Note: Bild-Werk Frauenau has published an online 'book of condolences' featuring many pictures. View it here.
Glass Network digital brings you all the latest news and features about contemporary glass
Send your news, feature ideas or advertising requests to the Editor Linda Banks