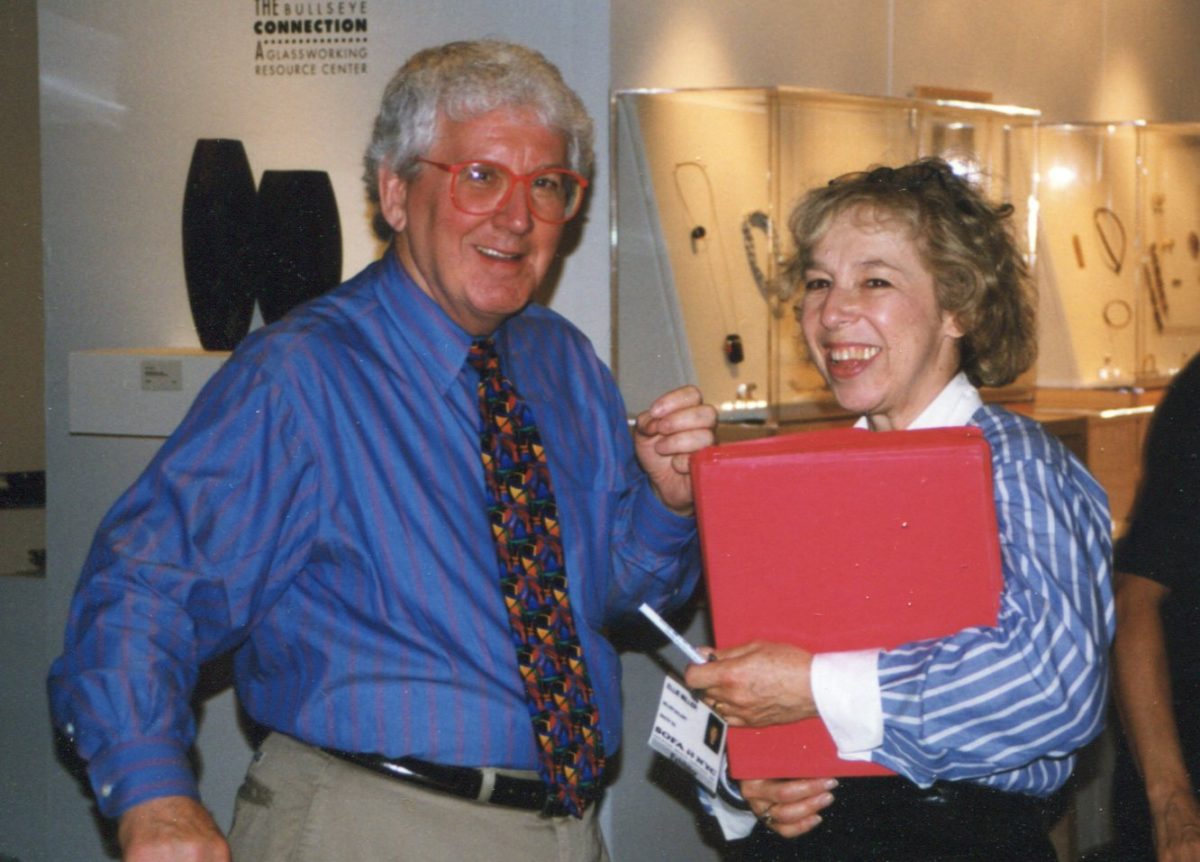 In Memoriam: Ellie Miller
Ellie Miller, who co-owned the Miller Gallery in the USA with her husband, Bob, died on 1 September 2020 after a long battle with colon cancer. Ellie and Bob championed the work of British and Irish glass artists, encouraging them to showcase their art in their gallery from the 1980s onwards.
Their first gallery, The Studio Glass Gallery of Great Britain, was established in Montclair, New Jersey, in the mid-1980s, before moving to Manhattan and becoming the Miller Gallery. It was responsible for bringing UK artists, such as David Reekie, Keith Cummings and Colin Reid to the attention of American glass collectors.
Ellie previously held roles as a director of UrbanGlass and the Creative Glass Center of America. She and Bob participated in many SOFA and Wheaton Glass Weekend events until they closed their gallery.
One of the glass artists whose career in the USA was boosted by Ellie's support, David Reekie, adds his own tribute:
It was with great sadness that we have heard the news that Ellie Miller has died.
Through their gallery in New Jersey, Bob and Ellie created a valuable stepping-stone for many young British and Irish glass artists into the United States.
The 1980s represented an important time for contemporary glass in the UK, as glass courses in art colleges were thriving and galleries specialising in glass art were opening their doors.
Ellie and Bob Miller crossed the pond to attend British Artists in Glass conferences and made many friends by encouraging young artists to show their work in the States.
In the late 1980s they moved the gallery to central New York, establishing the Miller Gallery on Broadway. It became a very important international gallery specialising in sculptural glass art, but still remembered its roots and continued to exhibit the work of British creatives.
Ellie and Bob retired in 2001. Ellie was a wonderful, happy and encouraging woman and she will be missed by the glass community.
David Reekie
Glass Network digital brings you all the latest news and features about contemporary glass
Send your news, feature ideas or advertising requests to the Editor Linda Banks