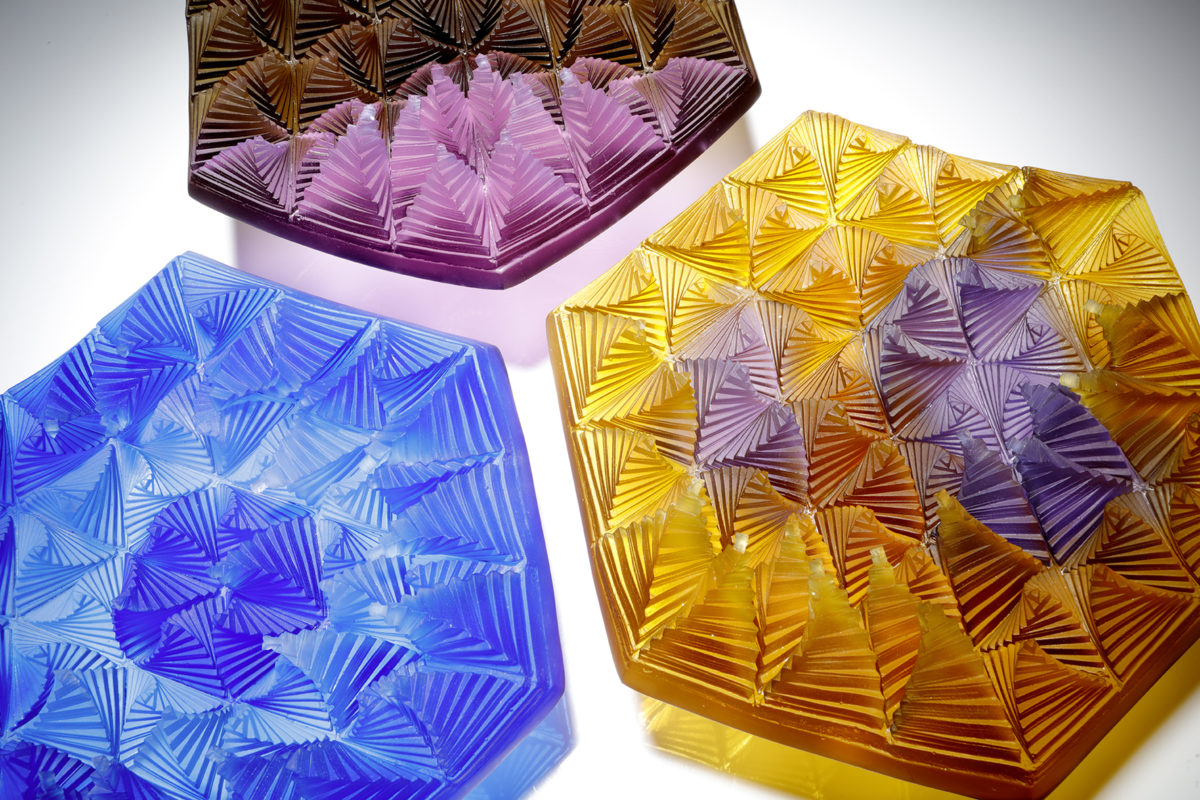 Glass masterclasses at the Glass Hub 2020 & 2021
A selection of exciting glass courses is on offer at the Glass Hub in Wiltshire, UK, in the closing months of 2020 and into 2021. Why not book a class with an expert glassmaker and give yourself something to look forward to that will also enhance your skills? Have a look at the choices below:
8 to 11 October 2020: Experimenting with Colour Dropouts with Ruth Shelley
14 to 16 October 2020: Advanced Pattern Making in Glass Masterclass with Ian Chadwick
8 to 9 November 2020: Colour and Form Masterclass with Katherine Huskie
11 to 13 November 2020: Fusing Doesn't have to be Flat with Nina Casson McGarva
20 to 22 January 2021: Form to Fuse Masterclass with Andrea Spencer
1 to 5 February 2021: Flexible Fusing Masterclass with Matthew Szösz
8 to 12 February 2021: Advanced Pattern Making in Glass Masterclass with Ian Chadwick
2 to 5 March 2021: Collage for Kiln Casting with Georgia Redpath
12 to 14 March 2021: Hot Glass Sculpture with James Devereux
30 March to 1 April 2021: Graal Masterclass with Sonja Klingler & Ruth Dresman
21 to 23 April 2021: Printing Techniques for Glass with Philippa Beveridge
14 to 16 May 2021: Fusing with the 'Wow' Factor with Opal Seabrook
25 to 28 May 2021: Kiln Casting Glass Masterclass with Fiaz Elson
11 to 17 September 2021: The Perfect Vessel Masterclass with Karl Harron
29 September – 1 October 2021: Follow the Torch – Hot Glass Masterclass with Elliot Walker
14 to 17 October 2021: The Freedom of the 'One-Off' – Ice Casting Masterclass with Joseph Harrington
In addition to these classes, the Glass Hub has a programme of courses for less advanced students. All classes will be run in accordance with COVID-19 regulations. Find out more via the website: https://www.theglasshub.co.uk/glass-courses.html
Photo: Colony of Colonies by Georgia Redpath; Photo Credit: Simon Bruntnell.
Glass Network digital brings you all the latest news and features about contemporary glass
Send your news, feature ideas or advertising requests to the Editor Linda Banks