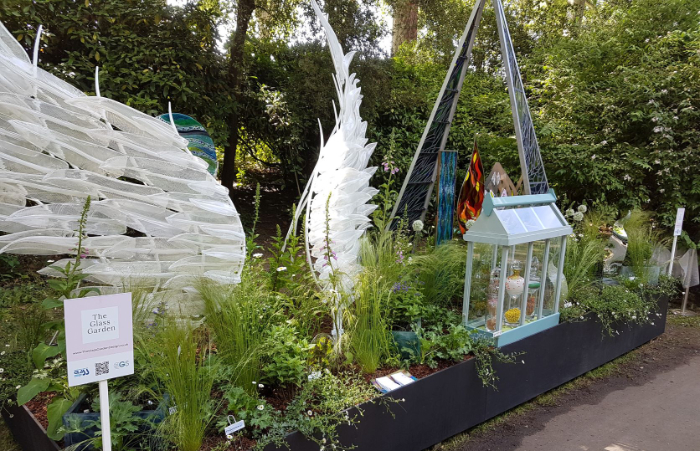 Glass Garden a hit at RHS Chelsea Flower Show 2022
Artist and curator, Gabrielle Argent, is the force behind the creation of The International Year of Glass Garden at RHS Chelsea Flower Show 2022. Here she reviews highlights from this year's event.
Unless you have visited the RHS Chelsea Flower Show, you may not understand the appeal. Simply, it's an international shopfront where 168,000 affluent visitors come to discover beautiful living spaces, sculpture and gardens.
As an aspiring glass sculptor with bucket list goals, Chelsea is top of my list. Extraordinary things happen when you take a leap of faith, and my experience of this event has been 100% positive. I met the right people to collaborate with and had their support from day one.
When I put out the call for participants through the Contemporary Glass Society (CGS) in February, I could not have known that life-long friends would be made. I described an ambitious plan of showcasing glass sculptures and these very brave artists stepped forward.
Thanks to Emma Butler-Cole Aiken, Ian Godfrey/Gail Boothman, Anthony McCabe, Lisa Pettibone and Layne Rowe for allowing me to curate their work.
As soon as the artists were on board, my marketing brain kicked into gear. The press releases were written, the logo was created, and the website built. Press packs were sent to the RHS well in advance. The RHS rules, regulations, health and safety and insurance requirements are onerous and challenging. It took two months to get the paperwork needed by the RHS in place, leaving little time to make glass for the event.
A comment from the show manager the day before judging made up for the anxious months of preparation, when she said the display was 'outstanding'. That was the moment I began to enjoy the experience. An article about us in the Daily Telegraph was a bonus and the private view by the Queen and members of the Royal Family was a highlight.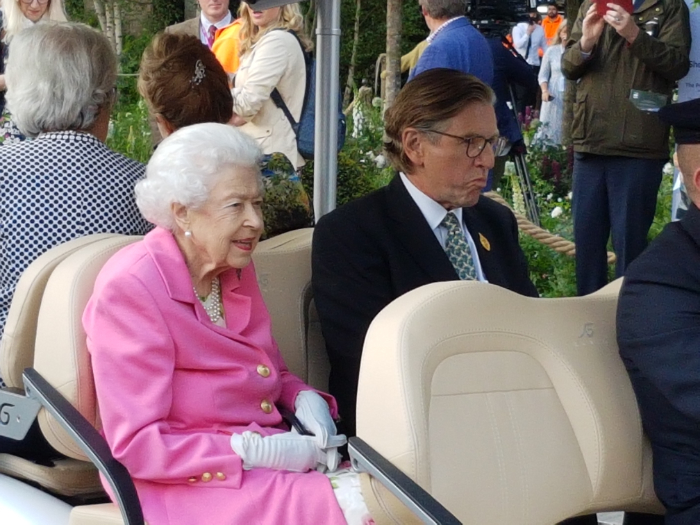 Emma Butler-Cole Aiken, a stained-glass artist from Selkirk, was the first to install. Her 3-metre high, 'Sails' is a majestic piece of art reminiscent of the stunning church windows she is known for. When the sun shone through the panes of blue and green glass, the colours had us spellbound, cameras in hand.
I met glass blower Layne Rowe through a recommendation from Peter Layton of London Glassblowing. His 3-metre high/wide 'Solace' angel wings have been shown at two cathedrals – Ely and St Albans – and the installation is destined to be displayed at the British Glass Biennale later this year.
'Solace' was a showstopper. Hundreds of visitors wanted to pose as angels, with the hashtag #TheGlassGardenDesign. Many of them purchased a limited edition signed glass feather, a poignant symbol of remembrance and hope. Ryan Harms, Layne's business associate and maker of the bespoke metal frame, was also on hand with the installation.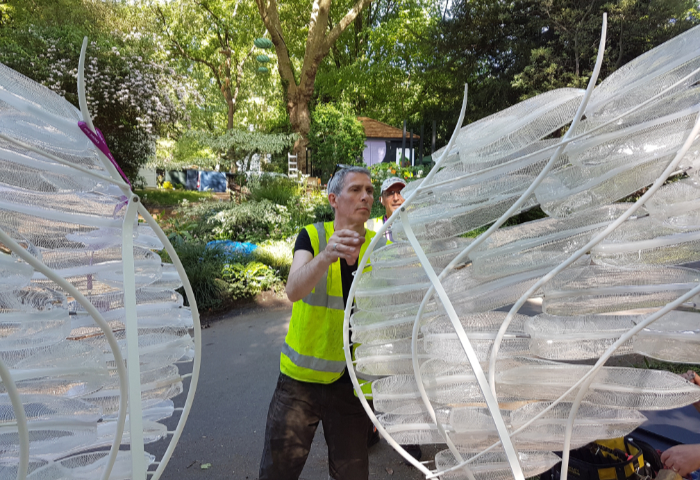 The collection was completed by Lisa Pettibone's 'Dune' and 'Silver Tongue 4', Anthony McCabe's 'Tulip', 'Lily' and 'Seed Pod' Glass Garden series, and Ian Godfrey/Gail Boothman's 'Inferno', 'Mystic Ocean' and 'Life Force', plus my own pieces.
Additional items by Sunderland BA graduate, Sacha Delabre, and prototypes of glass flowerpots from UCA Farnham university created by Emma Rawson, were also on site or featured on the website. Giving students the chance to be included at Chelsea was always a priority for this project.
We are grateful to TV personality, Andy McConnell, who interviewed our artists for the cameras and added his personal charm and wit to the event.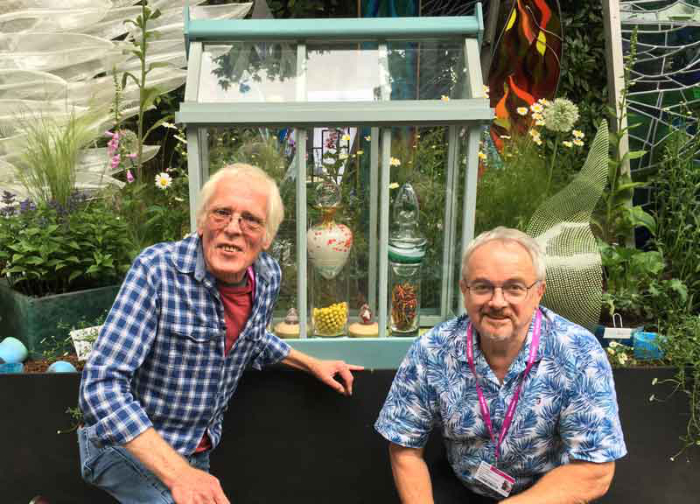 The day was extraordinary because, as if on cue, John Parker, Professor Emeritus, Glass Science and Engineering at Sheffield University arrived, and Andy interviewed him for Instagram Live about his work to ensure the United Nations' designation of 2022 as the International Year of Glass.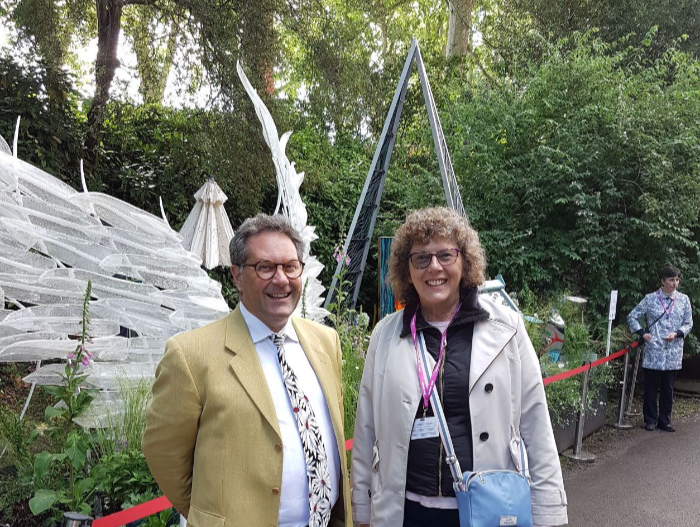 We also welcomed the President of British Glass, Matthew Demmon, to our stand and tentatively discussed support for RHS Chelsea 2023.
Supporting the CGS's 25th anniversary with a glass stand at Chelsea flew the flag for contemporary glass art and demonstrated to a reticent public that glass is safe, sustainable, practical and stunning in an outdoor setting.
By Gabrielle Argent
Read our preview news story and see more images of the glass pieces displayed at the Glass Garden here.
Main image: Several glass artists and styles were represented in the Glass Garden at Chelsea.
Glass Network digital brings you all the latest news and features about contemporary glass
Send your news, feature ideas or advertising requests to the Editor Linda Banks