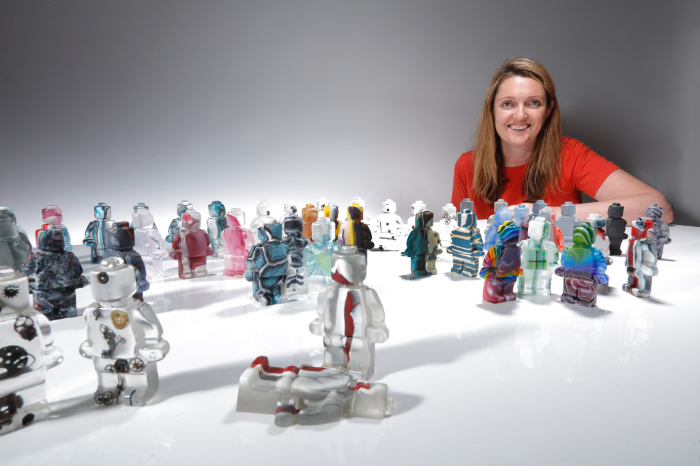 Glass characters share important recycling message
Hannah Gibson is known for her iconic cast glass figures, called Sweet Nothings, which she uses to start conversations about recycling and sustainability. Here she explains to Linda Banks how her practice has evolved, through a range of glass techniques.
What first piqued your interest in glass and working with glass?
I first became interested in glass while studying Geology at Edinburgh University. I found the concept of an amorphous solid fascinating.

Why did you choose to focus on cast glass in particular?
I have worked with glass for over two decades now. Initially, I made stained glass windows at Edinburgh Stained Glass House, before moving onto fused glass, then lampworking.
In 2015, I discovered casting. I took several courses, the first with Helga Watkins Baker at The Glass Hub, followed by others with Joseph Harrington and Max Jacquard. It was love at first sight, because I was able to combine my passions of geology and glass. It felt like alchemy to be able to interweave the two.
I studied for an MA in Glass from 2015-2017 at The University for The Creative Arts in Farnham, Surrey, returning as Artist in Residence from 2018-2019. Soon after I started my MA, I discovered that my interest lay with the glass itself. By keeping the cast shape the same, I was able to focus purely on the materiality of the glass.
As I am passionate about recycling and sustainability, I began exploring the opportunities for casting with recycled glass. I am equally passionate about showing that recycled glass can be cast and, ultimately, coldworked to a high cerium polish, which can often be time-consuming and problematic. However, I love the challenge.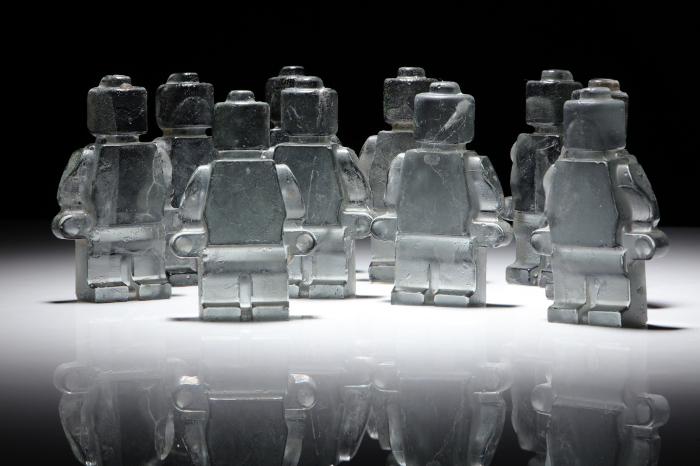 You are known for your 'Sweet Nothing' cast glass pieces. How did you decide upon their distinctive design?
My aim was to choose an immediately identifiable shape, one that hopefully brought people together, and, with it, associations of nostalgia and childhood. Keeping the figures the same meant that people soon saw beyond the shape and began to see, and question, the material itself. Each figure is called a 'Sweet Nothing'. A pair are 'Sweet Nothings', because they are often found in twos, Whispering Sweet Nothings to one another. What are they whispering? "Unless someone like you cares a whole awful lot. Nothing is going to get better. It's not." (Dr Seuss, The Lorax). 
You are keen on sustainability and recycling. How are these reflected in your work?
My focus is on predominantly recycled glass – from car windscreens to television glass, Marmite jars to Bombay Sapphire bottles, to glass from bus shelters and mobile phones. The opportunities for casting with recycled glass are endless.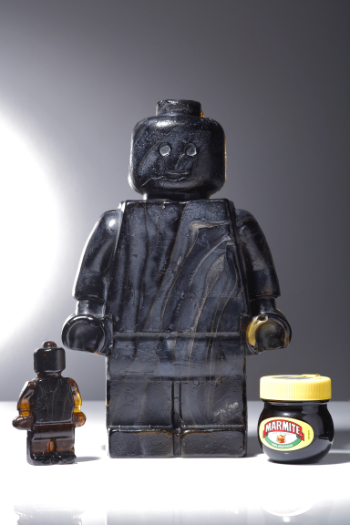 In 2015 I started working on my current project, Recycling Narratives, Whispering Sweet Nothings. I hope the Sweet Nothing figures open a dialogue about the recycling process that makes us question where the material comes from and the transformations it goes through.Through the project, my intention is to bring people together, sharing my passion for glass, sustainability, and recycling. I have given talks in schools, universities, glass societies and craft groups, inviting guests to question and contemplate glass as a material that can be recycled again and again. If they leave with a new insight into glass, I have succeeded.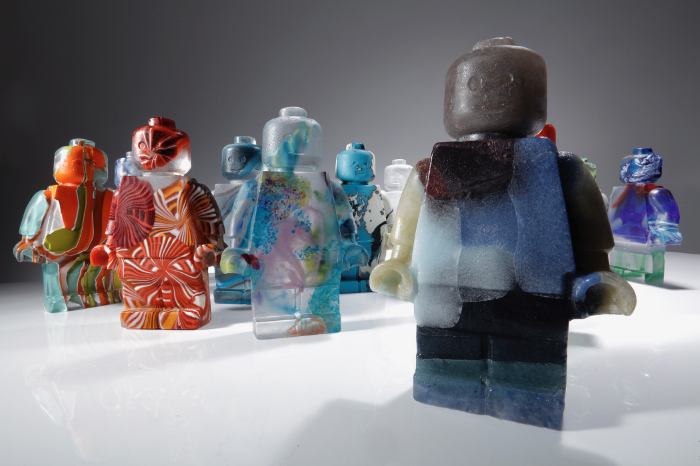 Do you have a favourite tool or piece of equipment?
My Kilncare kiln. A TLA 65.
What opportunities have helped you in your career in glass? 
A year as Artist in Residence at The University for The Creative Arts was an incredible opportunity. To have access to the studio space and equipment, and to be able to work alongside the students, was an amazing experience.
Who has inspired you and why?
I am incredibly fortunate to have met so many inspirational people. The world of glass is a community. Everyone is so generous with their time, knowledge and advice.
The list includes Adam Aaronson, Dawn Bendick, Robin Bussell, Ed Byrne, Ian Chadwick, Laura Donefer, Hannah Facey, Richard Glass, Max Jacquard, Naomi Jacques, Beth Jade Wood, Jon Lewis, Joanna Lloyd, Roberta Mason, Paul Musgrove, Sullen Parker, Thomas Petit, Sue Purser Hope, Marlene Rose, David Reekie, Morag Reekie, Frederik Rombach, Colin Reid, Bruno Romanelli, Opal Seabrook, Bailey Shooter, Angela Thwaites, Gemma Truman, Jane Vincent, Elliot Walker, Colin Webster…all truly remarkable inspirational artists.
The team at London Glassblowing (Peter Layton, Bruce Marks, Cathryn Shilling, Anthony Scala, Louis Thompson, Tim Rawlinson and Layne Rowe) have all been inspirational, as have the incredible Katherine Huskie and James Devereux at Devereux and Huskie.
K T Yun and Helga Watkins Baker have been mentors and inspiration to countless students, including myself.
The world of glass is a community, where everyone wants to share their passion. To have the opportunity to meet other artists at Northlands Creative was truly inspirational.
Have you had to adapt your practice as a result of the coronavirus? If so, how?
As with most people, I have had to adapt as a result of coronovirus, especially as I am on the official shielding register. But, as a glass artist, I am used to pivoting and evolving. It was just another challenge.

Where do you sell your work?
I sell my work at these galleries: Gallery Ten in Edinburgh; The Pyramid Gallery in York; London Glassblowing; The Habatat Gallery in Florida and The Habatat Gallery in Detroit.

Have you won any awards for your work?
I was commended for a cast glass figure made from recycled mobile phone glass in the 2017 CGS New Graduate Review. I also won The Judges' Award at the Just Glass exhibition, 'Recollection, Memories in Glass' in 2020, for a piece made from recycled milk bottles and upcycled watch parts.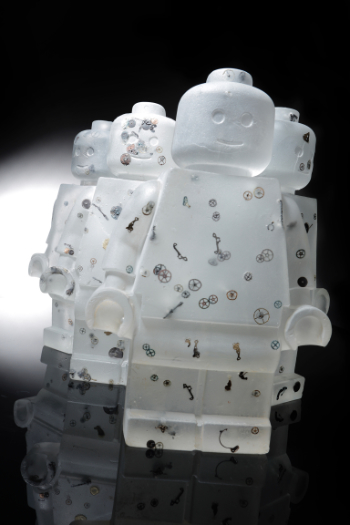 What advice would you give to glass artists starting out in their careers?
Unless you truly want to, you do not have to rethink, reskill and reboot. Life is too short. Follow your passion. For me, that passion is glass.
Main feature image: Hannah Gibson with some of her recycled glass figures, part of the Recycling Narratives, Whispering Sweet Nothings project. Photograph: Simon Bruntnell.
Glass Network digital brings you all the latest news and features about contemporary glass
Send your news, feature ideas or advertising requests to the Editor Linda Banks