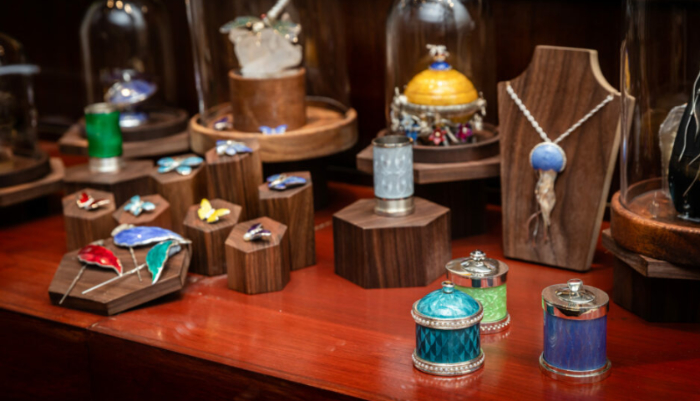 Glass artists feature at London Craft Week 2021
Plan your visit to the annual London Craft Week, taking place from 4-10 October 2021. It features several contemporary glass artists working in a variety of media, among many other traditional crafts.
QEST Craft Trail
The Queen Elizabeth Scholarship Trust (QEST) is running its Craft Trail once again during London Craft Week, with 11 Royal Warrant-holding stores in the St James's area of London exhibiting the art and design work of QEST Scholars. A broad range of crafts will be represented in the stores and shop windows, and there are live craft demonstrations on specific days and times. Look out for the QEST logo displayed at the participating shops.
At historic chemist and perfumer, D. R. Harris & Co, 29 St James's Street, QEST Bendicks (Mayfair) Ltd Scholar Harry Forster-Stringer will be displaying his jewellery and objects de virtu made from silver and gold, which he embellishes with hand-engraving, enamel or precious stones.
On Thursday 7 October, from 1 to 5pm, Harry will be demonstrating the process of enamelling in store. See his enamelled work in the feature image above.
At country enthusiasts' department store Farlows, located at 9 Pall Mall, stained glass artist Sophie d'Souza will make and paint a stained glass piece featuring Koi carp between Monday 4 and Friday 8 October (11am-3pm). Farlows will also be live-streaming the process on their Facebook and YouTube channels.
Sophie has worked with Farlows in the past, designing the Charles Farlow Trophy for them in 2017. It features a stained glass Atlantic salmon and is awarded to the largest fly-caught salmon from England or Wales each season.
Find out more about all the participants on the QEST Craft Trail, and download a pdf of the trail map, via this page on the QEST website.
Crafting a Difference at the Argentine Ambassador's official residence
Crafting a Difference (an initiative by five contemporary art and craft galleries) is presenting a new show for London Craft Week 2021 at the Argentine Ambassador's official residence in Belgravia, with works by 30 contemporary makers on display in the opulent interiors.
The exhibition offers a rare opportunity to visit this magnificent and historic residence designed by Thomas Cubitt. Rooms to explore include the Ambassador's office, the formal dining room and the grand ballroom.
Curated by Andrea Harari and Brian Kennedy, the exhibition will bring together over 200 works in glass, ceramics, wood, metal, textiles and paper, selected from the galleries Cavaliero Finn, jaggedart, MADEINBRITALY, Ting Ying Gallery and Vessel Gallery.
Vessel Gallery will be showing new glass artworks by Amy Cushing, Chris Day, Jo Taylor, Louis Thompson and Wayne Charmer. There will also be opportunities to meet the artists Chris Day (Monday 4 October at 2.35pm) and Amy Cushing (Tuesday 5 October at 2.35pm).
The Argentine Ambassador's Official Residence is at 49 Belgrave Square, London, SW1X 8QZ. It is open from Monday 4 – Sunday 10 October 2021 from 12.00pm – 5.00pm. Please note that booking is essential. Places are free. Book here via the Crafting a Difference website.
This event is supported by the Crafts Council, QEST, Loewe Foundation, Michelangelo Foundation, Cockpit Arts, Design Centre Chelsea Harbour and Artegian Design.
Glass artists at Takumi Townhouse
Another event featuring glass artists during London Craft Week 2021 is an exhibition at Takumi Townhouse.
'Takumi' is the Japanese word given to artisans who dedicate years to mastering and continually refining their skills. This exhibition celebrates the 'takumi' working in the UK today across leather, glass, wood, metal and paper. It includes works by the five artists featured in the Lexus 'In Search of Takumi' series and their peers. Glass artists represented include Peter Layton, plus Vessel Gallery artists Nina Casson McGarva, Liam Reeves and Choi Keeryong.
Booking for Takumi Townhouse is not necessary and entry is free. Takumi Townhouse has entrances on both 40 Earlham Street, WC2H 9LH, and 25 Shelton Street, WC2H 9LH. The exhibition is on daily from 4-10 October 2021 at different times each day. Find out more on the London Craft Week website.
Art Workers' Guild
Members of the Art Workers' Guild are presenting daily talks, demonstrations and an exhibition as part of London Craft Week.
Their 'Art of Making' exhibition showcases over 25 artists and makers, including glass artists Cathryn Shilling, Katharine Coleman and Tracey Sheppard. Katharine Coleman and Tracey Sheppard are presenting a talk on 7 October at 4pm. Cathryn Shilling is showing her work on 7 and 8 October and her talk is at 4pm on 8 October. Tickets for the talks are £12 each. Find out more details and the link to book for the talks here.
Throughout the weekend the Guild's Honorary Architect, Simon Hurst, will be giving tours of the Grade ll* Georgian townhouse which is home to the Art Workers' Guild.
Tours are free but booking is essential. Book your place here.
Venue: Art Workers' Guild, 6 Queen Square, London WC1N 3AT.
Check the downloadable programme or the Art Workers' Guild website for more information.
Details of all the craft events taking place during London Craft Week 2021 can be found here.
Image: Enamelled jewellery and objects de virtu made by QEST Scholar Harry Forster-Stringer. Photo: QEST.
Glass Network digital brings you all the latest news and features about contemporary glass
Send your news, feature ideas or advertising requests to the Editor Linda Banks