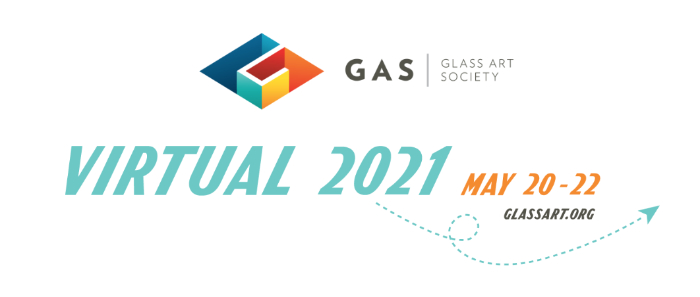 Glass Art Society's 'Virtual 2021' itinerary launched
The Glass Art Society (GAS) is holding its 'Virtual 2021' event from 20-22 May. The itinerary of this online extravaganza has been launched today, so head over to the GAS website now to register and plan your unique experience, which you can enjoy from the comfort of your home.
Virtual 2021 features more than 100 presenters from six continents, bringing you more than 24 live presentations, plus many more pre-recorded presentations and special events over the three days.
Kicking off Virtual 2021 are James Devereaux and Katherine Huskie, with a live-streamed hot shop demonstration, called the 'Salmon SCHOOL Project', to be held between 5am and 7am (Pacific Daylight Time – PDT) on Thursday 20 May. (There is a time zone converter link on the GAS website).
Other hot shop demonstrations, to be held across the three days, will include: Claire Kelly (read her recent interview with CGS Glass Network digital here) and the Corning Museum of Glass; Leo Tecosky; Ayano Yoshizumi & JamFactory; Kensuke Takeoka; Elliot Walker; Dan Friday at the Seattle Glassblowing Studio; Tegan Hamilton; Kenji Ito, and Jeff Mack and the Corning Museum of Glass.
There will be flame demonstrations on 'Anatomical Sculpting' and 'Klien Bottle', plus lecture/demonstrations by Evelyn Gottschall Baker on 'Non-traditional pate de verre', and Harriet Schwarzrock, who will present 'Between stillness & movement: Experiencing an immersive plasma installation'.
There will also be a cold working presentation by Lothar Bottcher, Michael Robert Bokrosh, Samuel Weisenborn, Patrick Roth, Tobby Ritzkowski and Simon Holm, entitled 'Lathe Riders: Secret Techniques from the Cold Shop'.
Each day, there will be interviews, under the banner 'Glass Virus Conversations'. These will be held with: Jens Pfeifer and Michael Rogers; Caroline Madden and Joseph McBrinn, and Gayle Matthias and Erin Dickson.
Alongside this packed programme will be virtual gallery tours and exhibitions, showcasing GAS members and students, the 'Trace' exhibition, focused on sustainability in glass art, Manitoba Craft Council and the Traver Gallery's Mel Douglas exhibition.
On the GAS website you can see details of the numerous pre-recorded presentations that will be released each day of Virtual 20201, plus lots more information on the full programme. It is sure to be a feast for glass artists and enthusiasts all packed into three days.
Glass Network digital brings you all the latest news and features about contemporary glass
Send your news, feature ideas or advertising requests to the Editor Linda Banks