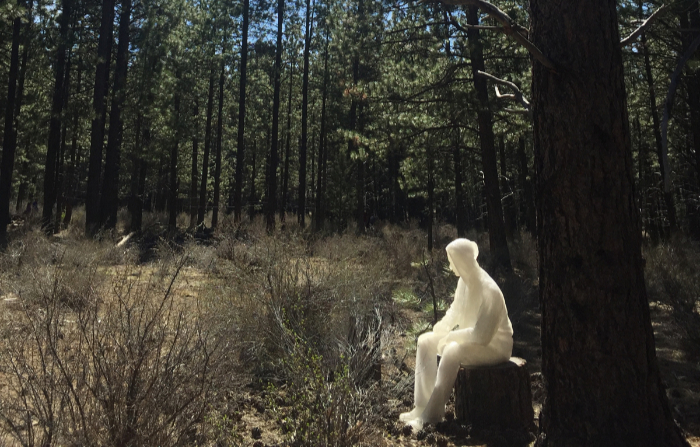 Flameworking
| 08-03-2022
Glass art great and small
US-based David Willis takes a cross-disciplinary approach to his glass practice and has produced a diverse body of work during his career. He focuses on the idea that the most intimate and important aspects of an individual's life are common to all people. Linda Banks finds out more.
What led you to start working with glass?
I began flameworking glass after becoming friendly with a flameworker, Bob Snodgrass. I watched him work for a few years on and off in Eugene, Oregon (in the USA), when I was passing through or visiting. I was drawn to his fun and creative approach, which featured lots of curiosity about the material and interest in investigation. I asked to join his apprenticeship programme. He agreed, and we started working together in 1994.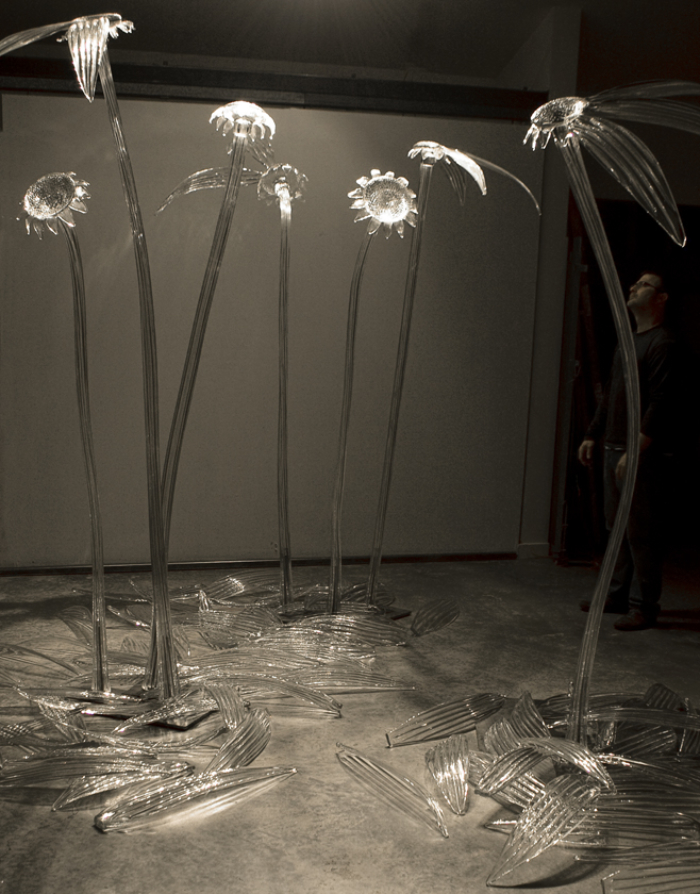 You use a diverse range of techniques to create everything from large sculptures to delicate frit paintings. Do you have a preference for any particular method?
I don't know that I prefer any one method, although flameworking feels the most like home – a bit like driving my truck to go camping or hiking. The driver's seat of the truck is a comfortable and familiar place where I have spent a lot of time, but I'm excited to get to a new destination and walk around and explore.
Whatever process I'm using, at some stage I notice that I'm micromanaging small amounts of material to build something larger. So, I guess I find myself and my zone in different methods. This can make them all feel somewhat the same… So again, no real preference.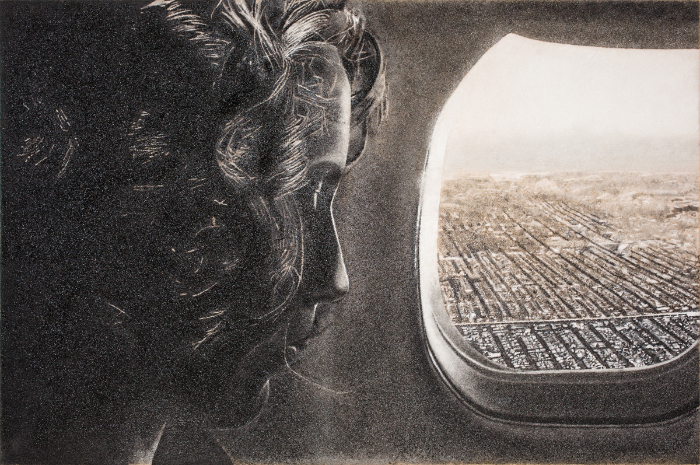 What is your creative approach?
I once found a quote from the artist Louise Bourgeois where she's talking about two types of creativity. One is an idea that comes in a flash, more or less fully formed. The other is an idea that needs to be studied and planned and considered at length before the final design is realised. She suggested that you've got to have both, and that you have to be able to "think hallucinatorily". That has always resonated with me.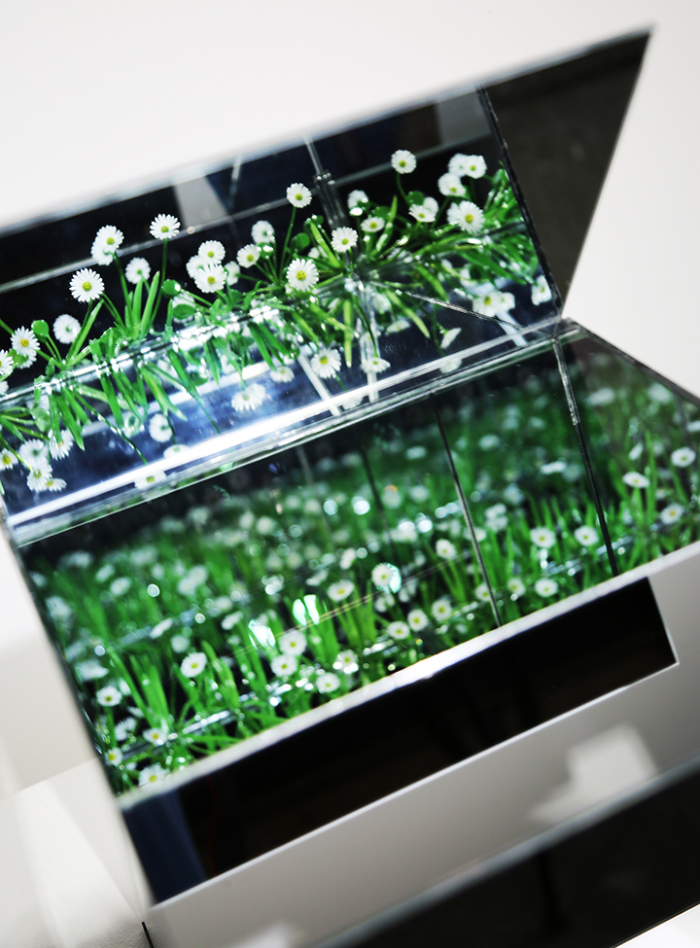 What is your favourite tool or piece of equipment and why?
I guess if all tools were to be stripped from me, I would want to keep my bench burner torch, a Carlisle CC. It has great range and allows me to make pretty large sculpture and pretty small and detailed botanical work. Most of my other processes I can do by hand with raw materials. But I do think that, because hot glass will burn the blank out of you, and you can't touch it with your hands, glassblowers might be tool fetishists… I certainly love a lot of my tools as helpers and beautiful objects.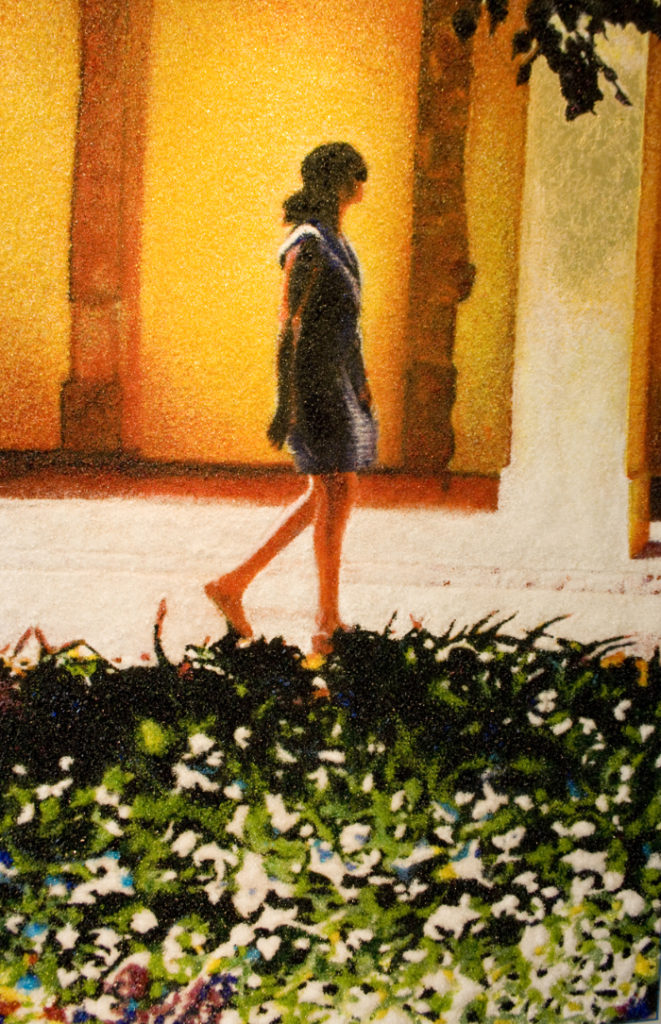 What message(s) do you want to convey to your audience through your intricate work?
I think most of my work is Nature based and my basic message is to care about Nature, because, ultimately, it supports our existence. And I feel we may be at a dire intersection, with hard decisions to take about what is good for individuals versus what is good for the future of our species. So, I hope my nod to Nature is a little reminder of this to folks.
Do you have a favourite piece you have made? Why is it your favourite?
I don't know that I have a favourite piece. A piece of glass I made that I admire a lot is the flowering peach branch in 'Still, life…' But that is not my favourite piece. I hope that my favourite piece is somewhere in the future.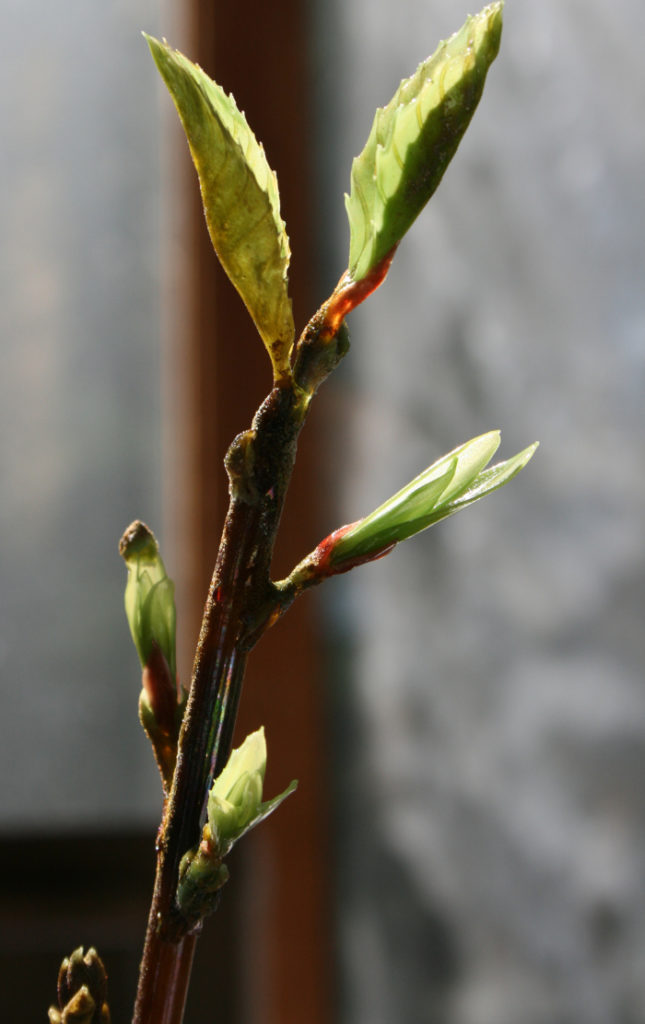 You are actively involved in the glass arts community. Why is this important to you?
I feel like the glass arts community has introduced me to an awful lot: friends, something like a career, knowledge, inspiration, people I look up to, a partner, my daughter… So, I'd like to support these systems by trying to impact them in ways I find meaningful and important. There is so much potential and creative capital within the glass arts community. As Bruce Mau said, "The future will be beautiful, if we have one." (I met him at Pilchuck Glass School when I was teaching and he was an Artist in Residence).
What is next for your glass practice?
One of the things I like best about my practice is that I let my curiosity lead, to a large degree. This keeps me always working in an investigative mode somewhere in my studio on any given day, which is exciting and engaging. So, I don't really know what's next, and I'm ok with that.
Currently, in terms of what people haven't seen yet, I'm working on some mixed media sculpture with glass and stainless steel, and some sculptural forms built from cursive text in borosilicate tubing.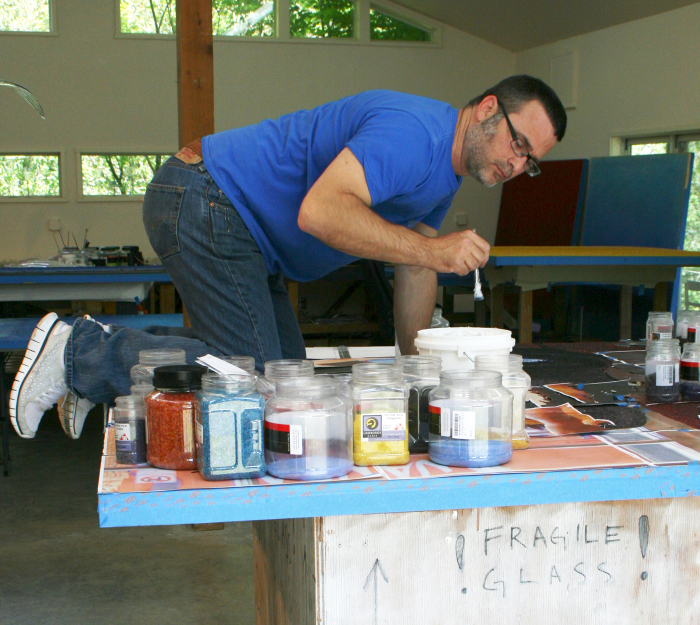 Where do you show and sell your work?
Since about 2010 I've worked primarily with David Austin at Austin Art Projects and it's been great. He's fantastic and I owe him a lot.
Do you have a career highlight?
I have a bunch, not necessarily in this order: when Lino Tagliapietra asked if he could take a picture of me and my work at one of my shows; praise I've had from Sally Prasch and Cesare Toffolo; being honoured for artistic mastery in glass by Salem Community College; Kiki Smith talking about me in the New York Times; Art in America describing a piece in the Whitney Biennial I made for Jim Hodges as "exquisitely crafted"…
Who or what inspires you?
I'm inspired by the forms and scale and beauty of Nature, and the forms, scale and beauty of the people in my life. My work with, and relationships to, artists I am fortunate enough to have in my life inform my practice. Right now, I'd highlight Jim Hodges, whose beautiful work is so personal to him, Therman Statom, who does so much with his work for other people, Paul Rucker whose work draws out beauty from very difficult places… I could go on at length.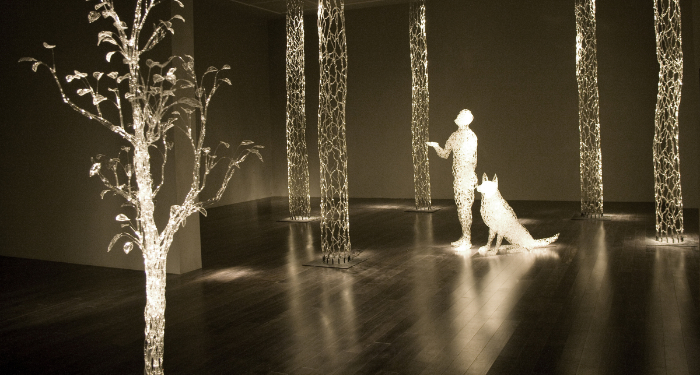 Has the coronavirus impacted your practice?
Absolutely, in many ways. Also I'm a new dad with a two-year-old daughter and my partner, her mom, is immunocompromised… So it's been pregnancy and newborn life, followed closely by lockdown and baby life, into now a parenting an unvaccinated child and toddler life. All of this has affected my practice. We are definitely cautious and a bit isolated.
Plus, the travel that has always been part of my work has been cancelled, and will be until our daughter has some protection from the virus. Fortunately, all of this creates a hugely rich home life and we are very privileged to be comfortable, and healthy and happy, and able to spend so much of this formative time of our daughter's life together.
But I wouldn't call this the most materially productive time in my career, and I do like to work.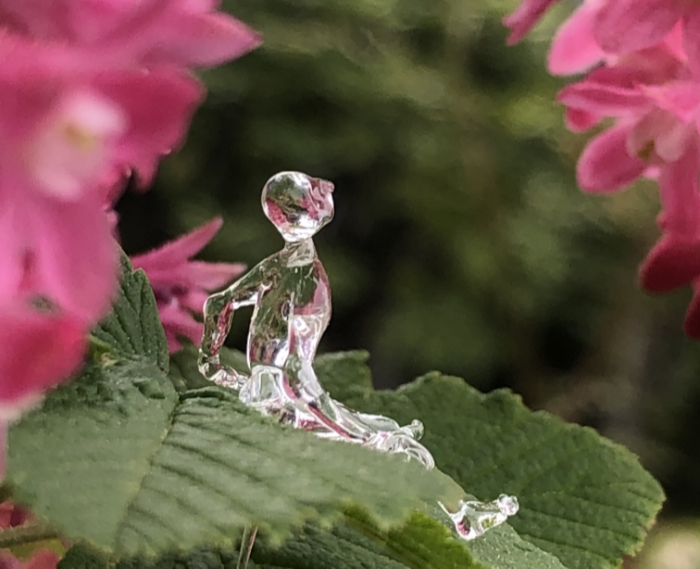 About the artist
David Willis holds a BA in Interdepartmental Field Studies from UC Berkeley with an emphasis on Social Change and a Minor in Conservation and Resources Studies.
He has been a part-time lecturer at the University of Washington, School of Art, Art History and Design. He has also been an instructor at the Pilchuck Glass School, the Corning Museum of Glass Studio, the University of Oregon, and the Penland School of Craft.
He has been a featured artist at the Niijima Glass Art Festival in Japan and has demonstrated many times for the Glass Art Society (GAS).
His work is included in public, private, and museum collections nationally and internationally.
In addition to his own practice, Willis has assisted some of the world's top contemporary artists to create sculptural work in glass, including Jim Hodges, Kiki Smit, and Urs Fischer.
Serving on the Board of Trustees of the Pilchuck Glass School, Willis co-chairs the Green Committee and the DEAI Committee and is a past Director of the GAS.
Find out more on his website: www.davidwillisglass.com
Main image: 'Waiting' glass sculpture by David Willis.
Glass Network digital brings you all the latest news and features about contemporary glass
Send your news, feature ideas or advertising requests to the Editor Linda Banks