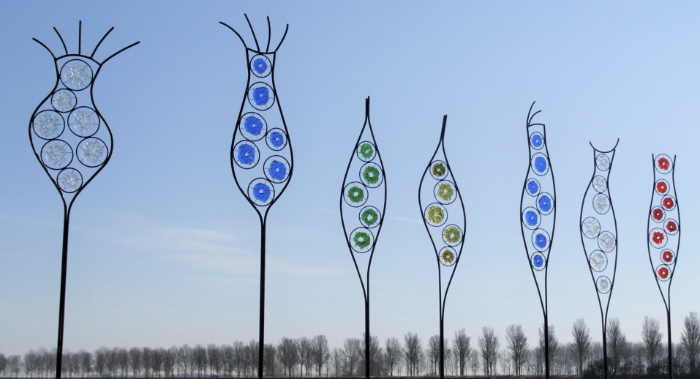 Glass art display in Enchanted Garden
Now in its ninth year, The Enchanted Garden 2022 international art exhibition in Belgium features many new glass artists, marking the International Year of Glass.
Around 50 sculptors are taking part this year, showing work in glass, wood, bronze, ceramics, metal, recycled material and stone. This diversity of materials and varied techniques ensures an eclectic mix. All the pieces are exhibited in a structured, natural landscape garden full of water and contrasts.
Among the glass artists participating this year are: Annemarie van Uden (NL), who combines colours and delicate structures, both abstract and figurative; B. Jane Cowie (Singapore), who was inspired to create two-metre high glass sculptures with LED light by the 'weeds' in The Enchanted Garden; Marc Hadermann (BE), who created 50 snowdrops in glass and ceramics that grew into the trees, and Maurice La Rooy (NL, BE), who was inspired by the end of the lockdown and life to make two different series, 'When Spring Comes' and 'MoMonto-Mori'.
At least half of the visitors come mainly to see the garden, with its many facets, such as ponds, streams, meadows, woods, the 'secret garden', labyrinth, terraces, rose hedges and the numerous benches to relax and enjoy views of the Hesbaye countryside.
There are no exotic plants nor 'cultivars', but a rich variety of indigenous, spontaneously grown wild plants, including an abundance of wild orchids.
The garden is located halfway between Brussels and Liège.
Visitors should use the large car park 400m from the exhibition and take the short, pleasant walk in the shade of the trees to the exhibition. Parking address: Rue Saint-Marie 1, 1370 Saint-Jean-Geest, Belgium.
The Enchanted Garden exhibition is on each Friday, Saturday and Sunday (1-8pm) until Sunday 25th September 2022. Admission is 8 Euros per adult, with children under 12 free. To avoid queues on Sundays between 2pm and 6pm, booking is advised (https://www.the-enchanted-garden.info/Reservation).
The Garden is at: Rue du tilleul 22, 1370 Saint-Jean-Geest, Belgium. For more information, and to view artworks for sale, visit the website.
Image: Hendrike Huijsmans' glass and metal sculptures.
Glass Network digital brings you all the latest news and features about contemporary glass
Send your news, feature ideas or advertising requests to the Editor Linda Banks