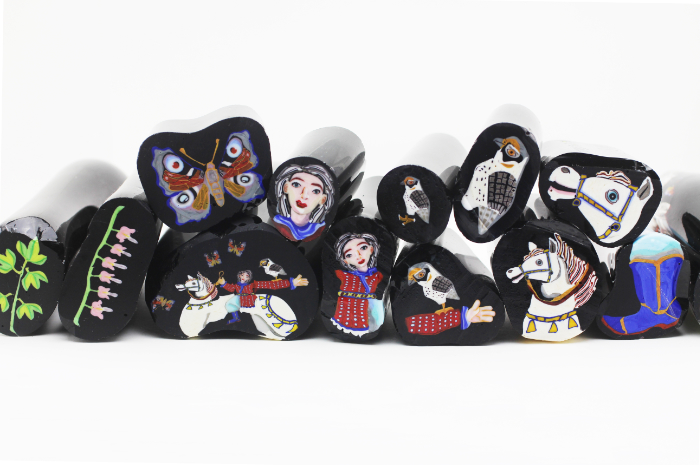 Flameworking
| 25-11-2020
Flameworked Folk and Fairy Tales
Lucie Kovarova-Weir's detailed glass canework and jewellery evolved from her fascination with beadmaking and a background in animation. Here she explains her glass story, which started once upon a time in the Czech Republic and ends happily ever after in Canada.
I was born in a small town in the Czech Republic. My family is full of teachers, chemists and engineers, and I am the only anomaly, having chosen art as my profession. Growing up, I always loved working with my hands and building things – anything from sculptures to dolls' houses. I always loved to draw and paint. My mum taught me how to knit and sew very early and I have been making my own clothes since I was 12 years old.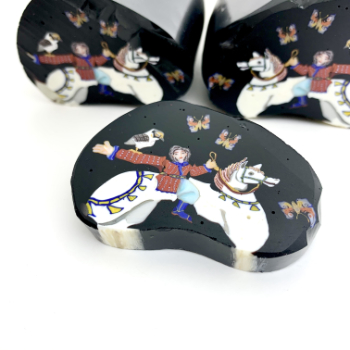 My early years education happened under a Communist government, which seems quite surreal to me now. Thankfully that introduced me to national folk art and folk fairy tales, topics that strongly resonate with me to this day. Most of my work is inspired and influenced by folk and outsider art. I often look to art history as a source, too.
I attended the Art High School of Vaclav Hollar and then The Academy of Arts, Architecture and Design in Prague, earning a Masters degree with a major in Animation. On paper, this means I am an independent filmmaker/director. For my graduation project I picked a Cherokee fairy tale, and made all the puppets for the film out of hand-dyed silk and seed beads.
Around this time, my friend asked me to help in her new bead store at Prague Castle. Being a broke filmmaker, and loving beads, I took the job. This is where I was first introduced to handmade glass beads and glass jewellery. I was fascinated by the small objects of glass, with flowers inside. We had no idea how the beads were made but we dreamt of finding a torch and learning how to make them.
Finally, a friend from the glass studio at school showed me how she made beads in her kitchen. This experience made me feel like I'd just walked on the Moon.
Shortly after that I moved to Toronto in Canada to join my husband in the animation studio where he worked. All the time I was doing animation I could not stop thinking and talking about how I was going to make beads.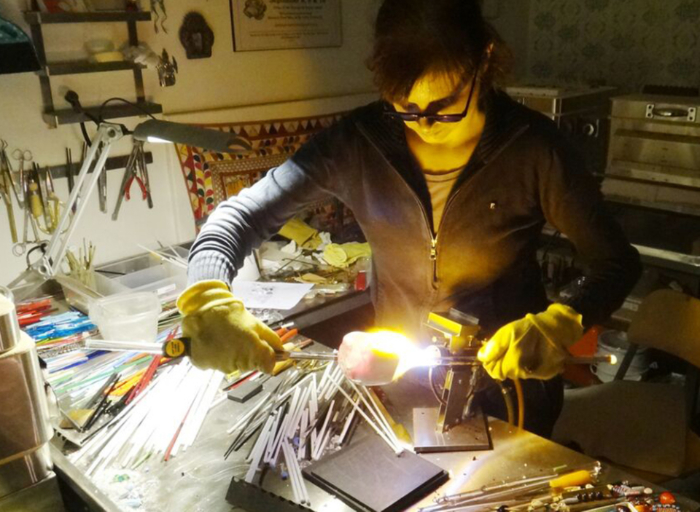 My husband bought me a $2 hot head torch at a garage sale. "Hey, this might work," he said. I discovered that Nortel (a Canadian torch manufacturer and glass supplier) was located in the north of the city, and made a pilgrimage on public transit (three hours one-way) to buy my first batch of glass. I set my plumber's hot head torch up in a tiny basement room and made my first beads. No kiln, no ventilation, no instructions.
After a month I went back to Nortel to buy more glass. I also bought a Minor torch and a Cindy Jenkins book on how to make glass beads. I was completely immersed. I went to the office four days a week and spent weekends flameworking, with the book on my lap, following the exercises step by step, from the first page to the last, and then again and again. This was in around 2002, when there was little information on flameworking available.
One of the last examples in the book was a simple letter cane, with a very brief description of how to make it. I did. I was completely blown away, because I discovered you can build this gather with a pattern inside and pull it into a bar. It shrinks on a scale, with the design remaining intact. I almost fell off my chair. I did a couple of letters, fish, a flower, my first face, and soon began incorporating them into beads and pendants.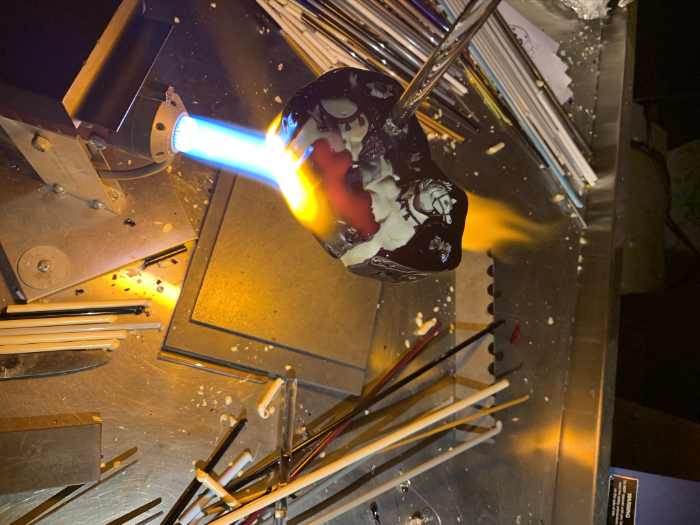 At this time, I still did not have a kiln. I was flame-annealing all my work, up to a size of a small egg, then periodically I packed up my piles of beads and took them to a friend's to batch anneal everything at once. When I finally bought a tiny kiln, it improved my cane practice greatly. My designs could be bigger, with more components and details.
I stopped animating and, while waiting for my immigration paperwork to go through, I started Lunacy Glass. I outgrew my tiny basement studio and found a studio space in an old factory building. It was about 500 square feet and all mine! It accommodated proper ventilation and a fairly large torch. Ontario winters last from October until May, which was fine by me; I was sitting behind the bench learning all this glass stuff, completely happy.
Eventually I decided to venture out to my first conference. I was so excited to meet all these other canemakers. I was surprised to find that there really are just a handful of artists that do this type of glass work behind the torch. Most of the canework is done by glassblowers on a much larger scale, and with much less detail. At the conference I met Loren Stump and decided to take his class. It was 2006 and the Corning Museum of Glass awarded me a scholarship to work in the studio. This was a very important experience for me, visiting Corning for the first time and spending time in the studio. I saw how much more I could learn and do.
When I first arrived in Toronto, I started attending Toronto Bead Society meetings and selling my first beads through their enthusiastic member base. In the spring and summer, I began selling my beads and jewellery at arts and craft fairs – small ones at first, then bigger, more serious ones. I was building my client/collector base and growing relationships with galleries. I participated in several group shows and applied for grants and government programmes, some of which I got.
I love working with glass as the material forces you to learn a new thing or two every day. I look forward to kiln opening at the end of its cycle to see what I have made.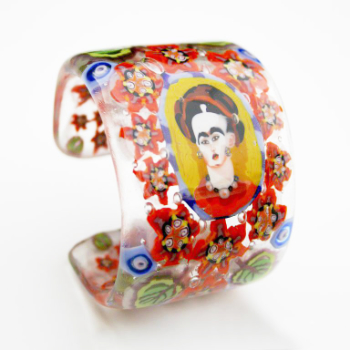 Over time my work has changed, partly due to customer demand. Initially, I was making 800 spacer beads a day and selling them to jewellery designers. Then I began making larger beads and pendants, which evolved into jewellery. Nowadays my jewellery features just cane on its own. Recently I have been casting some of the large murrine cane pieces into panels and dishes but, as this is a time-consuming process, I do not expect to have any presentable pieces for a couple of years.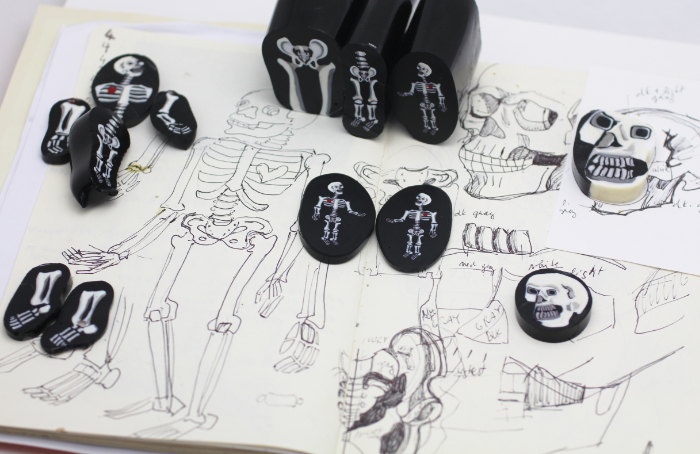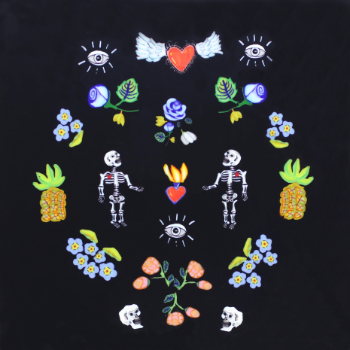 My source images are intimate, narrative and dreamy, and my work has a sense of humour and lightness of spirit. I have sketchbooks full of inspiration that will last me for the next 30 years.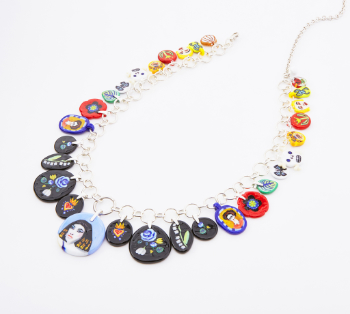 I sell my work through several galleries in Canada and the USA. I have an Etsy store for chipped cane and smaller items and sell collector murrine cane coins through my website.
Even though I have not really made beads for a few years, everything I know I owe to beads. I am a flameworker, but I am a beadmaker through and through.
Glass Network digital brings you all the latest news and features about contemporary glass
Send your news, feature ideas or advertising requests to the Editor Linda Banks