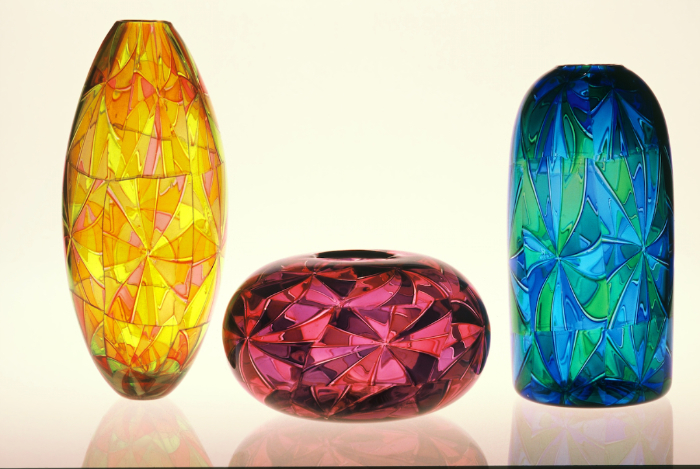 Expand your glass skills with QEST funding
Whether you want to improve your glass ability with a traditional college course, vocational training or one-to-one mentorship from a master craftsperson, the Queen Elizabeth Scholarship Trust (QEST) could provide a grant to help you realise your dream.
QEST's mission is to sustain vital skills in traditional and contemporary crafts and contribute to excellence in the British craft industry. It does this through awarding scholarship and apprenticeship funding to talented and aspiring craftspeople. Several glass artists have benefitted from the scheme over the years, including Scott Benefield, whose 'Pinwheel Vessels' are featured in the main image, above.
QEST has two application rounds each year (in January and July) and the next is open from 11 January – 15 February 2021. Each scholarship is worth up to £18,000 and, in addition to training costs, can cover costs directly related to training, such as transport, equipment, materials and accommodation, as long as it is proportionate to the grant request.
The scholarships are open to any individual UK resident, aged 18 or older, who would like to improve their craft skills. QEST wants to support excellence in British craftsmanship, so is looking for established makers who are planning to stay in the UK and contribute to the craft sector.
QEST encourages applications from a broad range of crafts and is excited by contemporary craftsmanship and innovative applications of traditional craft techniques. To see the types of craft QEST has funded, and the standard of excellence needed, view the QEST Directory of alumni.
QEST is celebrating its 30th anniversary in 2020. Since 1990 it has awarded nearly £5 million to 600 individuals working in over 130 different crafts.
More details on how to apply are on the QEST website: www.qest.org.uk
Glass Network digital brings you all the latest news and features about contemporary glass
Send your news, feature ideas or advertising requests to the Editor Linda Banks