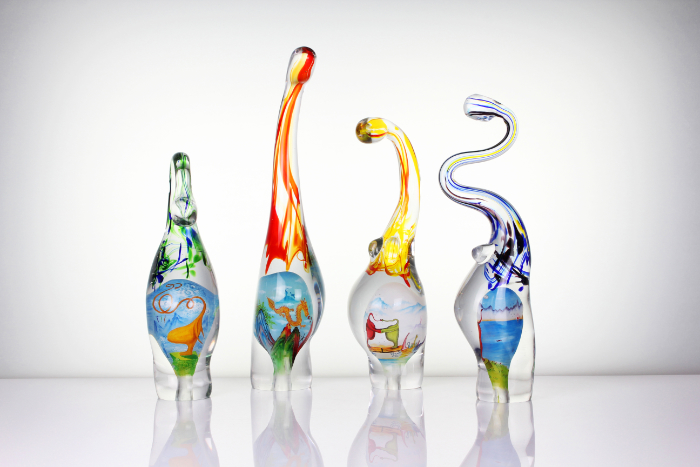 Diverse glass techniques to be exhibited at Farnham gallery
The Contemporary Glass Society (CGS) is collaborating with Farnham's New Ashgate Gallery to present 'Joyful Reflections', an exhibition featuring 15 exceptional makers, as part of its 25th anniversary celebrations.
These artists employ a variety of glass techniques, include blown, cast, fused, engraved and stained glass, and will present both sculptural and decorative work. Their artworks will be on show from Saturday 30 April until Saturday 11 June 2022 at the Surrey gallery.
The makers selected to take part in 'Joyful Reflections' are: Teresa Chlapowski, Hannah Gibson, Jianyong Guo, Laura Hart, Julie Light, Roberta Mason, Wendy Newhofer, Lisa Pettibone, Laura Quinn, Morag Reekie, Amy Skachill Burke, Nancy Sutcliffe, Cara Wassenberg, Frans Wesselman and Sandra Young.
CGS Chair, Susan Purser Hope, explained that members were invited to step back from the sadness of the pandemic and to embrace the joy of life now as inspiration for their glass creations. "Artists were asked to reflect upon the glorious and mysterious properties of glass – its transparency, its uniqueness, the variety of techniques it offers, its ability to reflect back at us – and to express joyful reflections on life and glass."
She went on, "This is CGS's first collaborative exhibition with the New Ashgate Gallery. We are excited by this wonderful opportunity for our members to show a range of work featuring vibrant colours and transparent forms reflecting upon the joyful moments we have come to appreciate in everyday life. Glass is an amazing material to work with and this is a glorious chance to raise its profile with the general public within the setting of this outstanding gallery."
Nicola Lightfoot, Curator of Glass at New Ashgate Gallery commented, "The exhibition will highlight the luminous, reflective, and often illusional qualities of glass, and will celebrate its unique ability to express fragility, rigidity, pattern and form. We are excited to see how the makers test the parameters of the material through their refined craft skills, to create a variety of sculptural and decorative work."
The exhibition takes place at The New Ashgate Gallery, Waggon Yard, Farnham Surrey GU9 7PS, UK, between 30 April and 11 June 2022. More information: https://www.newashgate.org.uk
This exhibition has been selected as one of the 50 events in the 'Make! Craft! Live!' campaign, marking the 50th anniversary of the Crafts Council, between October 2021 and October 2022. Find out more about 'Make! Craft! Live!' here.
Image: 'Beauties and Nature' by Jianyong Guo. Photo: Zihan Wang.

Glass Network digital brings you all the latest news and features about contemporary glass
Send your news, feature ideas or advertising requests to the Editor Linda Banks