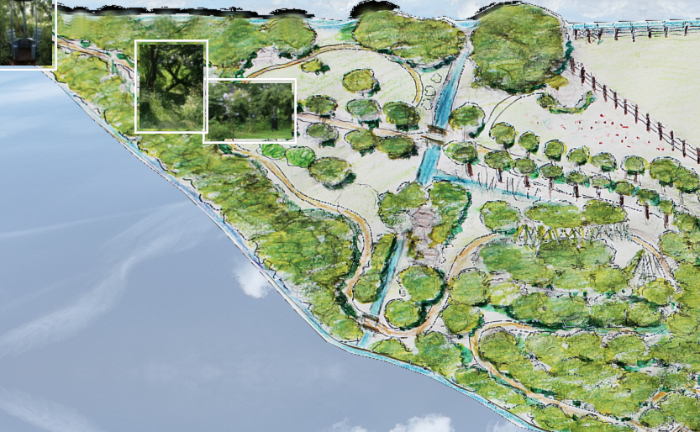 Design a glass centrepiece for The Enchanted Garden
Would you like to create a showstopper exhibition piece in glass to be shown as the centrepiece of an established outdoor show in Belgium? If so, read on, as the deadline for submission proposals is soon.
For several years, Tone Aanderaa and Ignace Clarysse have organised the international art exhibition 'The Enchanted Garden', situated in a landscaped nature garden full of water features, located between Brussels and Liège in Belgium.
They are inviting glass artists to submit ideas for a glass centrepiece to be shown in the garden in the summer of 2022, to mark the International Year of Glass.
The theme for the piece is 'Light, Transparency, Reflection, Colour… Glass'. The work can be made from all glass or combine different materials, preferably with a proportion of glass. It must be suitable as a garden sculpture, but the buyer must also be able to install it indoors if they wish. The dimensions of the work are not important, but it must be easy for the buyer to transport.
Because of the significance of the centrepiece to the exhibition, the sculpture should command a high price. In addition, the work should be attractive to visitors and not provoke negative comments. A plinth can be provided if needed.
This artwork will be the focal point of the exhibition and the main artwork presented on all the organisers' websites, publications, marketing, mailings and press releases. This will ensure that the winning artist and artwork will be in the spotlight for the whole season.
Many Belgian gallery and sculpture garden owners visit the exhibition and invite displaying artists to take part in their exhibitions.
In addition to being featured on the Enchanted Garden websites and social channels, the winner will be publicised on many relevant external websites focusing on events and art news, such as Evensi, QueFaire, UitInVlaaanderen, and DagjeWeg, as well as via email marketing campaigns to national and international journalists, and around 50,000 interested people.
The organisers anticipate many new opportunities for the artist from taking part in this exhibition.
The Enchanted Garden exhibition will take place from Friday 24 June to Sunday 25 September 2022. It will be open every Friday, Saturday and Sunday from 13:00 to 20:00.
Proposals for the artwork must be submitted by Monday 13 December 2021.
Find out more via the website www.the-enchanted-garden.info, emails: info@ignace-clarysse.com or: artsanctuary@live.com, or Tel: +32 (0) 493 628 540.
Submissions must be made via email to either email address listed above.
The Enchanted Garden exhibition, Rue du Tilleul 22, 1370 Saint-Jean-Geest (Jodoigne), Belgium.
Image: The layout of the garden where The Enchanted Garden exhibition is held.
Glass Network digital brings you all the latest news and features about contemporary glass
Send your news, feature ideas or advertising requests to the Editor Linda Banks