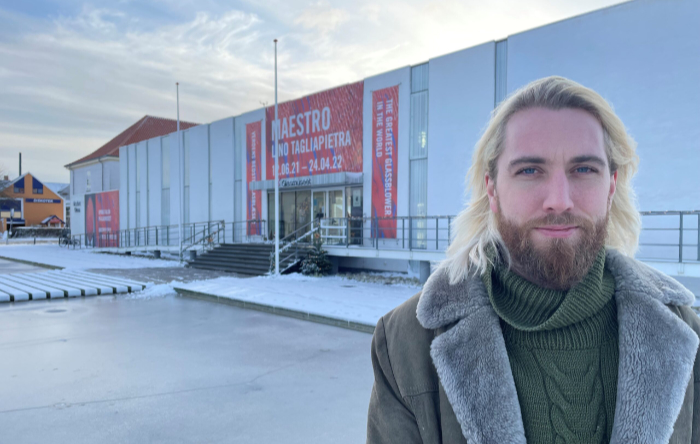 Denmark's Glasmuseet Ebeltoft appoints new director
Danish curator and art historian Mikkel Elming will join Glasmuseet Ebeltoft, the contemporary glass museum in Ebeltoft, Denmark, on 1 January 2022.
Glasmuseet Ebeltoft is a private, self-financing institution established and directed by the Foundation for the Collection of Contemporary, International Glass Art. The museum aims to present the best in contemporary, international glass art through an ambitious exhibition programme.
It holds a unique collection of glass art from around the world, as well as having a professionally-run glassblowing studio on site.
Elming has been involved with Aarhus' contemporary art scene for a number of years. He was co-creator and leader of Regelbau 411 and Foreningen for Samtidskunst (The Association for Contemporary Art).
Speaking of his new role, Elming commented, "I am very much looking forward to working together with the museum's skilled team and many voluntary helpers. Glasmuseet Ebeltoft offers a wide range of unique experiences, and together we will create an even more exciting and alluring museum.
"In developing the museum, we will be focusing on sustainability, digital opportunities and on exploring new approaches to working with artists and glass. I am very excited and can't wait to get started."
Chairman of the Museum Foundation's Board, Henning Kovsted, added, "Mikkel Elming is a rising star on the contemporary Danish art scene, and we are proud that he will be the next Director of the museum. We are welcoming the new generation's view on the museum's practice and we are convinced that Glasmuseet Ebeltoft will continue the current positive development under Mikkel's leadership."
Mikkel Elming has an MA in History of Art from Aarhus University. He is experienced as a curator, project manager and art communicator.
Glasmuseet Ebeltoft was inaugurated in 1986 and is considered one of the world leaders in its field. It is under the patronage of Her Majesty Queen Margrethe II.
Image: Mikkel Elming, who will take over as director of the museum on 1 January 2022.
Glass Network digital brings you all the latest news and features about contemporary glass
Send your news, feature ideas or advertising requests to the Editor Linda Banks