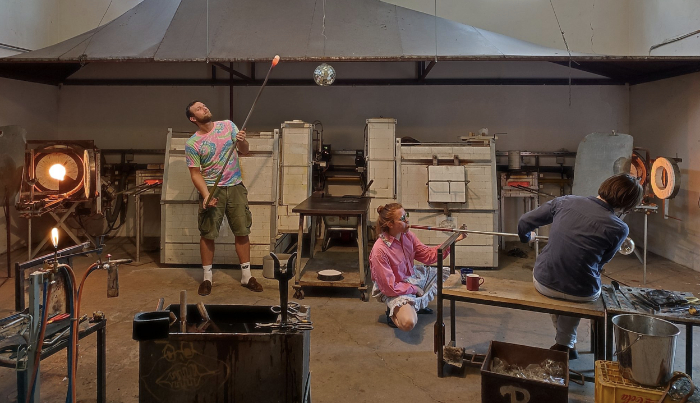 Collaborations
| 23-05-2022
Crowdfunding campaign launched to support Glass Works training
A project to support young European glass makers to become professionals is looking for support through a crowdfunding campaign.
The Glass Works pilot project was launched in 2018 and aims to secure the future of the art and craft of glass in Europe. Germany's Bild-Werk Frauenau is the lead partner running Glass Works. Blid-Werk is known for its international summer academies and workshops for glass and fine arts, for creative people from around the world.
Glass Works provides start-up training for glass makers in art, craft and design, as well as actively working to strengthen cooperation between glass regions and glass makers in Europe. The programme highlights cooperation with partners in Scandinavia, the Czech Republic, Denmark, Austria and France and seeks to strengthen links that will help those involved to design and market new glass and exchange ideas into the future.
The participants receive a grant and can use Bild-Werk's workshops for six months to develop their projects. Practical work in the studios is supplemented by business and marketing courses, organised by the Danish project partner, and internships, primarily in Czech glass companies.
The scholarship holders are put in groups of 10 and exchange ideas and support each other, creating small networks that last beyond the training period.
Another aspect of Glass Works is promotion of exchange and networking across Europe. Public events have been organised with the University of Graz and an exhibition is touring Europe. In addition a digital networking platform is being built for European artists and designers, regional and international companies, museums and educational institutions.
Bild-Werk has invested a lot of time in Glass Works because it believes that the project offers prospects to young glass makers in Germany and Europe, which will strengthen the cultural heritage of glass in the longer term. Find out more here.
Glass Works is part of the Creative Europe programme of the European Union and part-funded by the Bavarian ministry of Finances and Homeland, among others.
Bild-Werk's financial contribution to Glass Works is €50,000, which is a massive burden, especially as the original plan to raise funds through corporate sponsorship was destroyed by the coronavirus pandemic.
Therefore, it is seeking donations of any amount to help Glass Works to continue to connect artist makers with industrial craftspeople, manufacturers and new markets. Find out more and donate now via this link: www.startnext.com/en/glass-works
Glass Works is based at Bild-Werk Frauenau, Moosaustraße 18a, 94258 Frauenau, Germany.
Image: Glass Works participants receive comprehensive training and a network of support to develop their glass practice.
Glass Network digital brings you all the latest news and features about contemporary glass
Send your news, feature ideas or advertising requests to the Editor Linda Banks