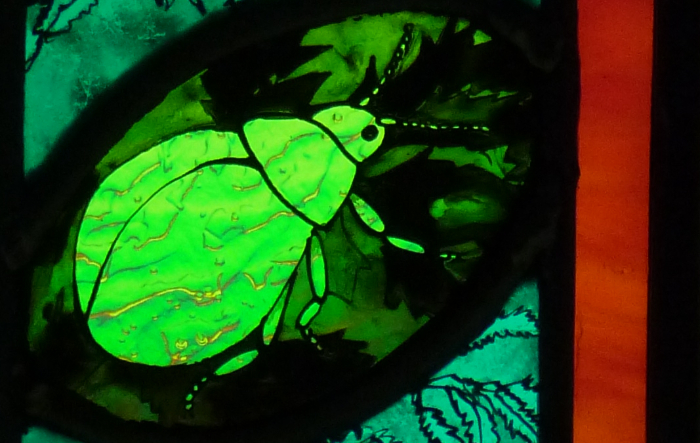 Stained glass
| 24-01-2022
Creating 'visual poetry' in stained glass
Frans Wesselman imparts his amusement with the everyday minutiae of life through his eye-catching stained glass designs. Here he speaks about his work to Glass Network digital's editor, Linda Banks.
You are an artist who enjoys painting and printmaking. What led you to start working with glass?
In 1998 or 1999 I visited Salisbury Cathedral, not for the first time, and became aware of the 'Prisoners of conscience' window, which was painted in the 1980s by Gabriel Loire. I thought it so beautiful and so impressive that I wanted to try my hand at stained glass.
There are some similarities between printmaking and stained glass, in that a certain amount of planning and working in stages is common to both. So, I had a go and it seemed to work.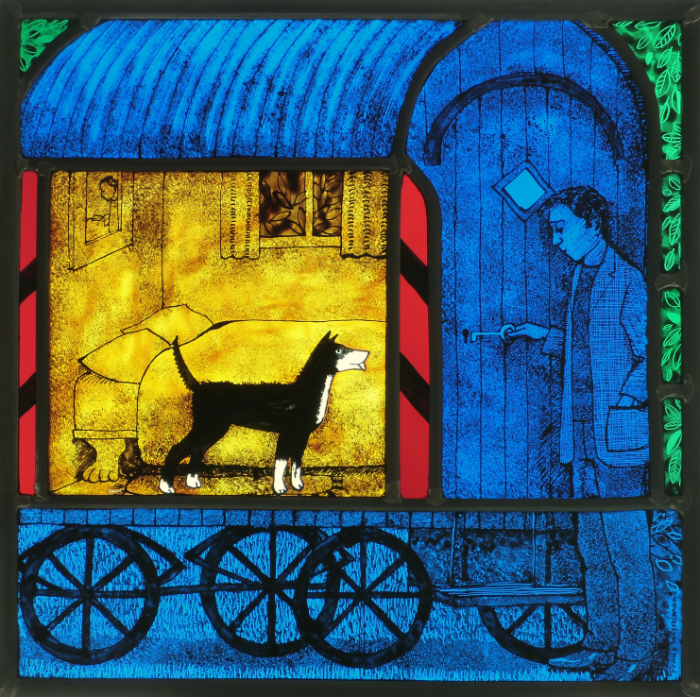 What glass techniques have you used in your career and why do you have a preference for the methods you use today?

I am a strictly two-dimensional person and, having come from painting to glass, I have only ever worked with stained glass. However, on occasion, I bond pieces and/or mount several in front of one another on a plinth, which is as close as I get to a third dimension.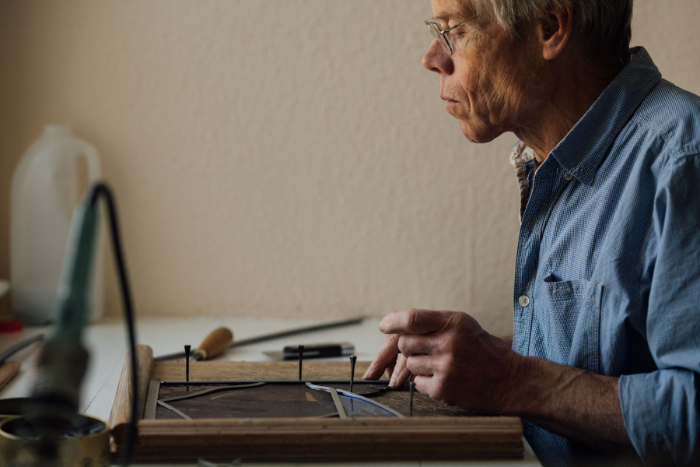 Can you tell us something about how you developed your glass working methods? Do you draw your designs out or dive straight in with the materials?

Not having had any formal training, it started as trial and error. But over the years I have observed other people, and on occasion worked with others, and learned lots. When I make a new piece, or get a commission, it starts with ideas in a sketch book. From there I will make a colour sketch in watercolour and then draw the cut line. That will have lots of detail, so that I can trace from the cut line straight onto the glass. The tracing gets fired and then any shading, sand blasting or silver staining follows the tracing.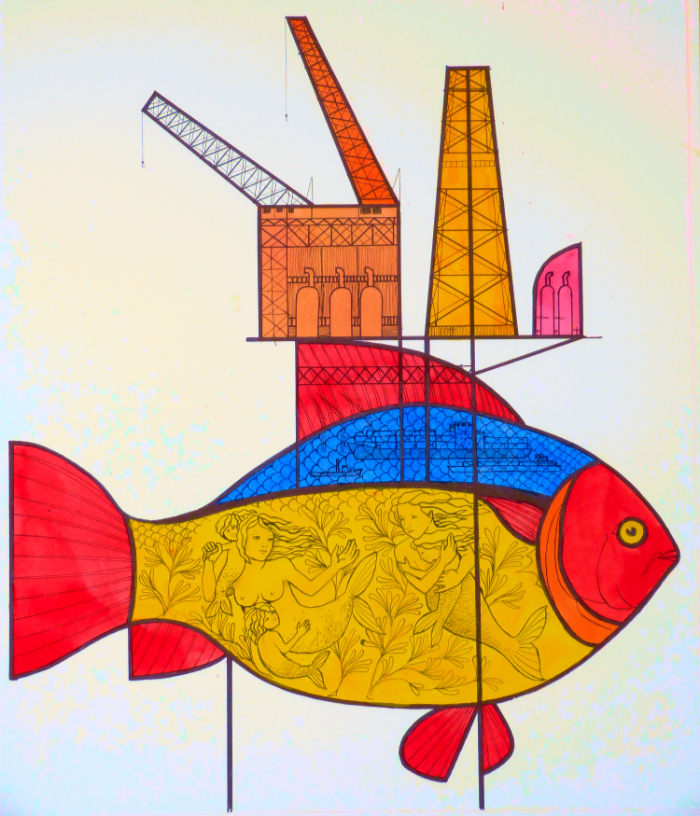 What is your favourite tool or piece of equipment and why?
A dip-pen. Virtually everything I do starts with a pen drawing. I even use one for tracing on to glass. Mixing the paint with clove oil allows it to flow from a pen. I don't know quite why, but I am just comfortable with it. I was given a glass pen holder in Venice once, and I still like using it.
Your quirky designs have a sense of fun. What message do you want to covey to your audience through your work?
'Message' is a rather big word… The things that are my subjects are the smaller things in life, the interactions between people or people and animals or people and the things in their head, and chance encounters. A kind of visual poetry, maybe. I am as concerned as the next person about the big issues, but I have not found a way to introduce them in my work that convinces me. The sense of fun, of wonder, is something I do experience and I hope I can convey that to others.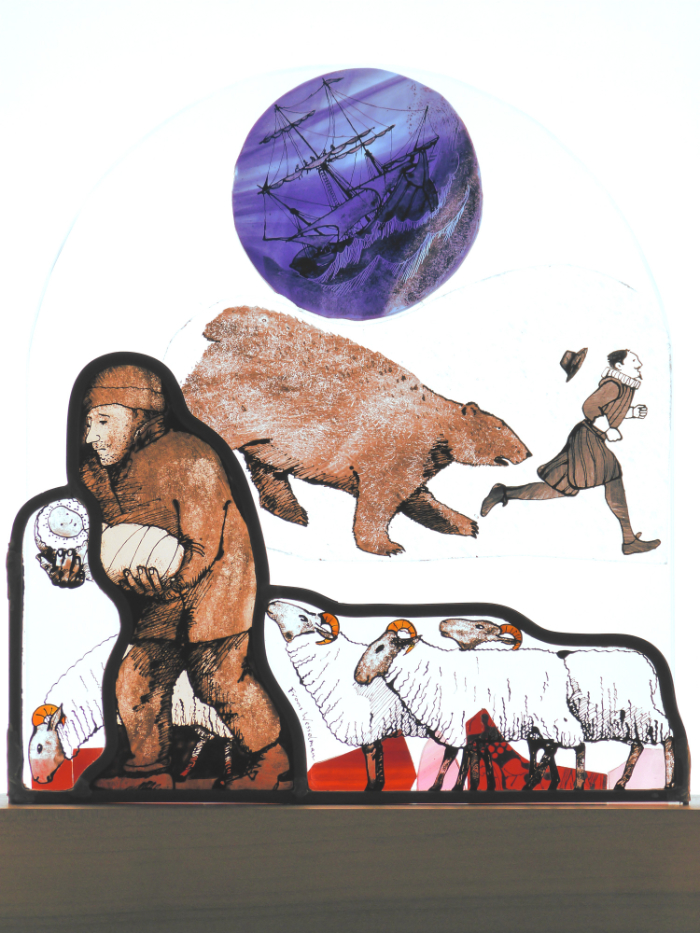 Do you have a favourite piece you have made? Why is it your favourite?
That is not an easy question. The moment I have finished something, I am aware of all the flaws. Sometimes, when I see a piece after several years, I can appreciate it better. My favourite piece is always the one I am about to make.
What I do really like are the sketch books of my travels, or the portrait sketches of friends, because of the memories associated with them. They are done quickly, of course, without any other object than to catch that moment, that view. I don't take a camera when I go away, so the drawings are what there is. They are also often the basis for other work. My 'Rickshaw' piece is straight from the sketch book.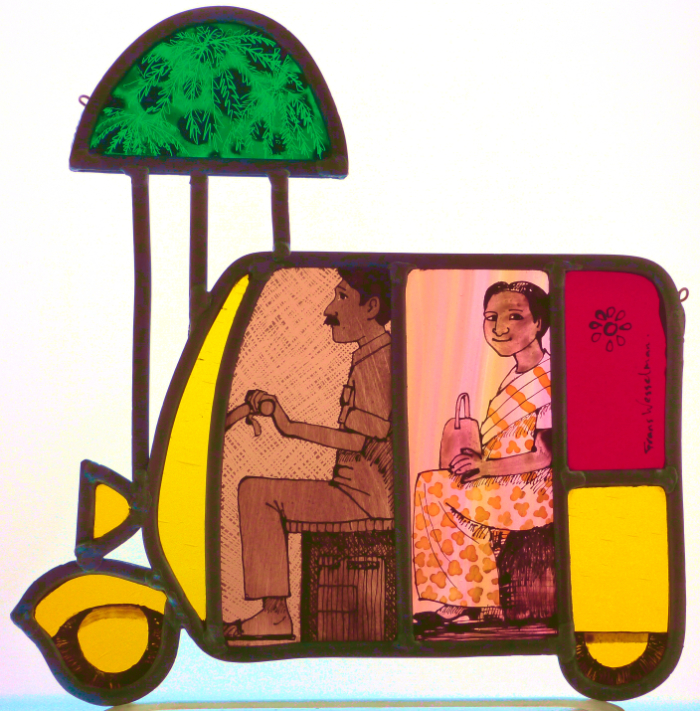 Where do you show and sell your work?
There are a number of galleries around the country that regularly take my work; Primavera in Cambridge, For Art's Sake in London, the Old Chapel Gallery in Pembridge, McGillDuncan in Castle Douglas, Montpellier in Stratford, plus the Bevere Gallery in Worcester. I also get approached for commissions.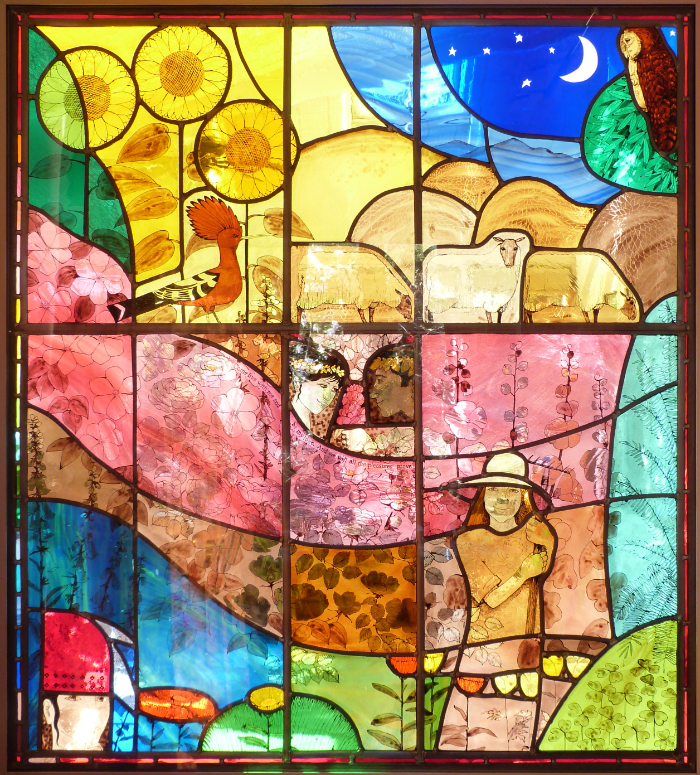 Do you have a career highlight?
Just over ten years ago I designed and made a series of windows associated with 'Godiva awakes', an Olympics-related project based in Coventry. It was interesting and required a lot of research. However, though I made the windows, the building they were intended for was never built. As far as I know, they are still languishing in their crates somewhere. More recently I made a set of 'Creation' windows for a private chapel. They were installed and enhanced the small building, as I hoped they would.
Who or what inspires you?
Any number of things inspire me – things I see, things that I have experienced myself, or that someone tells me about. Then there are things that I read, like poetry, the Bible, Shakespeare.
I like drawing. I do quite a bit of life drawing. I may just go out to see what I can find. Sometimes I go through my old sketch books and find things that I think I can do something with.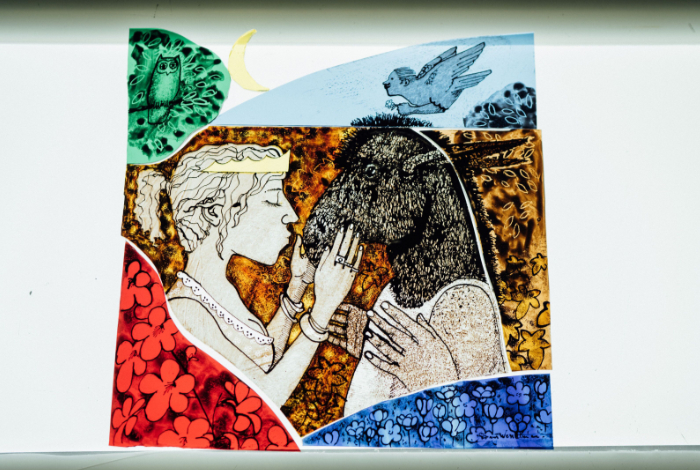 How has the coronavirus impacted your practice?
It hasn't really impacted me in the sense of making things, but of course all exhibitions were cancelled in 2020 and events only began coming back slowly in 2021. Nevertheless, I have continued to receive commissions. When everything stopped in March 2020, I did quite a bit of painting and I think I have made some progress there. I also did quite a bit of cycling; it was a lovely Spring.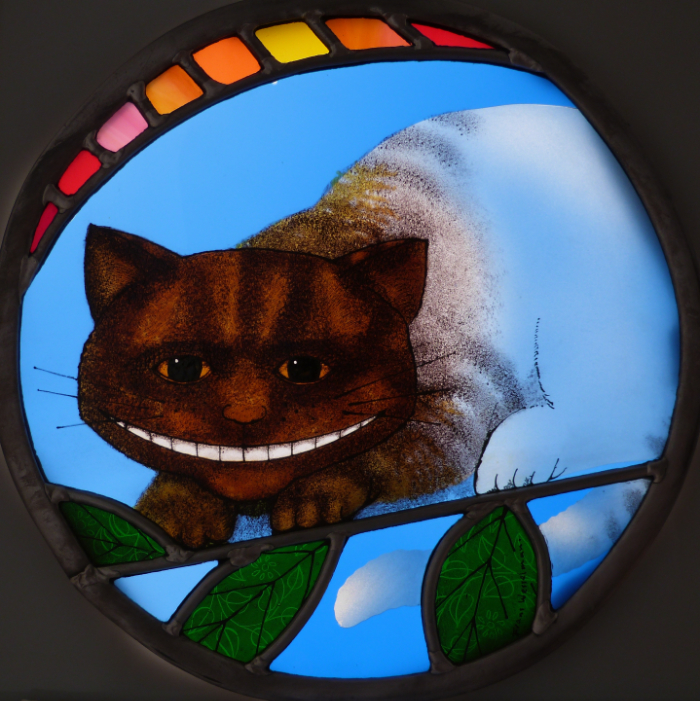 Is there anything else you want to add?
As a teenager I thought it would be good to be a painter. From then on, I did everything I could to achieve that goal. It has worked out quite different to what I imagined; I feel I have failed to get anywhere near those artists that I admired. It has been hard work and, at times, quite difficult, financially. But it has been so interesting, and I am still enjoying what I do every day.
About the artist
Frans Wesselman R.E. was born in The Hague, Netherlands. Between 1970 and 1975 he studied for a diploma to teach art and art history in Tilburg, Netherlands, followed in 1977/1978 by a diploma in print making and photography at the Akademie Minerva, Groningen, Netherlands.
He has been a Member of the Royal Society of Painter-Printmakers since 1982.
He exhibited at the British Glass Biennale in 2006, 2008 and 2019, and is represented in several galleries.
Find out more via his website.
Main feature image: Detail of the stained glass panel, Tansy beetle, featuring dichroic glass plated with bright green.
Glass Network digital brings you all the latest news and features about contemporary glass
Send your news, feature ideas or advertising requests to the Editor Linda Banks