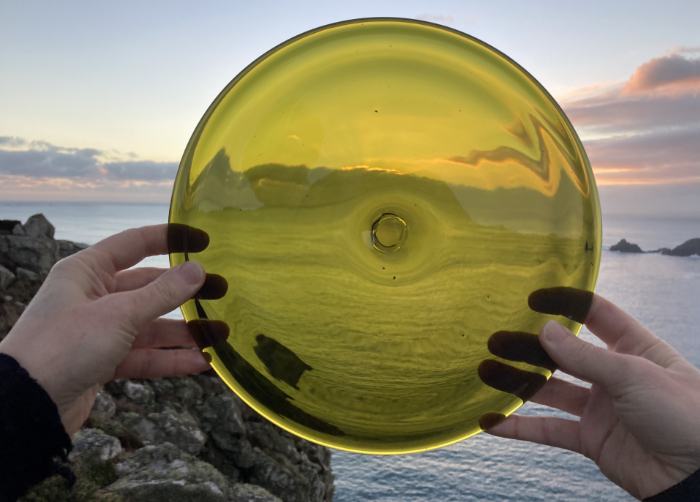 Cornish gallery hosts Flux glass exhibition
Glass made using only seaweed and sand will be displayed at Kestle Barton gallery in Cornwall from 9 April-12 June 2022. 
The glass was created by St Just-based glass artist Abigail Reynolds in 2019 after she discovered that seaweed was once used as a flux in glassmaking. She decided to change a Cornish beach into glass. Her exhibition, 'Flux', shows the glass she made using only seaweed and sand. 
Alongside the glass, displayed as mouth-blown roundels, a film made by the artist will be shown, which documents the glass-making process. 
After Abigail had spent a summer gathering sand and seaweed, a furnace was built at Kestle Barton in September 2019 to melt these materials to form glass at an event titled 'Estover'. This word refers to ancient rights to take 'that which is necessary' from the land. 
She commented on the project, "The beach is a threshold, the moving line between land and sea. Glass is also an indeterminate threshold between fluid and solid states of matter, and this is something of its magic."
For this exhibition she has also produced a large-scale woodcut print of kelp, the seaweed mixed with beach sand used to make the glass, and a book, entitled, 'Flux: Glass from sand and seaweed' (2022).
Close to Kestle Barton, in Redruth, another, permanent arwork by the artist has been unveiled. This window, 'Tre', was commissioned by Cornwall Council and stands four metres high in the reference library at Kresen Kernow the Cornish Archive. Tre incorporates glass roundels made from sand and seaweed. It is free to view during opening hours (10am-4pm, Tuesday-Saturday).
Another book by the artist, 'Tre: A window for Cornwall' is also available to buy at Kestle Barton. Tre unpicks the threads of meaning woven into the window at Kresen Kernow, and gathers together the voices of writers and academics, who share some of the many diverging stories and histories to be read in the Cornish landscape. 
Abigail Reynolds has a studio at Porthmeor in St Ives. She studied English Literature at St Catherine's College Oxford University before an MA in Fine Art at Goldsmiths College. Visit https://abigailreynolds.com to find out more. 
Kestle Barton is an ancient Cornish farmstead situated above the Helford River. Following an award-winning conservation and conversion project, the old farm buildings have new uses and one of the barns is now the gallery, which opened in 2010.
Kestle Barton is at Manaccan, Helston, Cornwall TR12 6HU. Email: info@kestlebarton.co.uk, www.kestlebarton.co.uk.
Image: Disk of olive green kelp glass by Abigail Reynolds, 2021.
Glass Network digital brings you all the latest news and features about contemporary glass
Send your news, feature ideas or advertising requests to the Editor Linda Banks