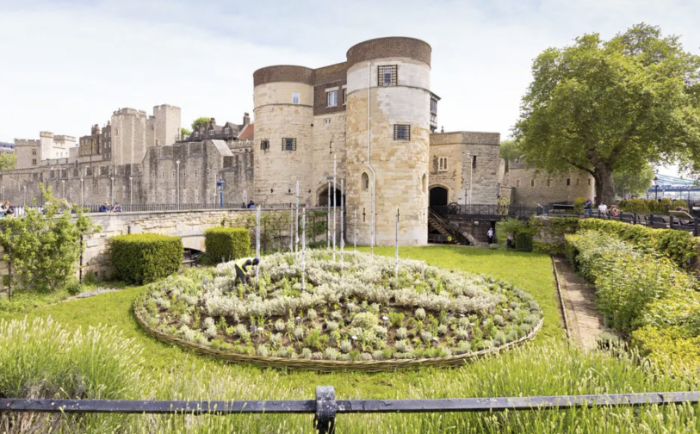 Contemporary glass part of 'Superbloom' at Tower of London for Queen's Platinum Jubilee
A display of flowers has been planted to fill the moat at the iconic Tower of London as part of 'Superbloom', one of the celebrations marking the Platinum Jubilee year of Her Majesty the Queen.
In addition, glass forms by glass artist Max Jacquard will feature in the specially created 'Queen's Garden' at the Tower for Superbloom.
The concept for the garden was developed by Andrew Grant and James Clarke of Grant Associates, the lead designers for the Superbloom project. It draws on the colours, shapes and motifs in the Queen's coronation gown, which was designed by Norman Hartnell. The layout of the space, with concentric scalloped hedging, evokes the scalloped tiers of embroidery which feature on the gown's silk skirt.
Nigel Dunnett, Lead Horticulturalist for Superbloom, selected a delicate, semi-formal structure of shrubs such as lavender, santolina and brachyglottis greyi to frame a sparkling mix of summer flowers, hinting at the gold bugle beads, pearls and diamante on the dress, which dazzled viewers around the world on coronation day.
The 12 cast glass forms have been specially made and represent the national emblems featured in Hartnell's embroidered design, including the thistle of Scotland, the Australian wattle and Canadian maple leaf. They sit around a glass crown in the centre of the display. The crown is a reminder of the Tower of London's ancient role as home of the Crown Jewels, the sacred regalia used in Her Majesty's coronation, and those of previous British monarchs.
In the moat, visitors will find a naturalistic landscape designed to be a haven for pollinating insects and seed-eating birds in the heart of the City of London. The display will transform the moat into an evolving sea of colours and scents over the course of the summer.
Visitors can choose to enter the moat on the Superbloom slide or use a fully accessible visitor entrance into the weaving pathways. (The slide availability is subject to weather conditions and demand).
Superbloom features winding, willow-lined paths and a specially commissioned soundscape with sculptural elements along the way, including 'The Nest', a woven wicker sculpture.
When the Superbloom display ends in September 2022, the new natural landscape created to support it will remain in the moat as a permanent Jubilee legacy.
Superbloom is open between 1 June and 18 September 2022 at the Tower of London, London, UK.
Find out more and buy tickets via this link: https://www.hrp.org.uk/tower-of-london/superbloom/#gs.0k0noq
Image: The Queen's Garden photographed in May 2022, where Max Jacquard's glass forms will be featured among flowers inspired by the Queen's coronation gown.
Glass Network digital brings you all the latest news and features about contemporary glass
Send your news, feature ideas or advertising requests to the Editor Linda Banks