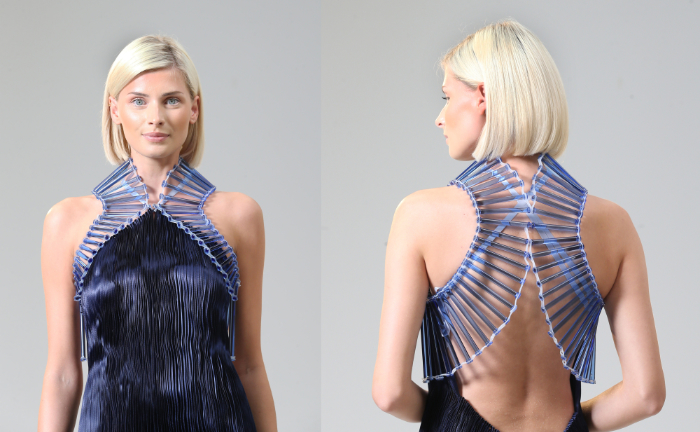 Collaborations
| 03-12-2021
Contemporary glass in fashion collaboration
Glass artist Laura Quinn worked with fashion designer Helen Hayes to create an elegant dress that featured a striking collar made from glass rods. This project is run by the Design and Crafts Council of Ireland (DCCI) and the Council of Irish Fashion Designers (CIFD).  
Each year, under the remit of the project, craftspeople and fashion designers are paired to create new, and even unlikely, collaborative wearable pieces. This initiative is the brainchild of Edmund Shanahan, chair of the Council of Irish Fashion Designers (CIFD), whose vision was for 'designers and craftspersons to appreciate each other's skills and to explore new ways to develop and present their work'.
This is the third year that the project has run, and one of the eight collaborative pairs this time included glass artist and Contemporary Glass Society member, Laura Quinn, who was paired with Dublin-based fashion designer, Helen Hayes.
All of Laura's and Helen's design conversations happened over video calls, both because the collaboration was carried out during lockdown and also because they were in different geographical locations.
The pair posted material samples and templates back and forth between the UK and Ireland before proceeding to make the final piece. Both remarked on how difficult it was to gauge the colour and tone of their materials over a computer screen, so this process relied on being able to see and feel the glass and ribbon fabric in real life.
To combine their aesthetic, making skill and design, Laura and Helen sought to find commonalities in their work. Using linear materials such as the ribbons and glass rods, they considered how the materials related to the human form. They took into account the movement and undulation of the ribbon and glass as they wrapped around the body, showing off the way both materials played with light. This was the inspiration for the wearable piece they designed.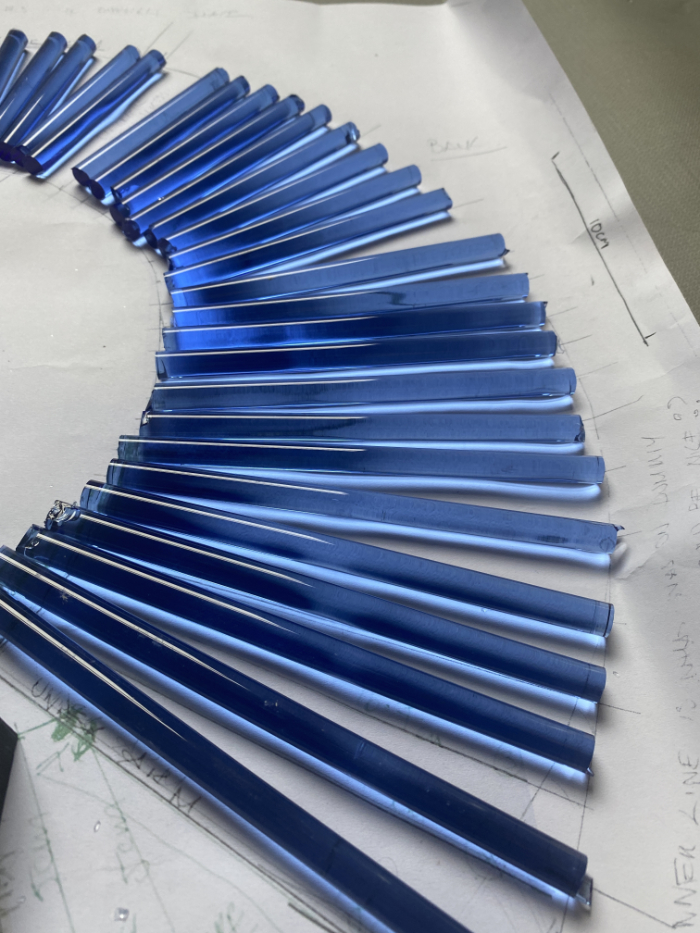 Laura used lampworking to create the glass element of the look. The glass was combined with her digitally-designed, and waterjet cut, silicone rubber elements, which allowed the structure to be flexible around the moving body.
Each glass component was designed to slot in and out of the silicone, enabling repair and replacement, as well as bespoke fitting to the wearer.
Flexibility and adaptability are key design elements in most of Laura's work, and here they allowed the glass section to be adapted to fit the model. Through video calls, Laura directed Helen on how to adjust the fit of the glass structure so it could be worn comfortably by model Katie Geoghegan.
Helen created the dress using over 500 metres of ribbon, stitched to create a pleated effect. This pleating is the signature of Helen's work. The result is a stunning look that uses linear materials, both glass rods and ribbon, that play with light as they undulate around the body.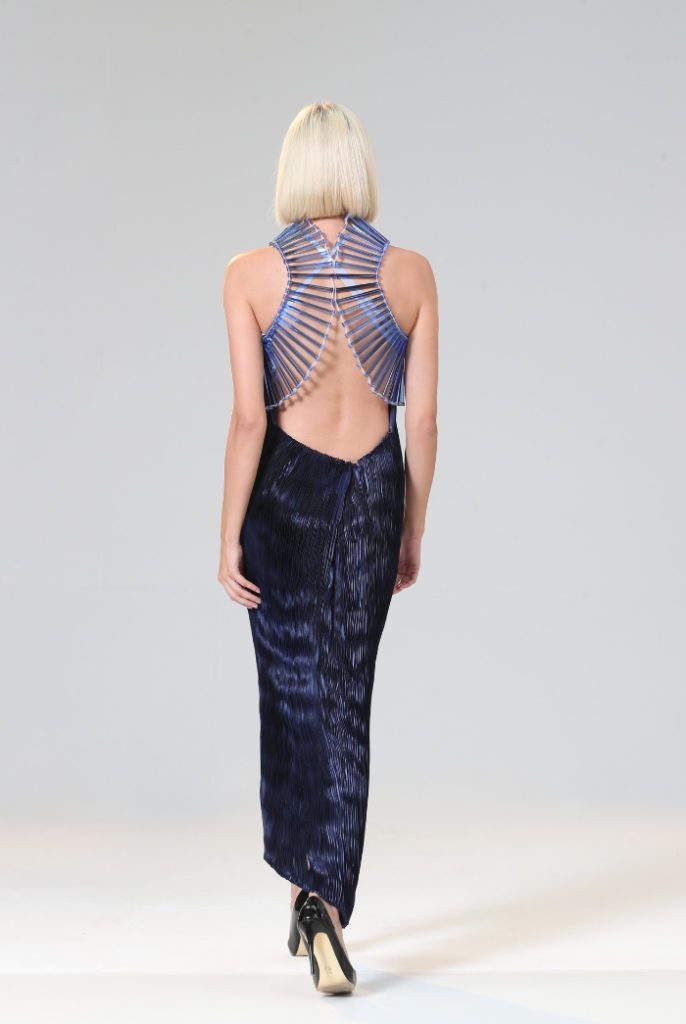 Laura said of the experience, "Normally I shy away from colour, focusing mainly on clear glass in my work, because there is just so much for me to explore with the optic effects of glass alone. But this collaboration has given me the confidence to start to include colour in my work, whilst keeping the overall form streamlined to explore how the glass interacts differently with light.
"Working with Helen was such a joy, and the outcome of the project is better than either of us expected. It has reminded me that, even though it's so easy to get wrapped up in our own bubble of making, there is great merit in working collaboratively with other people. Getting a fresh eye from a non-glass maker has helped to give me a new perspective on my practice."
The final look went on display for the first time at the CIFD Autumn/Winter 2021 runway show. It was well received and was subsequently picked up by various fashion journalists in high-profile newspapers and magazines.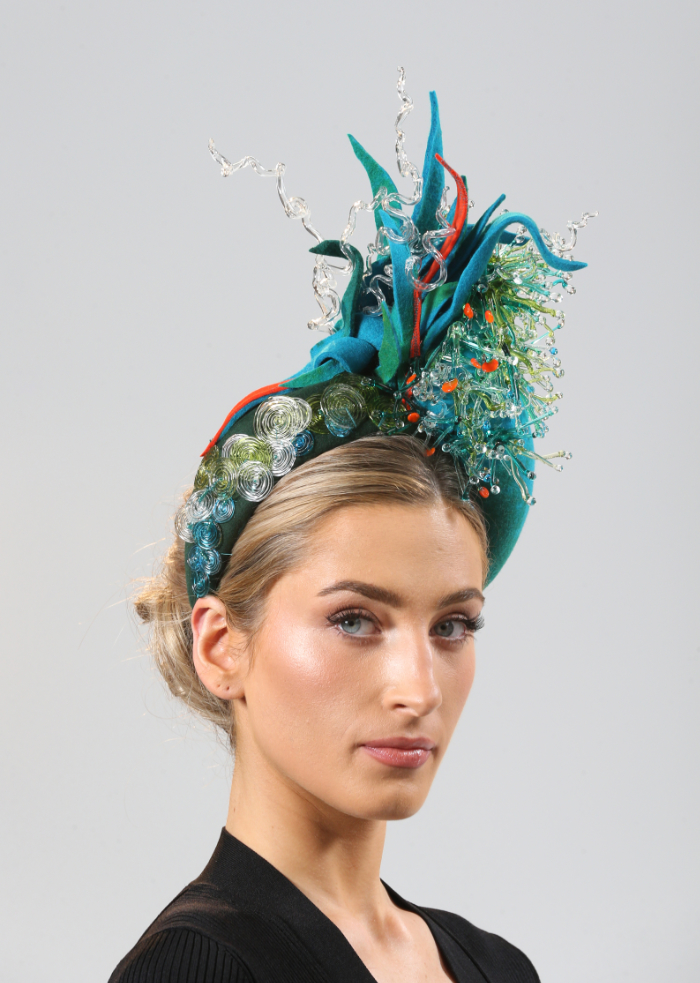 Fellow Irish glass artist, and County Down-based lampworker, Maggie Napier, also had her glass featured in a collaboration with milliner Wendy Louise Designs. Maggie created intricate, bright and beautiful glass elements using her lampworking techniques to adorn the headpiece.
To view the full catwalk show, visit https://www.youtube.com/watch?v=E6HAqksngQU (collaborations shown from 28:00).
Laura's works 'Flop Lights II and III' have also been selected for the National Glass Centre Glass Prize 2021. These are two illuminated glass sculptures that play on the fragility of glass by making it flexible and highly tactile. The forms are soft, flexible and durable, allowing the audience to touch, squeeze and squish, and challenging their perceived constraints of glass.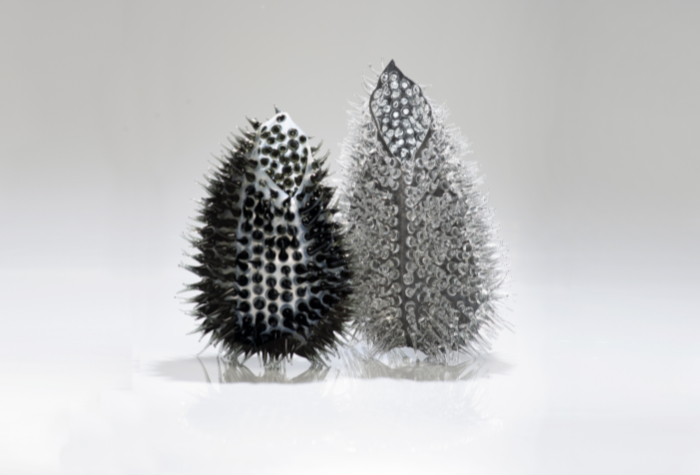 The pieces comprise 1,300 individually lampworked glass components that fit, interchangeably, into a waterjet-cut silicone framework. The combination of materials plays with the light from its central body, creating refractive, reflective and fibre optic effects. These artworks are on display now as part of the show, which runs until 13 March 2022. The National Glass Centre is at Liberty Way, Sunderland, SR6 0GL, UK.
See more of Laura's work online at: www.lauraquinndesign.com
Main feature image: Front and back views of the glass details of the dress created in a collaboration between Laura Quinn and Helen Hayes. 
Glass Network digital brings you all the latest news and features about contemporary glass
Send your news, feature ideas or advertising requests to the Editor Linda Banks