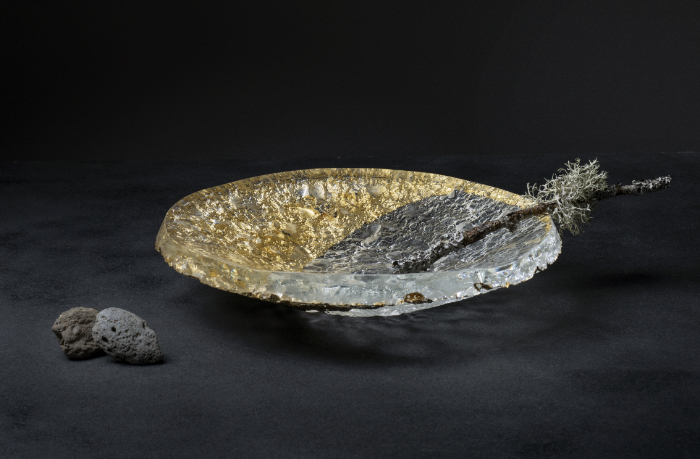 Contemporary glass exhibition in Conques, France
Contemporary glass is taking centre stage at the summer exhibition of the art collective Dare D'art, beneath the town hall in Conques, France.
The event is on until 22 August 2021.
Ten members of the group are displaying a broad range of innovative work using a variety of glass techniques. The glass artists are: Roselyne Blanc-Bessière, Serge Boularot, Martine Bruggeman, Sylvie Freycenon, Matthieu Gicquel, Corinne Joachim, Jeounghee Kim, Jacques Pineau, Antoine Rault and Myriam Thomas.
Two of the members, who joined the group in 2021, Myriam Thomas and Jeounghee Kim, bring an international dimension to the event this time.
Conques, known as one of the most beautiful villages in France, is situated in the heart of the Aveyron region.
Between 1987 and 1994, the artist Pierre Soulages researched and created over 95 monochrome windows for the abbey church in Conques, establishing the area's strong relationship with art that remains today.
The contemporary glass of the Dare D'art collective has been exhibited in Conques since 2010.
The show is on every day from now until 22 August, from 10am to 1pm and 2.30pm until 7pm. Entry is free and some of the artists are on hand to speak to visitors.
Conques is located at 12320, Aveyron, France. Find out more here: www.asso-daredart.fr
Image: 'Tsukuyomi', by Matthieu Gicquel, in collaboration with Aurore Bouter for the gold leaf.
Glass Network digital brings you all the latest news and features about contemporary glass
Send your news, feature ideas or advertising requests to the Editor Linda Banks