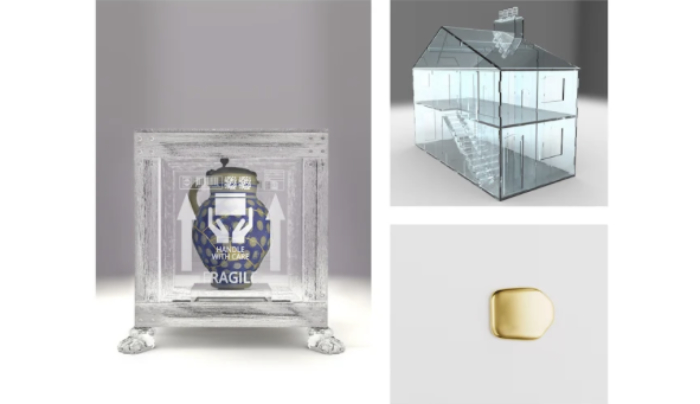 Confluence exhibition at National Glass Centre
An exhibition of work by three ceramicists who were given the opportunity to work with glass opens on 25 March at the National Glass Centre (NGC), Sunderland.
The 'Confluence' show developed from initial conversations between Andrew Livingstone (artist and Professor of Ceramics at the University of Sunderland) and Julia Stephenson (Head of Arts, NGC) around the relationship between ceramics and glass. They asked the question, 'How might an artist who works predominately with clay/ceramic explore the medium of glass?' There are some commonalties between the materials, processes and studio equipment. However there are also vast differences between the creative processes of these media.
The work in this exhibition exposes the commonalities and differences but also a confluence – a point at which the two materials meet. This is contextualised through the presentation of ceramic work by each of the artists which is selected from their respective practice.
The three featured artists are Bouke de Vries, Andrea Walsh and Andrew Livingstone. They were invited to the Glass and Ceramics department at the NGC and given access to the expert team and specialised equipment there.
Following this visit they developed proposals to extend their creative practice into glass, the outcomes of which can be seen in the Confluence exhibition. The NGC team worked with the artists on their ideas and realisation of the artworks through design and manufacture as part of a 10-day residency.
The project was produced and curated by Gregory Parsons, an independent curator and consultant.
Confluence is on show until 10 September 2023 at the NGC, Liberty Way, Sunderland SR6 0GL, UK. More on the website.
Image: (left) Bouke de Vries. Photo: Stefano Vuga; (top right) Andrew Livingstone. Photo: Colin Rennie of Torus Torus Studios; (bottom right) Andrea Walsh. Photo: Shannon Tofts.
Glass Network digital brings you all the latest news and features about contemporary glass
Send your news, feature ideas or advertising requests to the Editor Linda Banks