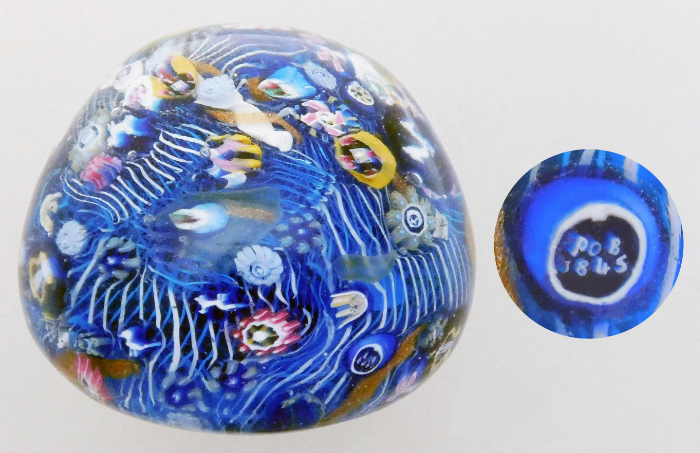 Glass paperweights
| 12-01-2022
Collecting glass paperweights
Glass paperweight enthusiast Ian Cummings provides a brief history of these fascinating and practical works of art, plus some tips for new collectors.
Opinions are divided about where the first glass paperweights were made and who made them. Most people will say that they were first made in Venice on the island of Murano. Others, however, believe that they originated in the Central European region known as Silesia, in the early 1840s.
What we do know is that Venetian glassmaker Pietro Bigaglia first exhibited paperweights at the Industrial Exposition in Vienna in 1845 along with his other glassware. These early Venetian weights were mostly scrambles containing lengths of coloured glass 'ribbon' and what is known as 'lace' or 'muslin'.  Bigaglia also incorporated millefiori canes in his weights as well as silhouette, date and signature canes (see main image).
Bigaglia's paperweights – or letterweights as they were called at that time – attracted the attention of representatives from all the major European glass companies. They obviously saw the potential of this new encased art form, and were quick to adopt the idea, because within a year or so paperweights were being produced in France, England, Silesia and Bohemia, followed, some years later, by the United States and Russia.
Probably the most famous producers were the 'big three' French glass makers Baccarat, St Louis and Clichy. By the 1850s smaller French companies such as St. Mandé, Grenelle and, later, Pantin, were also producing paperweights. Perhaps because of their prolific output the French companies have tended to eclipse the paperweights made by other 19th Century producers, such as Bacchus and Richardson in England, Harrach in Bohemia and the Josephine glassworks in Silesia. However, in recent years, there has been a reappraisal of the work of some of the sidelined makers.
The heyday of paperweights – what is known as the 'classic period' – is generally considered to be the years between 1845 and 1865. The 'post-classic' period – certainly in Central Europe – can be said to have begun as early as the 1870s/80s and continued into the 1920s.
The age of 'modern' paperweights began in the 1930s in Scotland with the pioneering artistry of Paul Ysart, the son of a Spanish immigrant. In America it was slightly later, when a handful of glass artists such as Charles Kaziun Jnr., re-discovered the 'lost art' of millefiori and lampworking and began to develop new methods of working with hot glass.
In the early 1950s Paul Jokelson, an American collector, persuaded Baccarat and St. Louis to restart production of paperweights. Although these companies had been at the forefront of production 100 years earlier, the techniques had been forgotten and it took some time before they were able to make paperweights of a comparable quality to those they had produced in the mid-19th Century. Today St. Louis continues to produce a limited number of paperweights, but Baccarat phased out production in 2002.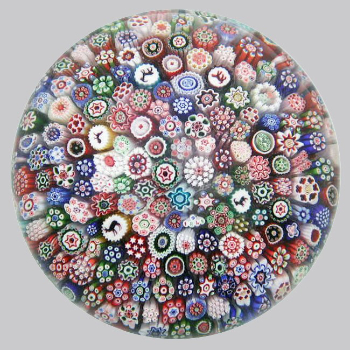 The traditional technique most commonly associated with glass paperweights is millefiori.  Millefiori paperweights contain patterns made from thin slices of colourful glass rods, which can have a relatively simple or extremely complex design.  The canes are set in a mould prior to being encased in glass. The glass dome magnifies the canes. A millefiori weight can contain hundreds of such canes, all arranged by hand.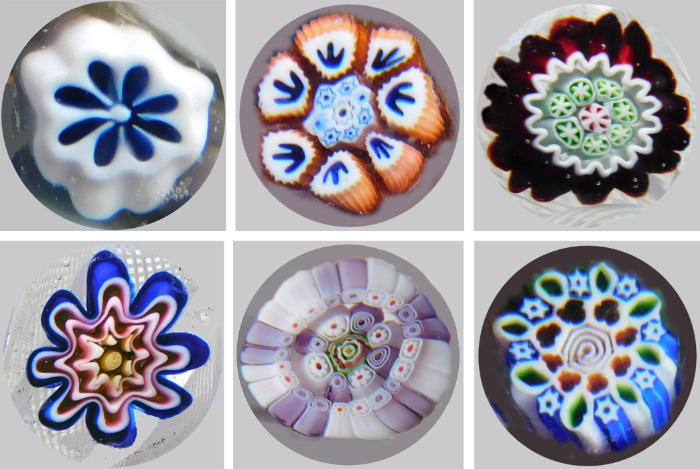 The other technique commonly used to create paperweights is lampwork.  Lampwork paperweights contain motifs which have been assembled from pieces of shaped coloured glass. The motif may be flowers, fruit, or butterflies, but fish, birds and snakes are also popular subjects. The lampworked pieces must be carefully assembled before being encapsulated in a protective glass dome and it takes great skill to produce even the simplest design. Care has to be taken not to distort the lampwork or to trap air bubbles in the finished paperweight.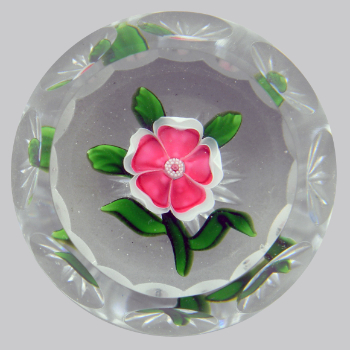 In the late 1960s new paperweight styles emerged, featuring abstract designs and unconventional shapes. This trend was spearheaded by Caithness Glass and Selkirk Glass in Scotland. Although these paperweights found favour with some collectors, they have not displaced the popularity of more traditional styles and shapes.
Today the large glassworks of the past have given way to smaller glass studios and artists working on their own. Although there are still a number of glass artists making collector-quality paperweights in Europe, mainly in the UK and France, plus a few other countries, it is American artists, making lampwork and surface-decorated paperweights, who dominate today's market.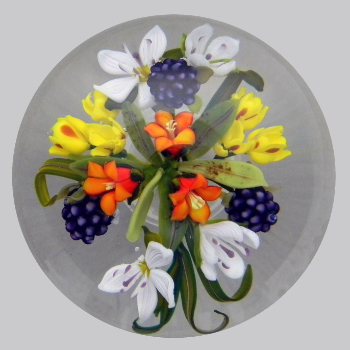 Where to start with paperweight collecting
These miniature works of art were never cheap and exceptional pieces still command high prices. For anyone starting to collect weights, the old adage still applies: buy the best you can afford. Prices for antique weights are currently below what they were even 10 years ago. The internet and eBay have certainly had an impact here.
The most common flower weights, such as antique Baccarat Pansies, can be found in general auctions for a couple of hundred pounds, whereas an antique Clichy convolvulus will probably fetch five figures!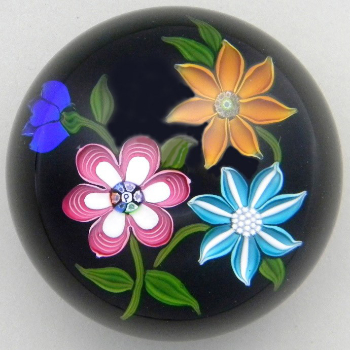 New collectors wanting reasonably priced paperweights should look out for those issued by Perthshire Paperweights, which opened in 1968 in Scotland and quickly gained a reputation for quality. Every year, in addition to its general range of mainly millefiori paperweights, the company issued an Annual Collection of limited editions. Although financial constraints forced the factory to close in early 2002, Perthshire weights frequently appear on the secondary market and are an excellent way of starting a collection.
There are a number of good reference books available and it is worthwhile studying these when starting out.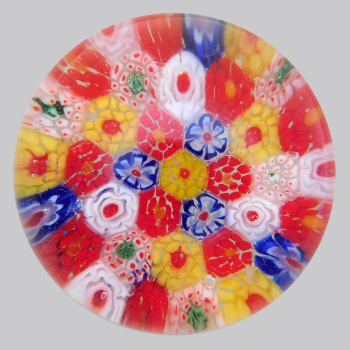 The garishly-coloured millefiori weights that are 'bargains' at car-boot sales invariably turn out to be Chinese – and are best avoided!
About the author
Ian Cummings has been the editor of the Paperweight Collectors Circle's newsletter since 2015. He has been collecting paperweights for over 20 years. His collection includes antique weights as well as modern European and American paperweights. Through his company, weights-n-things, Ian also sells paperweights.
About the Paperweight Collectors Circle
The Paperweight Collectors Circle was founded in 1981 in Cambridge, England, and has members worldwide. The club holds meetings at different venues in the UK and publishes its newsletter three times a year. Details about membership can be found at: https://www.paperweightcollectorscircle.com, or contact paperweightcollectorscircle@gmail.com
All photos in this article are by Ian Cummings.
Main image: A Bigaglia paperweight with signature and date cane.
Glass Network digital brings you all the latest news and features about contemporary glass
Send your news, feature ideas or advertising requests to the Editor Linda Banks