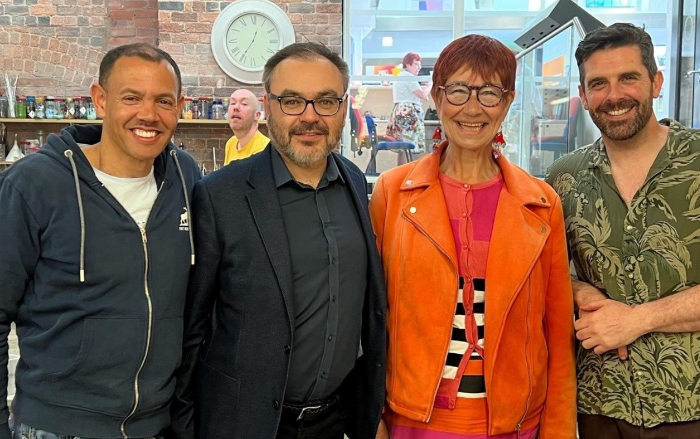 Appointments
| 30-05-2022
Chris Day becomes Trustee of British Glass Foundation
Glass artist Chris Day has become a Trustee of the British Glass Foundation (BGF).
The BGF has been the driving force behind the realisation of the new Stourbridge Glass Museum (SGM), which opened in April 2022. Chris Day also won the Contemporary Glass Society's (CGS) 25th anniversary competition for a piece of glass art that will be situated at the SGM.
Speaking of Chris's appointment, BGF Trustee Graham Fisher stated, "His appointment will add a new perspective to our direction of travel and will greatly strengthen our already-broad base of governance."
Graham Knowles, BGF Chairman, added, "We are delighted that Chris has accepted our invitation to join our Board of Trustees and we all very much look forward to working with him in the future".
Chris grew up in the West Midlands and is one of the few black glassblowers in the UK.
He creates highly personal works in glass and mixed media, which investigates the treatment of black people in Britain and the US. Much of his research focuses on the slave trade in the 18th Century and the events up to, and during, the Civil Rights Movement.
A recurring theme in his work is the use of 'copper cages' enclosing his glass, representing the restriction of movement, both physically and mentally, that slave traders forced on people who they viewed as mere 'commodities'.
Chris compares the glass to the human spirit, attempting to break free despite the restrictions that hold it in place. His recent work also features the war in Ukraine.
Chris says: "Like the glass I have pushed my approach in how I work with glass and ceramics in both traditional and experimental methods, to create contemporary artworks that represent my passion for this part of our history. As a black glassblower, I am one of few and on a quest to find and inspire more. My main purpose, however, is to engage the audience on issues that are hard to confront on many levels, using art to help overcome some of the traumas that haunt our collective past."
An emerging artist and a recent graduate from Wolverhampton University, Chris received a special commendation at the 2019 British Glass Biennale, held in Stourbridge, UK.
His commission piece for the CGS competition will be unveiled at the 'CGS at 25' exhibition at the SGM on 25 August at 11.30am. The CGS event will be officially opened at 6.30pm by Andy McConnell of BBC TV's 'Antiques Roadshow' fame.
See Chris Day's work at Vessel Gallery here.
Image: (left to right) New BGF Trustee Chris Day, Vessel Gallery's Angel Monzon, CGS Chair Susan Purser-Hope and SGM resident glassblower Allister Malcolm.
Glass Network digital brings you all the latest news and features about contemporary glass
Send your news, feature ideas or advertising requests to the Editor Linda Banks