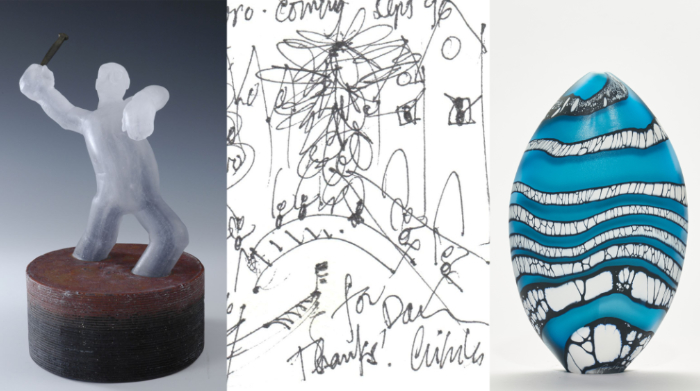 CGS raffle generates over £1,500
The winners of beautiful glass artworks have been drawn in the Contemporary Glass Society's (CGS) latest fundraising raffle.
The raffle raised just over £1,500 which will help CGS fund some of the many exciting events scheduled for 2022 in our 25th anniversary year. Pam and Sue thank everyone who bought a ticket.
Special thank yous also go to the many glass artists who donated work as prizes. These are David Reekie, Peter Layton, Gillies Jones and Alan J Poole. A further eight prizes were donated from previous shows by Aneta Glowacka, Jacque Pavlosky, Linda Norris, David Frazer, Janet Wheeler, Dr Linda Smith, Myra Wishart and Paul Mellor, so thanks are extended to them too.
The prize winners are: Judy Menges (2 prizes); Mark Holford; Annette Sharkey; Anna Popkin; Stewart Hearn; Leigh Baildham; Bernadette Blair; Peter Fricker; Jane Mason; Rachel Craig and Isobel Brunsdon.
Image: Some of the prizes (left to right): 'Thrower VI' by David Reekie; detail of a signed sketch on a napkin by Dale Chihuly (16 x 15cm);  'Turquoise Glacier' by Peter Layton.
Glass Network digital brings you all the latest news and features about contemporary glass
Send your news, feature ideas or advertising requests to the Editor Linda Banks