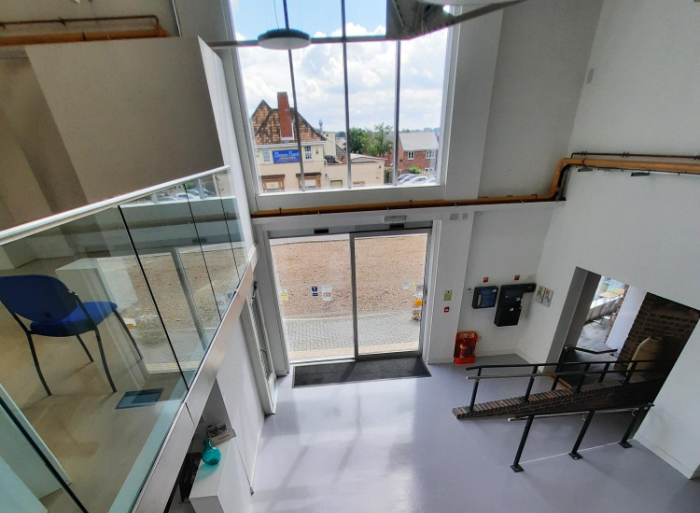 CGS and Stourbridge Glass Museum offer contemporary glass commission
The Contemporary Glass Society (CGS) and Stourbridge Glass Museum (SGM) are proud to announce a joint commission for a piece of contemporary glass art to be shown in the new museum's Reception Area during 2022.
The competition is open to all CGS members (join CGS here) and the winning design will be purchased for SGM's permanent collection.
The challenge is to create a stunning celebration of glass, one that displays dazzling originality along with a virtuoso use of techniques. The aim is not only to celebrate 25 years of the CGS but also to stop visitors in their tracks with a work that sparkles and delights.  This is your chance to create the piece of contemporary glass artwork you always dreamed of making.
The chosen work will be officially unveiled during the International Festival of Glass in August 2022.
The SGM's reception area offers a great opportunity to feature a hanging glasswork (see photograph) and the Museum has a winch with up to 200 KG max weight for sculptural glass pieces. However, all other 2D and 3D glass art forms will be considered. Hanging work, wall pieces and plinth-based work are welcome, as long as they meet Health and Safety standards. Please note that hanging works will have to be accompanied by a Health and Safety Risk Assessment and may require Structural Engineer approval. Any costs incurred for this must come from the funding available. Both individual artworks and collaborative proposals are welcome, although group entries would share the payment.
The work can combine different materials or found objects but at least 50% must be glass. It must be resilient to heat and light as it is not possible to control environmental factors at the museum. The winner must deliver it and supervise installation, should that be necessary.
The commission budget of £4,000 (to include the purchase of the work for the SGM) has been jointly funded by the CGS (through donations from Collector Members) and SGM. This money includes the design, construction and delivery of the work to the SGM by 22 August 2022.
The closing date for applications is Monday 15 November 2021 at 5pm (UK time). The panel will comprise CGS board members, museum staff and trustees. A short list of four finalists will be chosen, who must be available to attend an online interview on Monday 6 December 2021.
The winning artist(s) will be informed by 15 December 2021. At this point, 50% of the funding will be released, with the remaining monies paid following delivery and installation of the piece.
Location: Stourbridge Glass Museum, Stuart Works, High Street, Wordsley, Stourbridge, DY8 4FB UK.
Download the application form via this link.
Further information:
CGS: Pam Reekie Email: admin@cgs.org.uk or Tel: 01379 741120
SGM: Oliver Buckley (Museum Director) Email: obuckley@stourbridgeglassmuseum.org.uk
Image: The reception area at Stourbridge Glass Museum, where the new artwork will be located.
Glass Network digital brings you all the latest news and features about contemporary glass
Send your news, feature ideas or advertising requests to the Editor Linda Banks