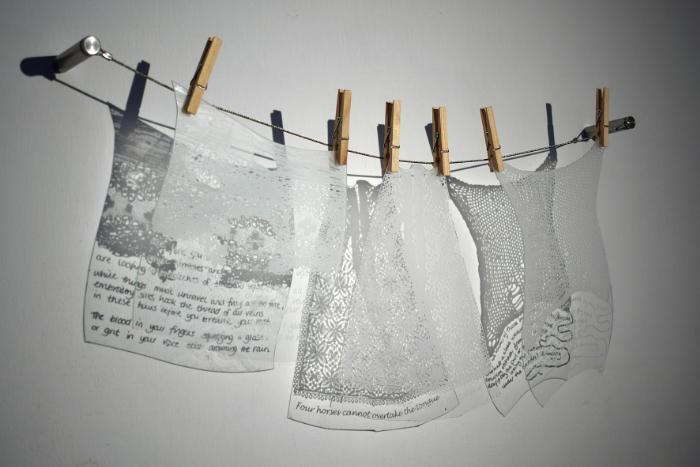 CGS and Makers Guild in Wales launch joint exhibition 'Flow'
Between 2 April and 29 May 2022 visitors to the Craft in the Bay gallery in Cardiff can see an exhibition of work by members of the Contemporary Glass Society (CGS) and the Makers Guild in Wales (MGW).
This is one of many collaborative activities being held throughout 2022 by the CGS to highlight its 25-year anniversary. This partnership with The MGW showcases art inspired by the theme 'Flow', held in a beautiful, fully glazed exhibition area in the heart of Cardiff Bay, Wales.
Applications were encouraged from all CGS members, and especially those based in Wales. A total of 22 artists were selected to take part.
Interpretations came from the Flow of glass, of ideas, of creativity, and of movement.
The artists chosen were: Nour El Huda Awad, Carolyn Basing, Chris Bird-Jones, Jacky Edwards, Mark Fenn, Trish Goodbody, Amber Hiscott, Pratibha Mistry, Paul Mitchell, Linda Norris, Kate Pasvol, Rachel Phillips, Nicholas Rutherford, Anna Selway, Cathryn Shilling, Phillipa Silcock, Amelia Skachill Burke, Susan Thorne, Angela Thwaites, Neil Wilkin, James Witchell and Bethan Yates.
CGS Chair, Susan Purser Hope, who was on the selection panel, commented, "It is extremely exciting to have the opportunity to exhibit in such a lovely location as part of our celebratory tour around Great Britain. It was a daunting experience helping to choose artists from work that showed such variety and imagination."
Charlotte Kingston, Artistic Curator, MGW, added, "It is exciting to see the originality in design and interpretation of 'Flow' from the selected artists. Such a high level of skill in working with glass in a multitude of ways. The Makers Guild Wales is delighted to be working in partnership with CGS on this exciting project to bring contemporary glass to its audiences."
The Flow exhibition is on from 2 April until 29 May at: Craft in the Bay, The Flourish, Lloyd George Avenue, Cardiff, CF10 4QH. Website: https://www.makersguildinwales.org.uk
Image: 'Hand me down' by Linda Norris will be on show at the exhibition.
Glass Network digital brings you all the latest news and features about contemporary glass
Send your news, feature ideas or advertising requests to the Editor Linda Banks