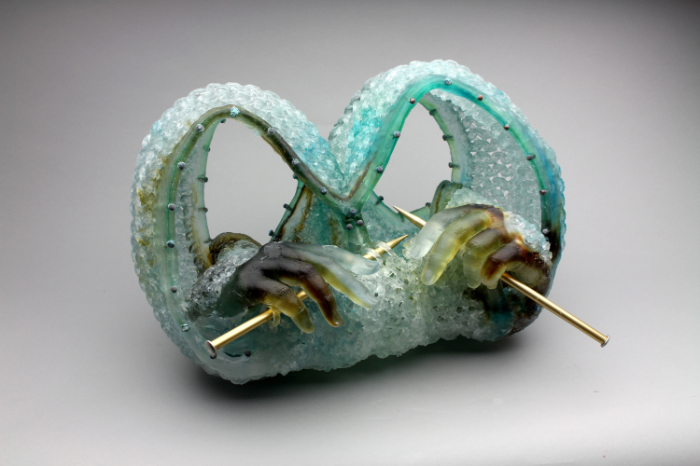 Casting off: Carol Milne's knitted glass
Carol Milne uses lost wax glass casting to create intricate, knitted art that celebrates the process of making. Here she speaks to Glass Network digital's editor, Linda Banks, about her career to date and the thinking behind her work.
What led you to start working with glass?
I thought it would be fun to cut myself… Just kidding!
After college, I moved to Seattle, Washington, USA. One day, I was driving between Seattle and Vancouver in Canada, and saw a sign on the side of the highway for an open house at Pilchuck Glass School. (This was back in the days when their open house was a drop-in event for the general public). I had recently discovered Dale Chihuly, and had heard of Pilchuck, so I decided to stop in. WOW. The place and the material enchanted me.
Even though I'd seen flameworkers in Venice, I'd never thought of glass as a material I could actually work with. Back then, I couldn't afford classes at Pilchuck. I didn't know glass was something you could study in college, so I went off to pursue a master's degree in sculpture (never completed), where I did some mostly unsuccessful experiments in glass on my own. It wasn't until years later that I seriously began my studies in glass (at Pratt Fine Arts Center in Seattle).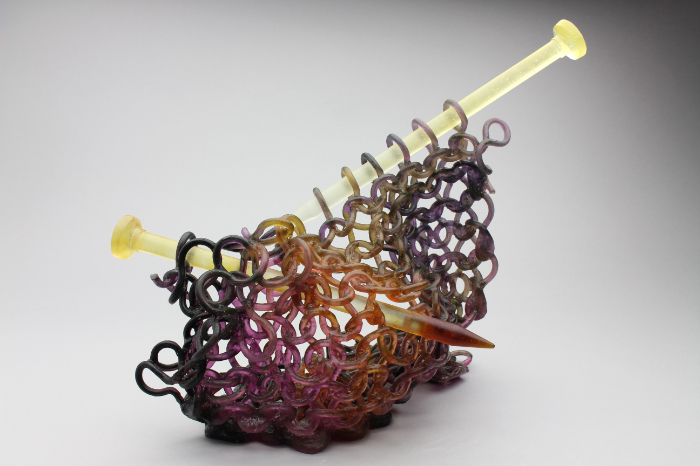 What glass techniques have you used in your career and why do you have a preference for cast glass today?
Stained glass was my 'gateway drug'. I used it to make traditional panels, but I also combined it with concrete for flat and 3D mosaic sculpture, and I cast iron around pieces of glass in experimental sculpture.
When I studied at Pratt, I was especially drawn to hot glass. I started with hot casting glass, ladling molten glass out of a furnace into bentonite sand and, later, resin-bonded sand moulds. Resin-bonded sand gives a more 3D result, but the moulds themselves give off smelly, if not downright toxic, fumes when hot glass is poured in, and as they cool in the annealer. Since I was using a public facility, that meant I had to switch directions.
Although I hated giving up hot glass, I started kiln casting because I knew it was something I could do at home. I got hooked because every day I open a mould is like Christmas – always a surprise, and never quite what you had been expecting.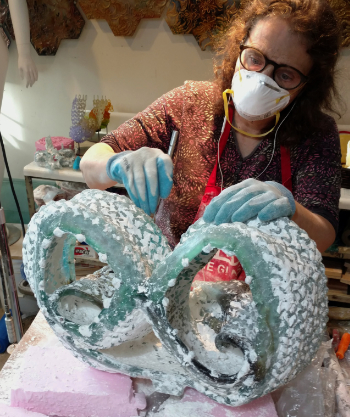 Can you tell us something about how you developed your special glass working methods for your signature 'knitted glass'? Do you draw your designs out or dive straight in with the materials?
The major problem with cast glass is its WEIGHT. I have been a knitter since I was 10, and the sprue wax I was using for bronze casting reminded me of yarn. I wanted to knit with it, and cast it in glass – for the fun of it – with the added bonus that my cast glass sculpture could be lighter. It did take a lot of trial and error to get it to work, because glass doesn't want to do what I want it to do.
Drawing has never been my forte. I studied with David Reekie at the Penland School of Crafts, and was in awe of his ability to draw and translate his drawings into glass. Mostly, I just work and play with materials. Sometimes I have an idea of where I am going, but often I surprise myself. The important thing is to keep at it, even when inspiration is in short supply.
Watch Carol on a tour of her studio, where she describes her processes here: https://www.youtube.com/watch?v=WpxB_doFIh4&t=4s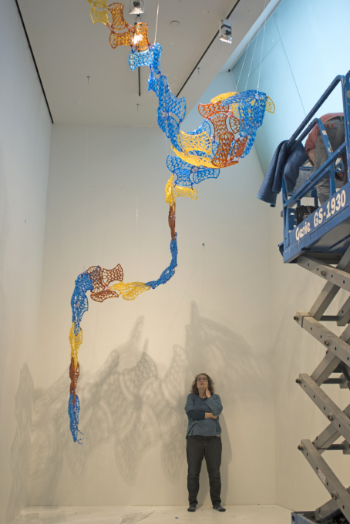 What is your favourite tool or piece of equipment and why?
I couldn't live without my cordless power drill, or my encaustic soldering iron (which doesn't overheat the wax), but my favourite tool is a nameless, stainless steel, concrete working tool. One end has a flat pointed triangle, the other end has a flat rectangle. Amazon calls it a Bon Tool Trowel and Square, a 1-inch Italian Ornamental Trowel. I use it mainly for wax working.

What message do you want to convey to your audience through your glass work?
Art is a tricky medium for conveying messages. It is enough for me to surprise and delight my audience, and to sometimes make them look twice.
But I also think my knitted glass work encompasses three main ideas:
Life is fragile;
We are interdependent and require others to make something bigger than ourselves;
Don't judge a book by its cover – appearances can be deceiving.
Sometimes I touch on deeper social or political issues; I do have strong opinions. But when I do, I try to get to the universal, not the specific. Art that expresses views about a specific politician is rooted in time; I aim for the timeless.
See Carol talking more about her work here: https://www.youtube.com/watch?v=jZF7Mljvbj8&t=14s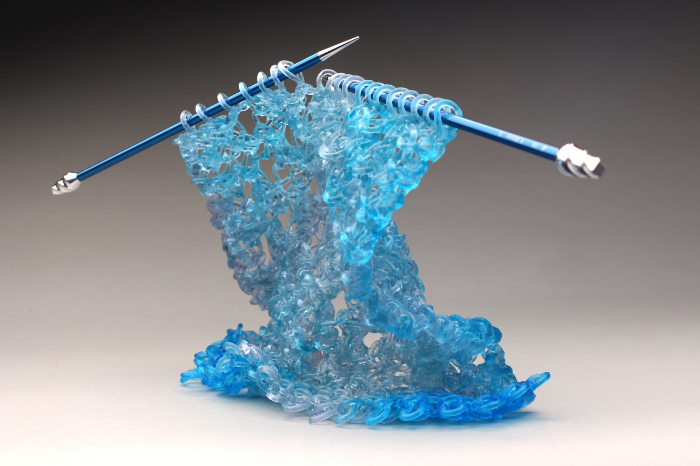 Do you have a favourite piece you have made? Why is it your favourite?
My favourite piece is usually the one I am working on, since I am much more about process than the actual finished work. That said, my piece, 'Cozy', is certainly resonating with me right now. It was created in 2012. It is of a seated clay figure, with her knees drawn into her chest, who is surrounded by a glass tea cosy (modelled after a tea cosy my grandmother used to have). There were certainly no thoughts of a pandemic on my mind in 2012, but now, when I look at the piece, that is all I see. Perhaps that shouldn't be a reason for it to be a favourite right now? I am fascinated by how our circumstances affect how we interpret a work of art.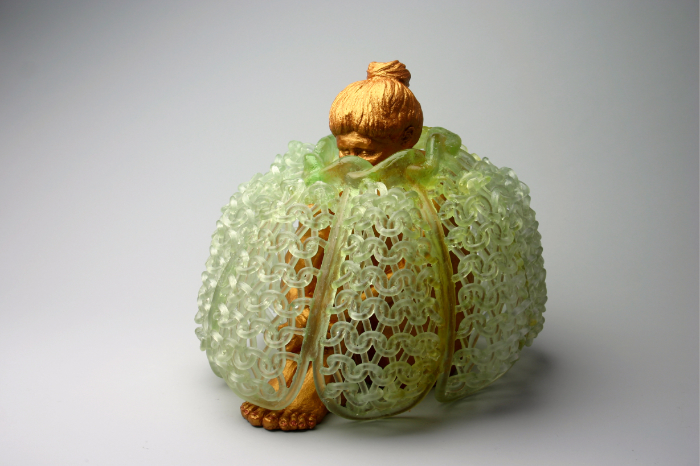 Where do you show and sell your work?
There aren't many in-person shows going on right now, but my work can be found in the following galleries, most of which are open by appointment: Blue Spiral 1 Gallery, Asheville, North Carolina; Chasen Galleries, Sarasota, Florida; Culture Object, New York, New York; Kittrell Riffkind Art Glass, Dallas, Texas, and the Museum of Glass Store, Tacoma, Washington.
I also sell small works through my website https://www.carolmilne.com/availableonline (although people outside the US would need to email me for a shipping quote).
Do you have a career highlight?
That I am still a working artist after 30 years, perhaps?
I had a solo show at the Bainbridge Island of Art in 2019. It was supposed to be up for three months, but it was so well received that it kept getting extended. The show was up for nearly nine months and three of the pieces in the exhibition were acquired by the museum.
Art is a form of communication and, without an audience, you're just navel gazing. It was affirming to realise I have an audience. Maybe I'm not wasting my time after all!
Who or what inspires you?
Surprisingly, this is a difficult question for me, and it's all about semantics. In the art world, inspiration and influence often go hand in hand. I am inspired by the work of many artists, but I try not to be influenced by them in a direct way. Art needs to be a conversation, one that builds on what has come before it and alters it in some way. My top five artists who inspire me are: Antonio Gaudi, MC Escher, Dr Seuss, Ruth Asawa and Buckminster Fuller. Also, I draw inspiration from music, puns, crafts, and current events. And I admire many of my fellow creators.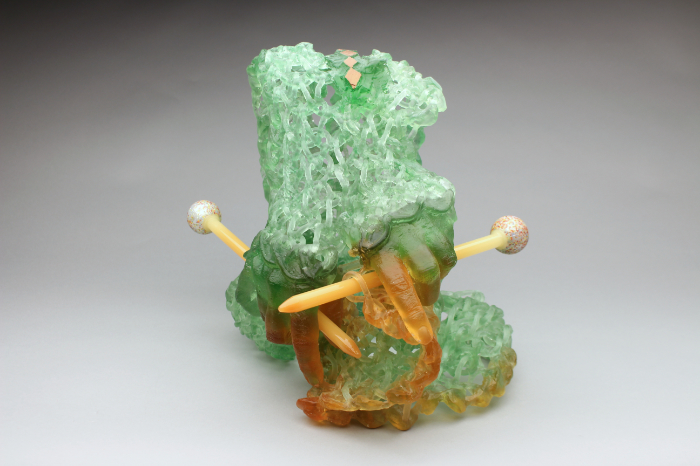 How has the coronavirus impacted your practice?
Fortunately, my studio is at home, so my work has continued. But my teaching and travelling have disappeared. The upside is that I have had time to finish projects that were on hold. I've also had time to research and experiment with LED lighting and fibre optics. Learning Zoom has also helped me to reach people I wouldn't have before.
And finally…
As part of the Unravel festival in Farnham, Surrey, UK, I am due to be interviewed via Zoom on 15 May 2021, Covid rules permitting. You can find details at https://farnhammaltings.com/artists-and-makers/craft/festivals/unravel
And, for those of you who love virtual chats, I'm planning to host a virtual artist's booth in the Glass Art Society (GAS) market during the online conference in May. I don't see it as a selling event, but more as a way to connect with people in a small group setting. I'm not much for large gatherings, but with nearly a year of social distancing, I do miss conversations. Please stop by and introduce yourself!  I'd love to meet you.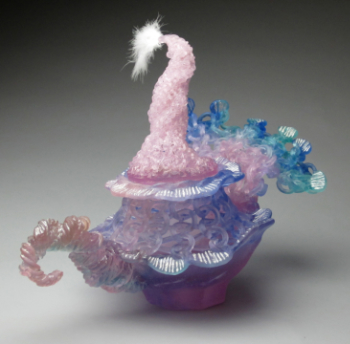 About the Artist
Carol Milne received a degree in Landscape Architecture from the University of Guelph, Canada in 1985, but realised in her senior year that she was more interested in sculpture than landscape. Her senior thesis, "Landscape as Art/Art as Landscape," drew her into the realm of sculpture and the die was cast. She attended two years of graduate school in sculpture at the University of Iowa, and has been working as a sculptor ever since.
In 2000 Carol took her first glass class at Pratt Fine Arts Center in Seattle. She began kiln casting in 2002, and in 2006 became the lone pioneer in the field of knitted glass. Pushing the limits of glass through persistent and relentless experimentation, she developed a variation of the lost wax casting process to cast knitted work in glass.
She travels worldwide to teach workshops. The most exotic places her art has taken her to are Istanbul, New Zealand and Tasmania. She also teaches extensively in the US, which she will resume once the pandemic is under control.
Carol exhibits her work throughout the US. It is in the collections of the Notojima Glass Art Museum in Ishikawa, Japan; The Asheville Art Museum, in Asheville, NC; the Kamm Teapot Foundation in NC and the Glasmuseum Lette in Coesfeld, Germany.
Recent honours include two Honourable Mentions at Cheongju International Craft, Korea, and an artist's residency at Amazon Headquarters in Seattle.
See more on her website: https://www.carolmilne.com
Main feature image: Cocoon.
Glass Network digital brings you all the latest news and features about contemporary glass
Send your news, feature ideas or advertising requests to the Editor Linda Banks