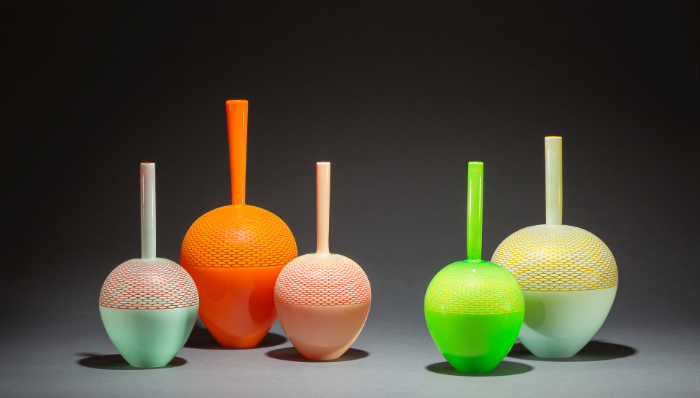 Cold working glass
| 08-07-2022
Carrie Gustafson: shining serenity, light and joy into the world
American glass artist Carrie Gustafson finds peace in her painstaking process of hand-cutting and applying stencils to create patterns on glass. She inhales her surroundings and exhales life into new pieces. Linda Banks finds out more.  
What led you to start working with glass?
I discovered glass while studying printmaking at Rhode Island School of Design (RISD) and I was instantly captivated by the material.  Glass was (and still is) relatively new as an 'artistic medium' and my imagination soared with the endless possibilities of this magic material.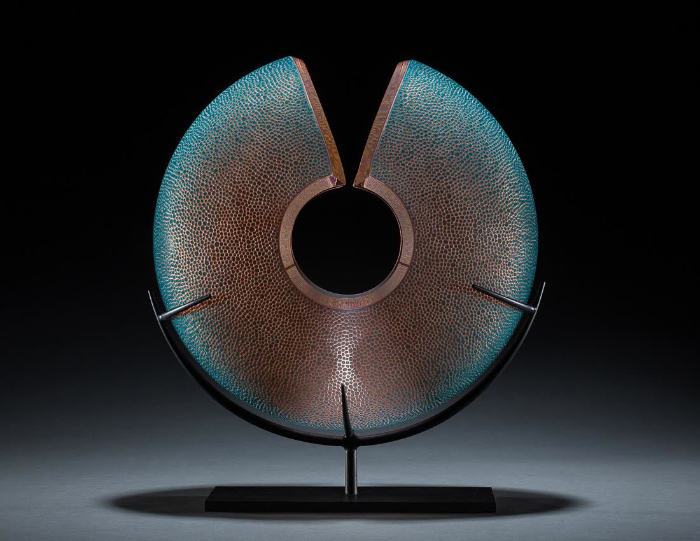 What glass techniques have you used and which do you prefer?
I've explored fusing, blowing and engraving. Working in the hot shop is an exciting part of the process, but I prefer the more tactile moments that can only be found when the glass is cold. I enjoy the moments when I can be quiet and alone in the studio, either cutting stencils or in the cold shop. These techniques are where my soul drops anchor.
You work with glassblowers to create blanks for you to embellish. How do you find working with other people?
I've had the great fortune to work with many highly skilled teams in the hot shop. And I love working in collaboration with other makers who share a similar aesthetic. Over the years I've learned that it's important to have a road map, but it's equally important to stay flexible. To listen to the material and not be too rigid is key. The piece, when it's on the pipe, is being directed by the gaffer, so I feel it's important to give his/her energy space to flow naturally and with the material. 

What is your creative approach? Do you draw your ideas out or dive straight in with the materials?
To have a productive day in the hot shop it's crucial to have direction and I spend a lot of time drawing and choosing colours beforehand. But, when I begin embellishing the vessels, my approach is much more intuitive. This is the time to set aside any preconceived ideas and let my intuition be the guide.
The two parts of my process where I find the greatest joy are in the designing stage, when I'm preparing drawings and choosing colours for a blow day, and then in the quiet time I spend alone in my studio hand-cutting stencils and patterning forms. In recent years I've begun to make wall panels (what I refer to as 'shard drawings'), and I am finding a similar rhythm and joy in the slow process of cutting, polishing and arranging these colourful elements.
A lot of your work is inspired by patterns in nature. Why are pattern and colour important to you?
I trained as a printmaker, so I come to glass with the eye of a two-dimensional artist. Pattern and colour are what most interest me and one of the aspects that drew me to blown glass was the challenge that a three-dimensional object presents to patterning. I spend a lot of time in nature so when I begin to pattern a vessel the rhythms and colours of nature are floating in my subconscious.
Decorating forms requires me to be very still and 'sit' with the form. The subtlest curve of a vessel can completely alter the visual rhythm of a pattern and this is where feeling and intuition come into play. My patterns come from a deep place of stillness; I don't use rulers or take measurements. They are purely intuitive. And the reward comes when the pattern, colour and form sing harmoniously.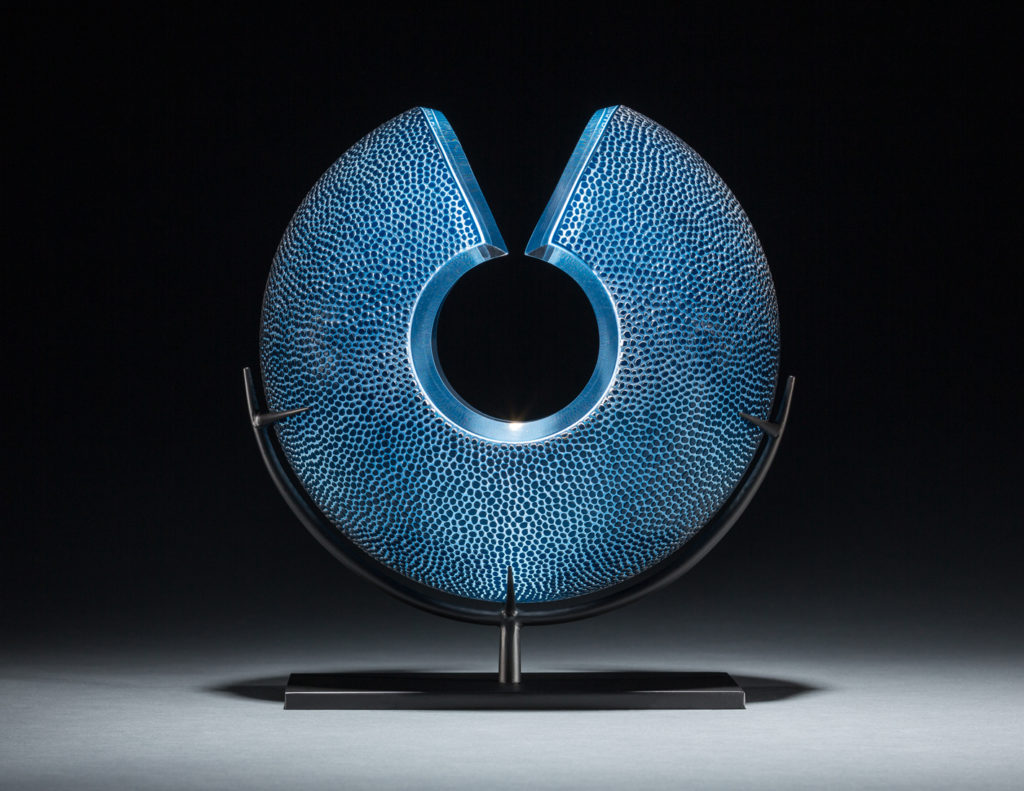 You have moved from a focus on decorative vessels towards open artworks. Why has your work taken this direction?
I originally moved in this direction when I was offered an exhibition in a large gallery space and was imagining ways to fill the walls. I had had limited time to return to this idea, but the pandemic provided a beautiful window of opportunity. With the hot shops shut down I had both the time and the materials to explore this direction further. I love the fluidity and intuitive playfulness of working with (and arranging) the glass elements and I am incredibly excited about taking my work this way.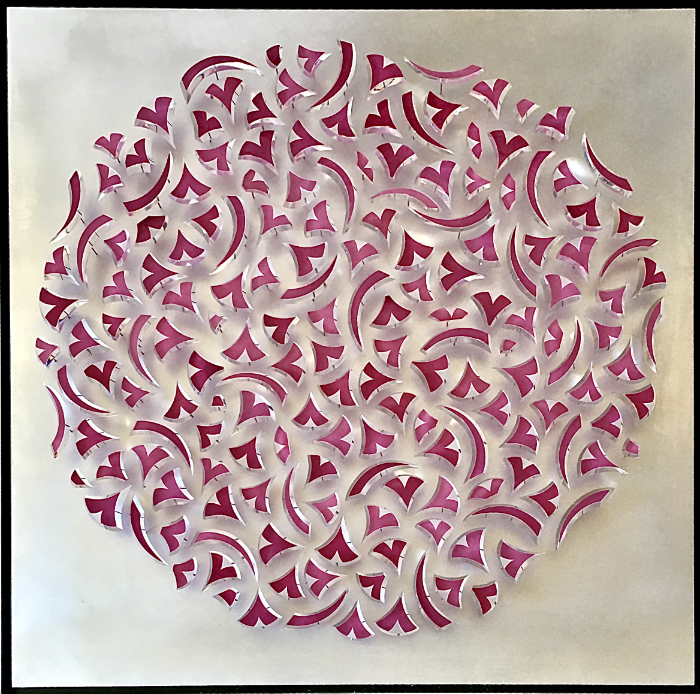 What message(s) do you want to convey through your art? 
Serenity, Tranquility, Stillness – Motionless Motion. 
What is your favourite tool or piece of equipment and why?
Of course, I love my X-Acto precision knives! But I have an equal affinity for the lathe and the flat mill in the cold shop – anything that lets me be quiet and slip into flow.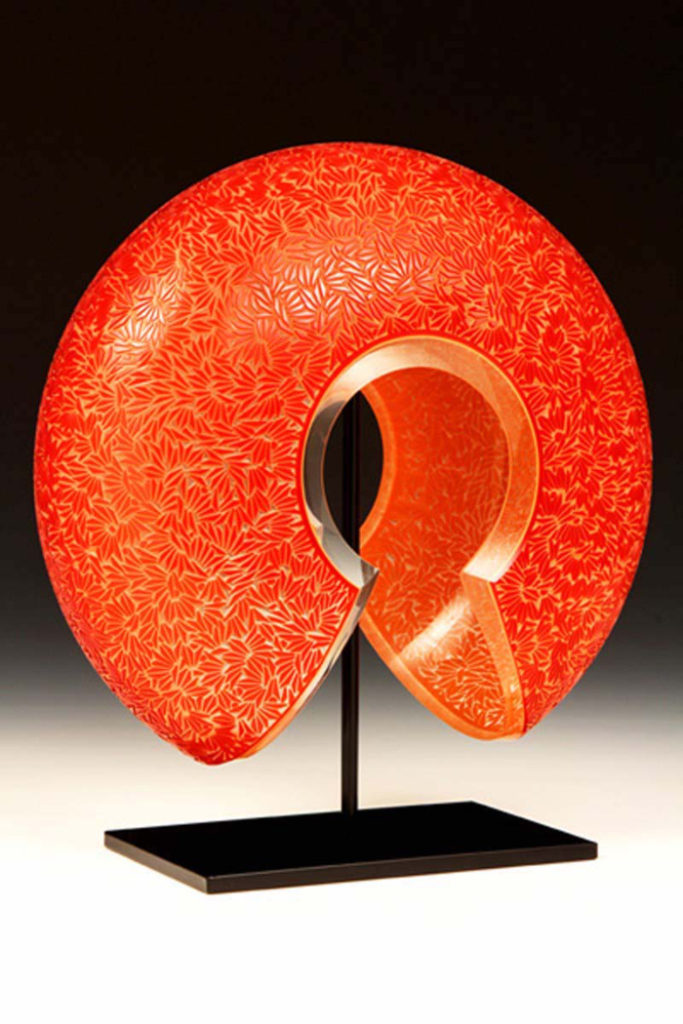 Do you have a favourite piece you have made? Why is it your favourite?
I have a favourite form each series, but, if I had to choose, I would say the Jaipur Mbola and Stingray Mbola and Bird of Paradise are a few of my favourite pieces. Both the colour and patterning of Jaipur challenged me technically. I see the piece as a demonstration of my patience and skill. In contrast, I love the hazy mystery of the Stingray Mbola. It was an extraordinary reveal when I peeled off the stencils. Plus I am delighted that it is in the permanent collection of someone I admire! Bird of Paradise is a stunner and the metal work was technically challenging.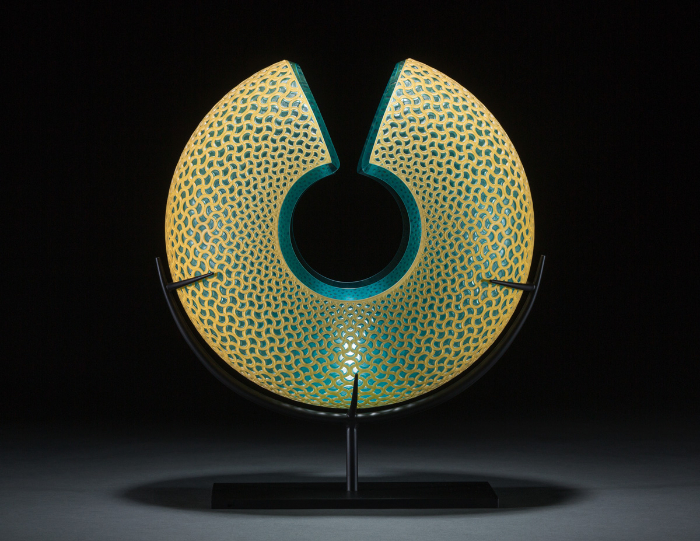 That said, my newest shard drawings are the pieces that most feel like 'me'. I love the playful nature of the elements; gestural and fluid. Expansive. I am in pure flow when I create them and I love the 'motionless motion' that they convey.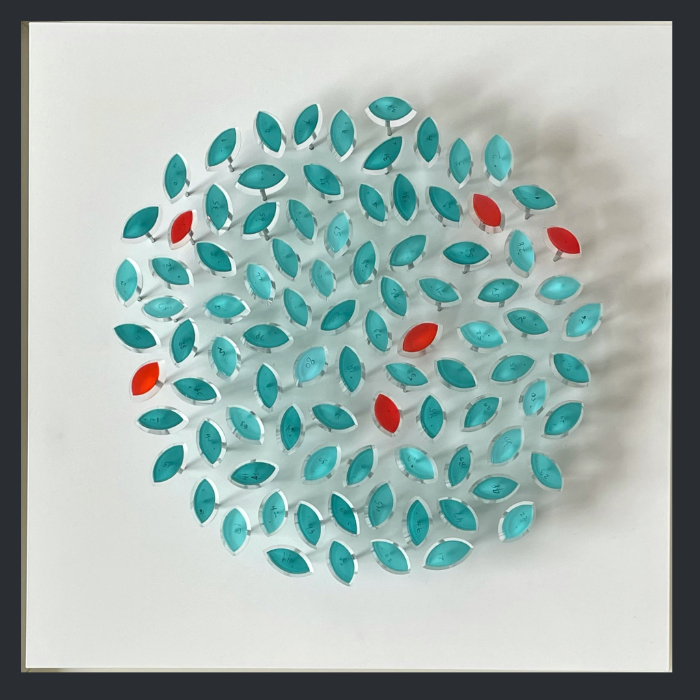 Where do you show and sell your work?
I sell online (direct) through my website and have limited gallery representation. 
Do you have a career highlight?
Last summer I was included in an exhibition at The Sandwich Glass Museum titled 'Influential Women in Glass'. The invitation was a huge honour, and I felt really proud of the collection that I presented.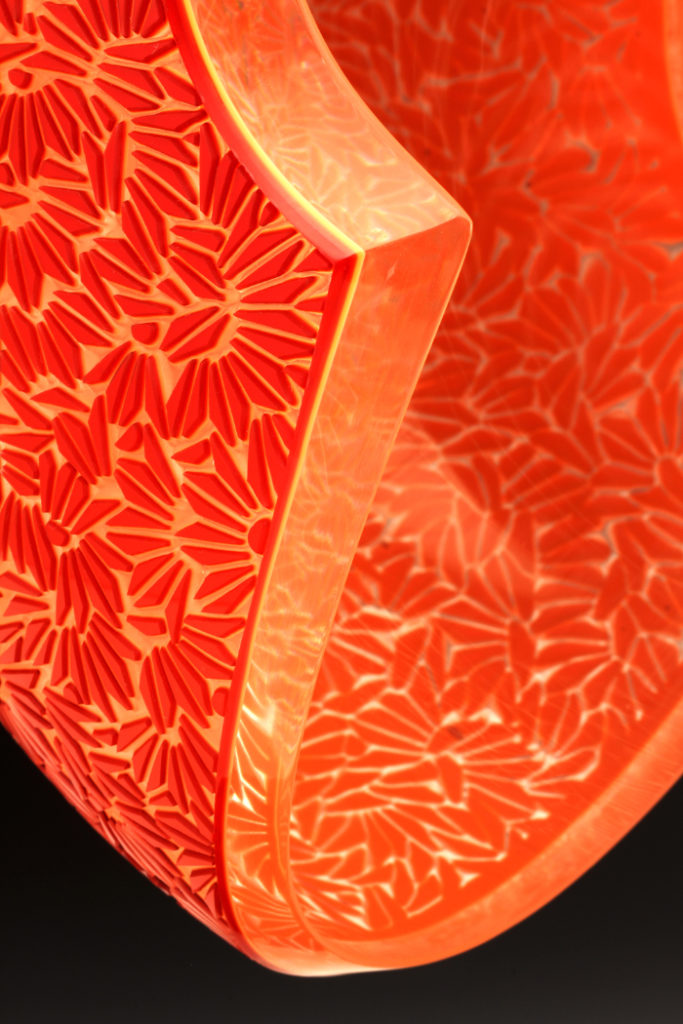 Who or what inspires you?
I'm inspired every day by my peers, who continue to hold their vision and trust their processes.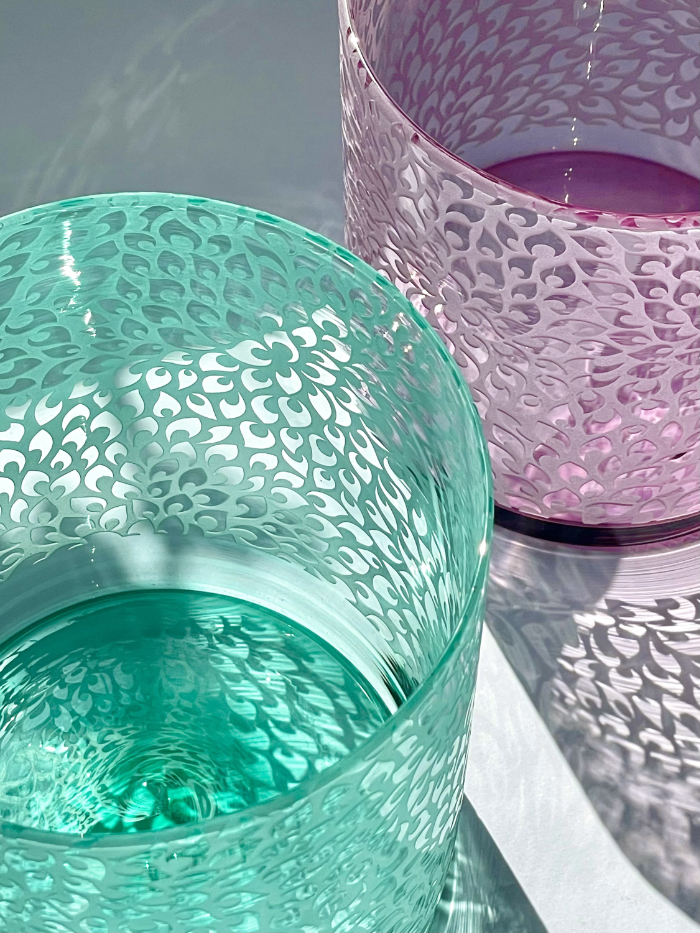 Did the coronavirus impact your practice? If so, how did you adapt?
The coronavirus slightly impacted my studio practice, in that the hot shops were closed. This meant that I was unable to make new 'blanks'. However, as a cold worker, I had plenty of material in my studio that I could work with and, as an introvert, I was well positioned for the solitude. Glass and Light became my pause. A gift. The time in my studio felt like a residency.    
The virus did, however, greatly impact how I sold my work.  With the closure of galleries and cancelled exhibitions, I had to take the reins of my career and pivot in a new direction. This involved the creation of an online web-shop, email marketing and actively posting to my new Instagram account. These two platforms have enabled me to maintain a dialogue with my clients and share my work and process in a way that feels intimate and engaging. In the absence of in-person shows it's also provided a path for me to receive feedback from both collectors and peers.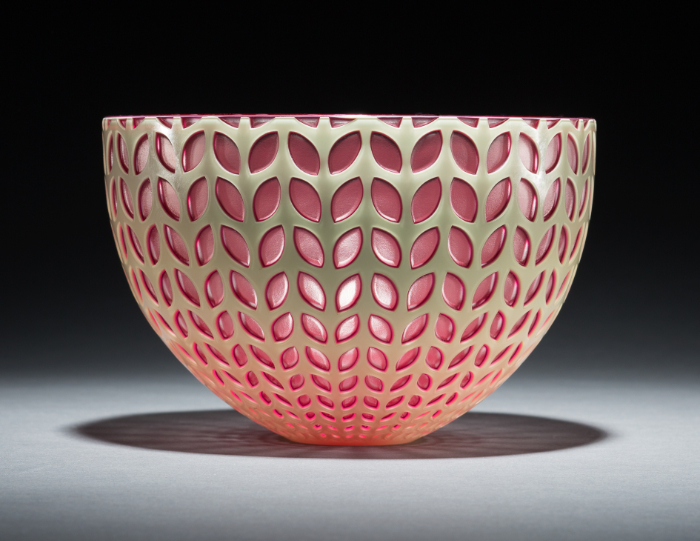 And finally…
I feel incredibly fortunate that the work that brings me joy resonates with so many people and I'm grateful everyday that I get to share my gift with the world.
About the artist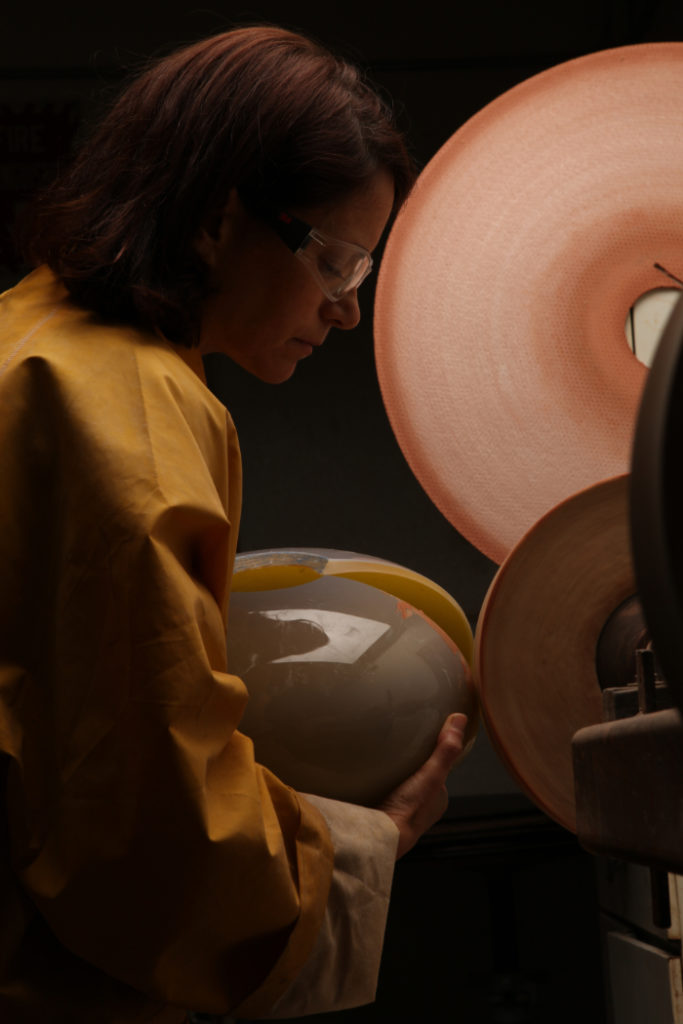 Experiments in glassblowing while a printmaking major at Rhode Island School of Design (RISD) ignited Carrie Gustafon's signature style of intricate patterns on vibrantly coloured, hand-blown glass. Upon graduation she quickly found her way into the glass studio.
Her curiosity took her to the Pilchuck Glass School (WA), Penland School of Crafts (NC), the Studio at the Corning Museum of Glass (NY), and the Rosin Studio, on the island of Murano, Venice, Italy.
In 1998 she found studio space in Cambridge, MA, which is where she continues to work.
In 2011 and 2016 she received a Massachusetts Cultural Council Grant. This, coupled with a residency at the Tacoma Museum of Glass (2011), enabled Carrie to break away from the vessel. The act of cutting open the vessels presented her with new possibilities and challenges, both technical and aesthetic.
In 2015 she made her first 'shard drawings' using the shelves of glass blanks that had been deemed seconds. She took inspiration from the patterns that she had been using in her vessels and began slicing and dicing platters into gestural marks of colour.
Find out more about Carrie Gustafson and her work via her website, where you can also see video of her process: https://www.carriegustafson.com
Main feature image: 'Mass Cultural Thistle Bottles' (2016) by Carrie Gustafson. Photo: Bill Truslow Photography.
Glass Network digital brings you all the latest news and features about contemporary glass
Send your news, feature ideas or advertising requests to the Editor Linda Banks