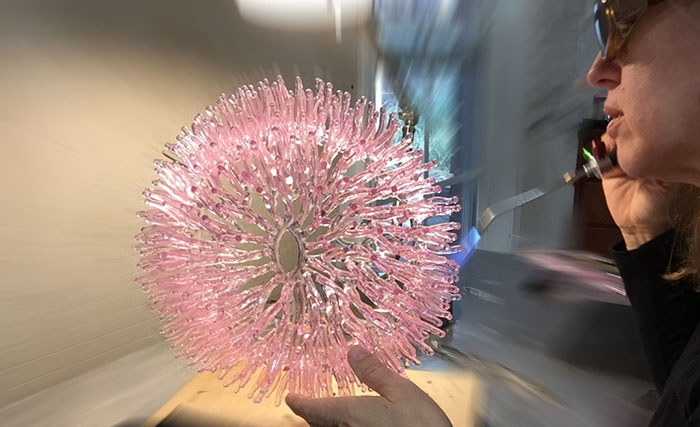 Flameworking
| 24-02-2021
Capturing the underwater world in glass
Sculptor Emily Williams has developed her own way of hand torching glass, which, to her, is a way of drawing with space and light. Her glass coral reef sculptures draw attention to this hidden, fragile world. CGS Glass Network digital's editor, Linda Banks, finds out more.
What led you to start working with glass?
With a long background in sculpture, I have always explored new media. I have worked for decades specialising in woodworking, metal fabrication, and metal casting. At a certain point, I was really looking for a life-changing journey as a sculptor. I needed a medium that possessed the immediacy of drawing. Hand-torched glass seemed to solve all the problems that I found with the opacity of wood and metal. Glass is luminous. For me, hand torching glass is an immediate form of drawing with space and light.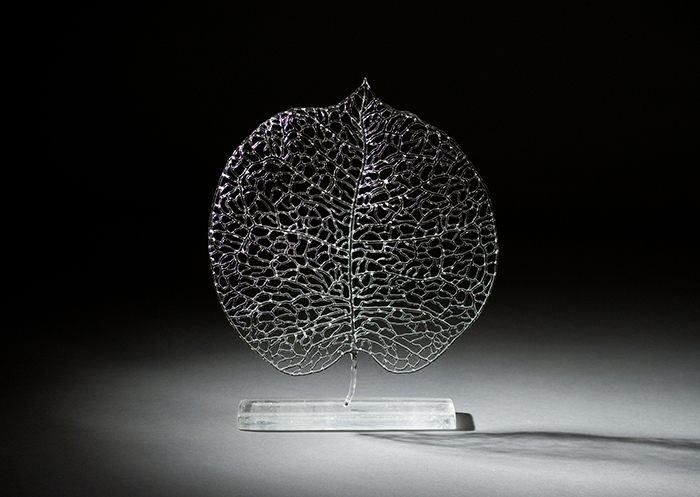 What glass techniques have you used in your career and why do you have a preference for hand torch work today?
Back in the 1970s, as a high school student in Virginia Beach, my father got me to sign up for a stained glass course. He thought I could decorate the house for him with custom lamp shades and windows! I made some stained glass, but really did not pursue it in any way beyond the class.
Around 2007, I became interested in glass casting and mould making. I cast glass using open face moulds, reservoir moulds, and pate de verre moulds. I enjoyed it for a while, but really became bored with the time-consuming processes of mould making.
Eventually, I circled back to the idea of glass flameworking. When I first became interested in glass in 2007, I stocked up on some books, such as Contemporary Lampworking Part 1 and Part 2 as well as The Penland Book of Glass. Initially, I really vacillated between cast glass and flameworking.  Flameworking just seemed so overwhelming to me. Years later, when I went back into these books, I had an epiphany when I saw the work of Susan Plum in The Penland Book of Glass. I thought, "That's the glass process I want to use – it's immediate, spontaneous, experimental, unpredictable, surprising…"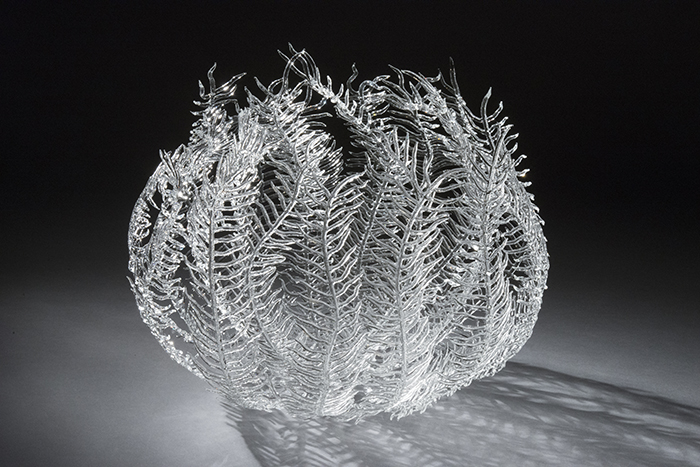 Since beginning hand-torched glass, I have used a variety of glass torches. As my process has evolved, I have acquired more torches and specialised tools. I have a large glass bench torch and have experimented with glass blowing. I have collected a variety of hand torches as well. Most of the time, I use a combination of a large bench torch and a Smith Little Torch. Depending on the sculpture, I work borosilicate glass rods in the bench torch and the mini hand torch. I have a preference for the Smith Little Torch and borosilicate colours that work well with that torch's chemistry. The mini torch is lightweight and easy to manoeuvre. Its functionality is really enhanced by using a four-and-a-half-inch custom tip, which allows me to go deeper into a glass form.
Can you tell us something about how you developed your special glass working methods for your latest work?
It has been a long road to get to this point! As I developed my ideas for this glass working process, I explored different plant and marine life forms. Initially, I created some organic forms based on wintering plant structures, dried plant petals and vines. As these pieces evolved, I became more interested, not only in the complex structures, but also in capturing a sense of movement. Using only a bench torch to achieve these types of forms is really not possible for me. In order to fully fuse the glass rods properly, you have to be able to work three-dimensionally and be able to completely fuse each element. This means sometimes reaching deep inside a forest of glass!
In the beginning, I used a National hand torch and did some amazingly complex work. The National hand torch was not easy to use, and the burns could be ferocious! Eventually, I began using the Smith Little Torch, but the standard tips were very small. So, I found a Hornet custom tip and it was a huge improvement. The Smith torch is light and can fit into the small areas where the National torch could not go.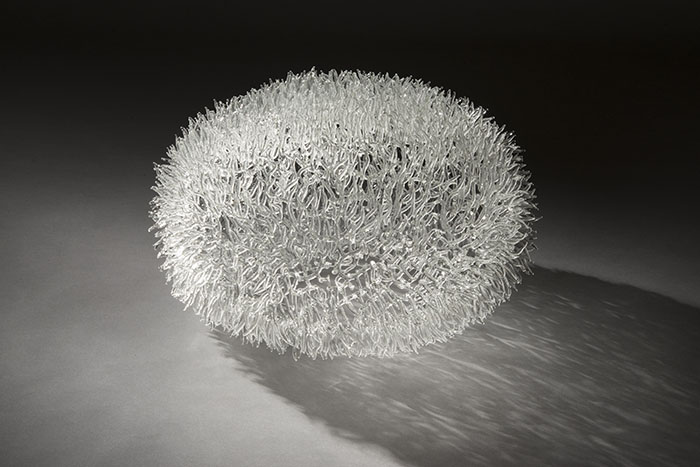 After creating a few marine life forms, I became fascinated with different types of corals and seaweeds. I never run out of excitement for the magical patterns, colours and forms found in a coral reef. Brain coral, long tentacle plate corals, feather stars, and even water itself, continue to inspire my work. Currently, I am moving into creating a series of smaller, more complex sculptures that explore colour, such as pink Gorgonian Coral, green seaweed, Red Coral and Fan Coral.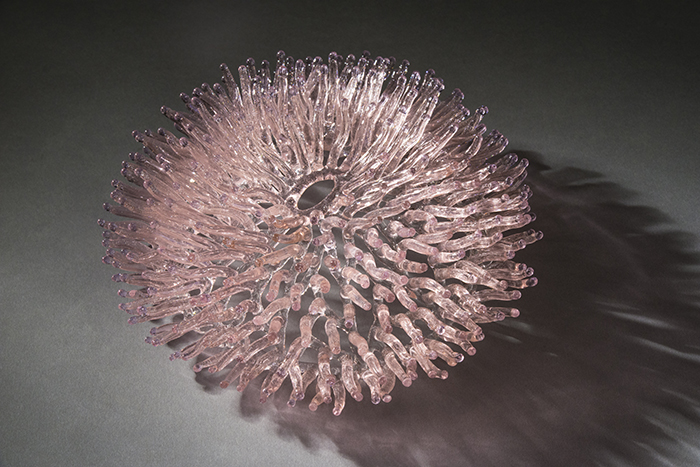 What is your favourite tool or piece of equipment and why?
My favourite tool is the Smith Little Torch because it is so versatile. I can adjust the torch flame to fuse from fairly thick rods down to super-thin rods of 2mm. The torch can be equipped with a variety of tips for different types of fusing jobs, from flat to highly dimensional objects. The torch is lightweight and easy to control. I have used a variety of bench torches and larger hand torches, but I prefer working with this mini torch.
Your current work focuses on glass reefs. What drove you to this subject?
I cannot say one single event or thing led me to my current work in creating ocean life forms. It was a culmination of many things, such as living on the water, drawing, reading, exploring historical scientific illustrations and scientific glass models. I am also interested in aquatic photography and video that examines the rich underwater diversity of marine life found in reefs. I am not a diver but I do dive into a lot of historical archives at the Biodiversity Heritage Library at the Smithsonian. Through their archives, I can access historical illustrations, some dating back centuries. I use these to study the complex biology of different marine life species.
Years ago, I created my first glass marine life form. The idea was to capture the transparency of the form and its visual movement. This stark skeletal form of a jellyfish had tentacles that seemed to rise and sway in space, as if in water. These ideas of glass linear forms suggesting movement are still prevalent in every glass work that I make.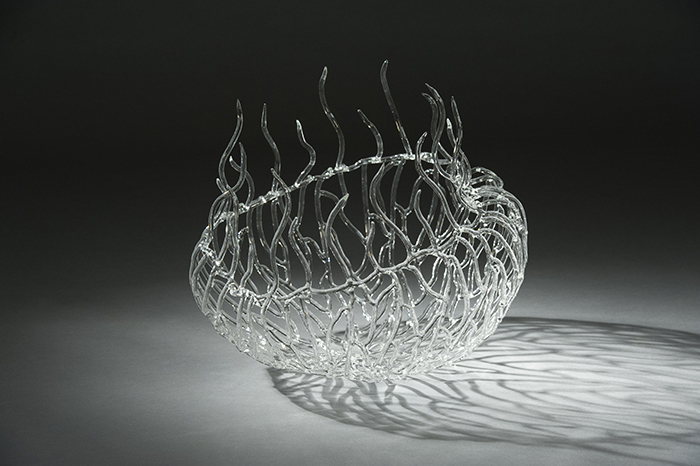 Do you have a favourite piece? Why is it your favourite?
I really do not have favourite sculptures. But one work that I come back to again and again, in terms of form and colour, is the Pink Long Tentacle Plate Coral. The profuse pattern of the tentacles and the circular form give me a lot of ideas for future works. Another work is the Large Brain Coral that I made years ago. The sheer scale and intricacy of that sculpture was a huge challenge. It really tested my skills for engineering the physical strength of the glass to achieve a large, voluminous form. The intricate structural patterns that I developed are based on the meander pattern found in brain corals. The pattern of small tentacles that cover the form mimic the behaviour of a feeding brain coral. Click this link to see a video of the fusing process used when completing that glass sculpture.
Where do you show and sell your work?
I have shown my glass sculpture in art museums, art centres, galleries and glass art auctions. A few museums have purchased my work, including The LaGrange Art Museum and the Alice C. Sabatini Gallery in Topeka, Kansas. I have also sold in the Glass Society Auction in Chicago, The Liberty Glass Art Museum Auction in Philadelphia, and the Urban Glass Gala Auction in Brooklyn, New York.  Generally, I sell my work through my website at www.emilywilliamssculpture.com. In addition, people contact me for special commission work. I have completed commissions for individual collectors and the LaGrange Art Museum as well. Recently, I added an online store to my website to showcase glass sculptures of different marine life in varying sizes, colours and price ranges. At this time, I am focusing on pink and green seaweeds, as well as various species in bright colours.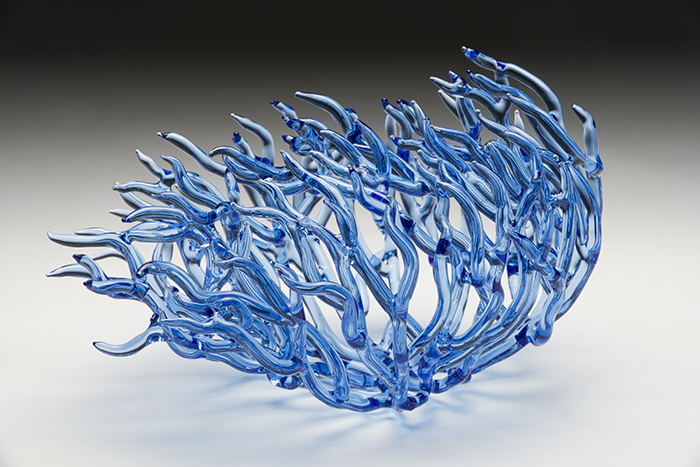 Do you have a career highlight?
While I am a professional artist, with a decades-long career as a sculptor, I am also a university professor. I have taught Sculpture, 3D Design, and Visual Arts lecture courses since 1989. Beyond teaching, my greatest career highlight has been moving into the medium of torched glass. I have never felt more satisfied as a sculptor! The process, the glass material, and the community of glass artists is very fulfilling.
A great moment for me was showing the Pink Long Tentacle Plate Coral in the travelling exhibit Lifeforms 2016 at the Pittsburgh Glass Center, and Corning, New York. I was able to show my work alongside other glass artists whose work I truly admire. This exhibit also coincided with the 2016 GAS Conference at the Corning Museum, which also featured the amazing Blaschka exhibit of scientific glass models and exquisite drawings of marine life forms, Fragile Legacy.
Who or what inspires you?
I am interested in marine life and different types of plants. A big part of my work is ocean life forms, such as corals and seaweed. Currently, I am working on a large series of glass marine life sculptures featuring brilliant, intense colours. I am awestruck by the patterns and movement that can be suggested in different corals and seaweed glass forms. As mentioned earlier, I am inspired by aquatic photography, historical scientific illustration, and the Blaschka scientific glass models.
I collect photography and historical illustrations while developing an idea for a new work. Right now, I am revisiting some earlier ideas relating to seaweed. Years back, the book An Ocean Garden inspired a large glass seaweed sculpture. The photography made for that book was spectacular and so detailed!  Within that book, the Gloiosiphonia verticillaris, Monterey Bay, CA c.1898 inspired the large glass seaweed.
I am currently delving into new, brilliantly coloured glass seaweeds on a smaller scale. When I do research, something might strike me, such as a particular colour, pattern, or sense of movement in how a species poses itself. From that, I begin making a series of drawings, from which I progress into the glass working process. Every glass sculpture evolves from the drawing process.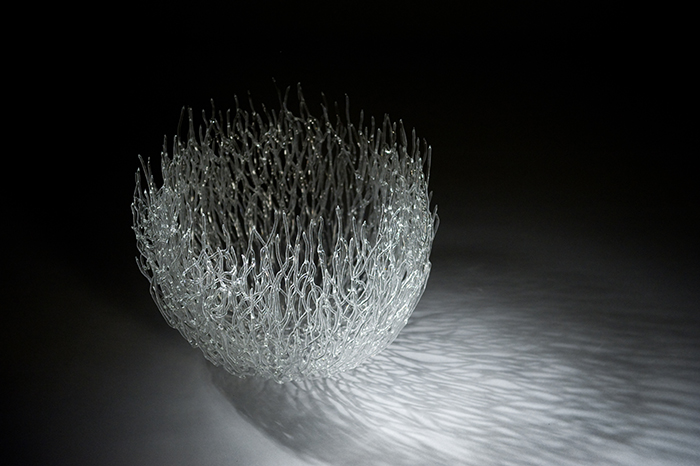 How has the coronavirus impacted your practice?
For the most part, I am pretty much a hermit, so my glass practice is about the same. During the past year, there have been a lot fewer glass exhibits and invitationals. I miss showing my work and interacting with people. Normally, I might be doing a public glass demonstration at least once a year, so I have also missed out on that type of public interaction. This past year, I have invested a lot of time in redesigning my website, adding a new online store, and developing a new online glass course.
And finally…
If anyone has any questions, they are welcome to email me through my website's Contact page. There are plenty of interesting glass articles and videos on my website that explain my glass working processes. For those interested in pursuing glass fusing with a torch, I am now offering the online Glass Fusing with a Hand Torch Course . Click the link to view details about the course and how to sign up.
About the artist
A native of Richmond, Virginia, USA, Emily Williams received her Bachelor of Fine Arts in Sculpture from Virginia Commonwealth University in Richmond, Virginia. She holds a Master of Fine Arts in Sculpture from Washington University in Saint Louis, Missouri.
She began teaching as Assistant Professor of Art at Clarion University of Pennsylvania in 1989. She has continued teaching at Troy University Online. She has received numerous awards, such as the Fulbright Hays grant to Italy, a number of fellowships in art, plus purchase awards from several museums.
Main feature image: Emily Williams creating a long tentacle plate coral in hand-torched borosilicate glass.
Glass Network digital brings you all the latest news and features about contemporary glass
Send your news, feature ideas or advertising requests to the Editor Linda Banks