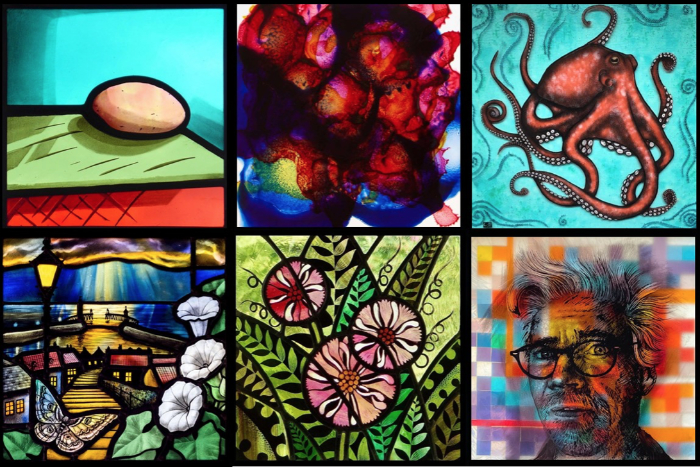 BSMGP Centenary touring exhibition starts at Ely
The British Society of Master Glass Painters (BSMGP) is celebrating its centenary in 2021, with a touring exhibition of its members' contemporary stained glass panels.
The panels have all been made especially for the organisation's 100th year and are travelling to different venues across the UK from September 2021 through to August 2022.
Over 80 stained glass artists, from the UK and overseas, submitted work for the centenary exhibition. There was no limit on style or materials, resulting in a great variety of subjects and methods. Some artists entered more than one piece, taking the total to over 100. Of these, 60 panels have been chosen for the touring exhibition.
First venue on the tour is the Stained Glass Museum at Ely Cathedral, where the 30cm square panels are displayed in the south-west transept on the ground floor, adjacent to the museum entrance. The show is on from now until 31 October 2021. Opening times are Monday-Saturday: 10am-4pm, Sunday: 12.30pm-3.30pm. Admission is free.
The tour continues at Winchester Cathedral (2-25 November 2021), moving on to Wells Cathedral (23 May-6 June 2022), the National Waterfront Museum, Swansea (Spring 2022), then to the International Festival of Glass, Stourbridge (26-29 August 2022).
If you cannot visit in person, you can view the 110 panels submitted to the centenary exhibition online at the BSMGP website via this link. You can also read the artists' statements about their inspiration for their stained glass pieces. Some of the artworks are for sale.
Glass Network digital brings you all the latest news and features about contemporary glass
Send your news, feature ideas or advertising requests to the Editor Linda Banks