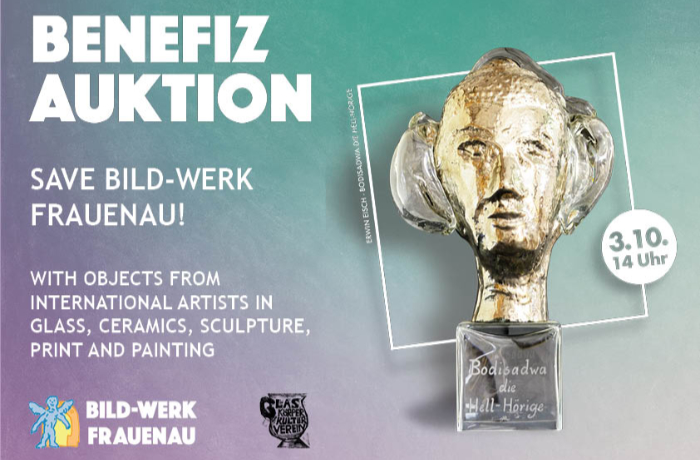 Art auction to save Bild-Werk Frauenau
Germany's Bild-Werk Frauenau, a centre for art, culture and glass creativity, is holding a benefit auction of glass, ceramics, sculpture, print and painting on 3 October 2021.
The event is being held to raise funds to secure the survival of Bild-Werk Frauenau and the 96 objects offered in the auction have been donated by international artists.
The organisation states: "Our financial position after two Covid summers is desperate. So we invite you to view the exciting artworks for sale, and hope that you will buy wonderful new works that will grace your home, your business, or perhaps make a good gift!"
Artists, teachers and teaching assistants have contributed artworks for sale. The works come from all the different studios at Bild-Werk, including glass, painting, printmaking, ceramics and sculpture.
Many pieces have been made cooperatively by Bild-Werk teachers from different disciplines during academy sessions.
Bild-Werk has always represented UK glass artists and they are strongly reflected in the auction. The 10 UK artists, represented by 16 objects, are: Max Jacquard (kiln casting); Mark Angus (stained glass – British but living in Germany); Jazmin Velasco-Moore (wood print); Amber Hiscot (stained glass artist – watercolour); Emma Baker (blown glass); James Maskrey (blown glass); Juli Bolaños-Durman (assembled glass) Anne Petters (German living in UK – pate-de-verre) and Sue Woolhouse (blown graal), with Catharine Coleman (engraving) making a donation.
Those who attend the auction in person (starts at 2pm on Sunday 3 October 2021) will be greeted with Bild-Werk razzmatazz and will be able to meet many of the artists, as well as having the chance to bid for objects.
Those unable to attend can make written bids for their favourite pieces. The Bild-Werk team is available to help anyone who wants to bid in this way. The full catalogue, with images and details of the 96 works available, plus the bidding form, can be viewed online via this link: https://www.bildwerkfrauenau.de/benefit-auction-2021.html
Bild-Werk will celebrate 35 years in 2022, and the organisers hope to continue to offer innovative courses via creative academies for years to come.
Find out more about Bild-Werk Frauenau here: https://www.bildwerkfrauenau.de/home.html
Glass Network digital brings you all the latest news and features about contemporary glass
Send your news, feature ideas or advertising requests to the Editor Linda Banks