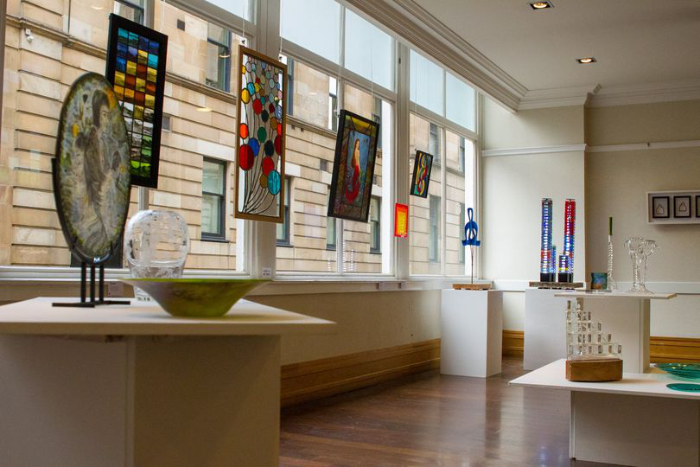 Apply for CGS and Scottish Glass Society joint exhibition
As part of its series of events promoting the UN-designated International Year of Glass in 2022 and marking the Contemporary Glass Society's (CGS) 25th anniversary, the CGS and the Scottish Glass Society (SGS) are holding a joint exhibition of contemporary glass art created by their members.
The exhibition, entitled 'Stories – Whispers from the Past and the Present', will take place in two venues in Scotland in September and October 2022. It is a selected show open to all UK-based members of both organisations.
The theme support's Scotland's Year of Stories, taking place in 2022. This spotlights, celebrates and promotes the wealth of stories inspired by, written, or created in Scotland. From icons of literature to local tales, the 2022 Year of Stories aims to encourage locals and visitors to experience a diversity of voices, take part in events and explore the places, people and cultures connected to all forms of stories, past and present.
'Stories – Whispers from the Past and the Present' will encourage makers to consider the five strands of Scotland's theme for 2022:
Iconic stories and storytellers: To showcase Scotland's wealth of treasured and iconic stories and storytellers from classics to contemporary across literature, the screen and the entertainment world.
New stories: To shine a light on emerging, fresh and forward-looking talent and highlight the innovators who break boundaries across all forms of storytelling.
Scotland's people and places: To promote how Scotland's diverse culture, languages, landscapes and ways of life, urban and rural, provide a source for all types and forms of stories.
Local tales and legends: To bring to the forefront those distinct tales that communities pass through the generations. Those stories that we tell ourselves and share with others to make sense of time and place.
Inspired by nature: To feature our encounters with nature. Whether by the sea or land, along rivers or through woods, in city and country, we discover stories of birds, insects, animals and plants. These stories define our place in the natural world and help create a more sustainable future for Scotland, and a greener planet.
The exhibition will aim to demonstrate how utterly glorious and amazing contemporary glass is, so that everyone can appreciate and enjoy its magical colours, textures, use of light and variety of techniques. It is also an opportunity for the public to discover not only local glass artists but also work from other parts of the UK.
This joint exhibition will celebrate both Scotland and the collaboration between national glass societies. The work displayed will feature as wide a range of techniques as possible.
The show will open in Trades House, Glasgow in the Merchant City area, running from 14 to 22 September, coinciding with the Glasgow 'Doors Open' week.  The exhibition then moves to the Wasps Creative Academy in Inverness, from 3 to 29 October.
"This is CGS's second collaborative exhibition with the Scottish Glass Society.  The previous show was such a success that we are excited to have this wonderful opportunity to not only exhibit at the prestigious Trades Hall in Glasgow again but to tour the show to this exciting new venue in Inverness", commented Susan Purser Hope, CGS Chair.
The closing date for applications is 5pm on 25 July 2022.  All work must be for sale.
Find out more and complete the application form here.
If you are not yet a member of CGS and would like to take part in this event, why not join here?
Image: The previous CGS and SGS joint exhibition at the Trades Hall, Glasgow.
Glass Network digital brings you all the latest news and features about contemporary glass
Send your news, feature ideas or advertising requests to the Editor Linda Banks