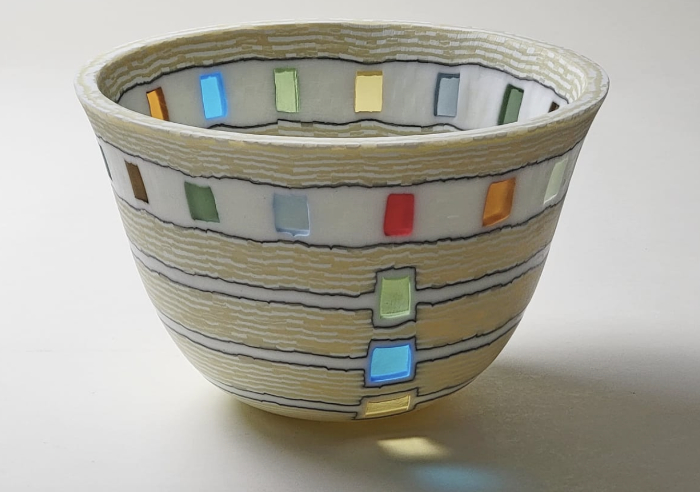 Ancient rings frozen in glass
US-based Jim Scheller makes glass art with an engineer's eye, using kilnforming and coldworking to achieve his intricate pieces. Linda Banks finds out more.
What led you to start working with glass?
When I retired I guess I was hanging out at home too much. In 2012 my lovely wife saw an advertisement for an evening class at Bullseye in Portland in the US. She bought it for me as a gift. It turned out the be the gift that kept on giving.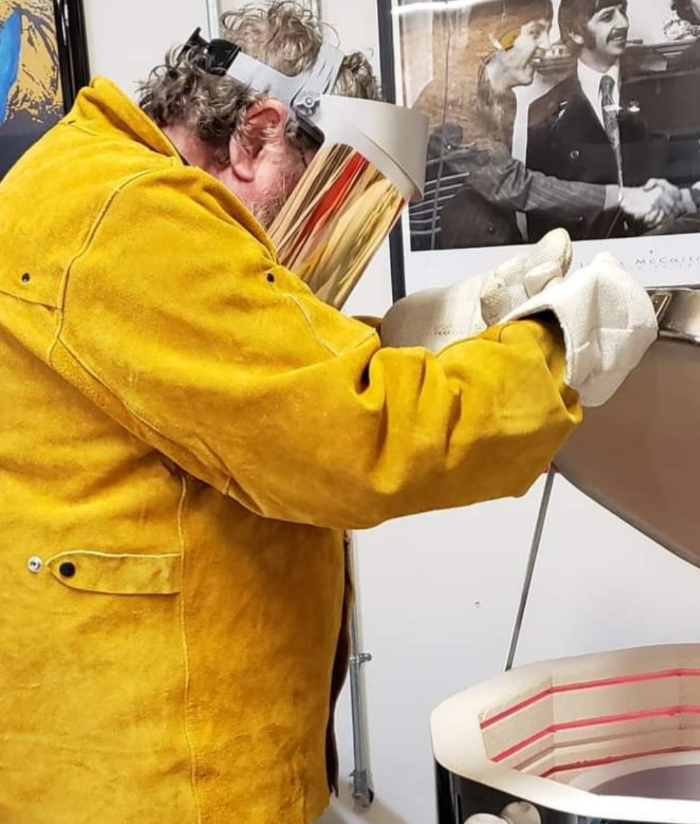 What glass techniques have you used and which do you prefer?
I've tried pretty much everything you can do in a kiln, except pate de verre (I've only made one very simple piece). I started with the usual, fusing two sheets of glass together and slumping that. Then I moved on to pattern bar-based pieces. I really enjoyed making thick things. I learned how to do lost wax casting from Nathan Sandberg at Pilchuck in 2014, which led to my 'Tafoni' series.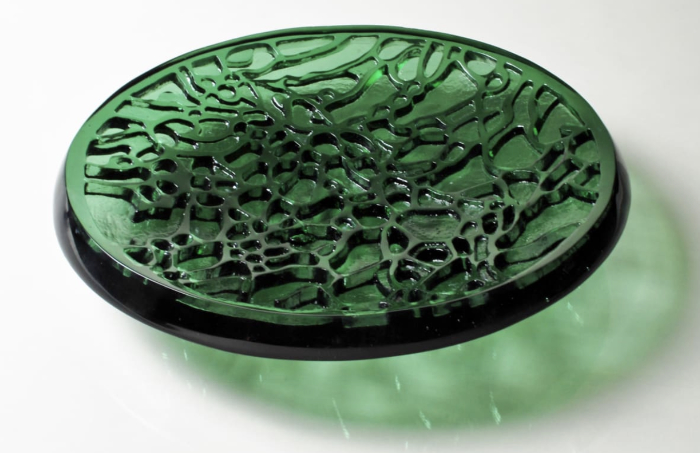 My most recent work is made using three-step moulds from Bullseye, starting with my 'Lines' collection.   For the past year I have been creating the 'Ancient Rings' series, which involves on-edge construction, followed by slumping with the Bullseye three-step moulds for deep vessels. I am really enjoying making deep vessels.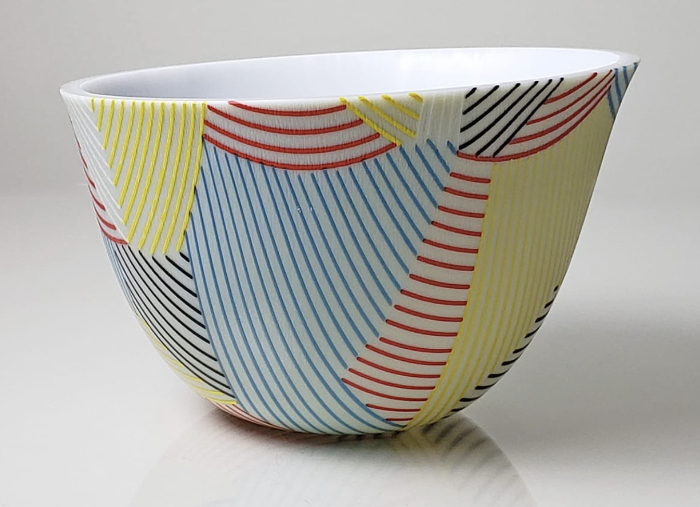 What is your creative approach? Do you draw your ideas out or dive straight in with the materials?
Mostly, I imagine what I want to make. I run scenarios over and over in my mind. When I hit on something I like I make a quick sketch. However, in the case of the 'DeStijl' inspired pieces, where precise dimensions are important, I draw them out using PowerPoint. Any 2D CAD program will work, but I have years of experience in my previous life as an engineer making PowerPoints.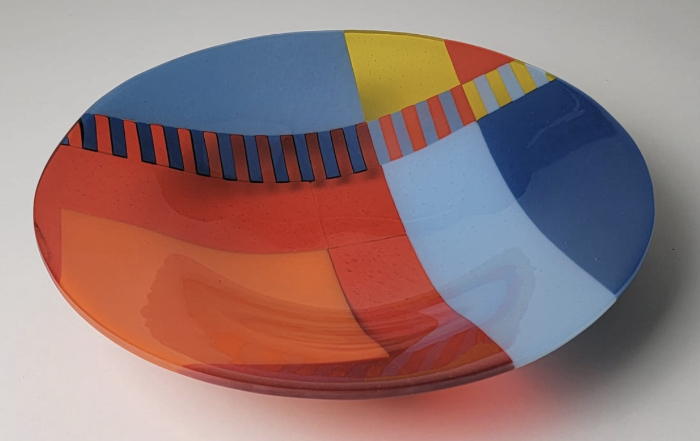 What inspires your work?
I am inspired by artists from the early 20th century, particularly the DeStijl movement of Dutch artists, who promoted geometric from in their work. My glass vessel designs are informed by studying the simplicity and abstraction of neoplasticism that they used. Inspiration for cast works comes from a fascination with the geological forms, textures and colours found in nature. As an engineer, I become immersed in the process of making, joining glass, heat and gravity to create works inviting one to view the once molten glass in a dance of light and colour.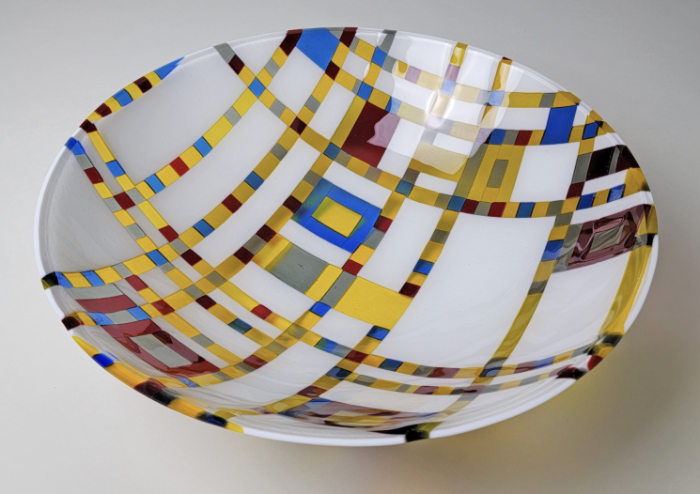 What message(s) do you want to convey through your art? 
My message is to enjoy what you are seeing. The viewer can make up their own story.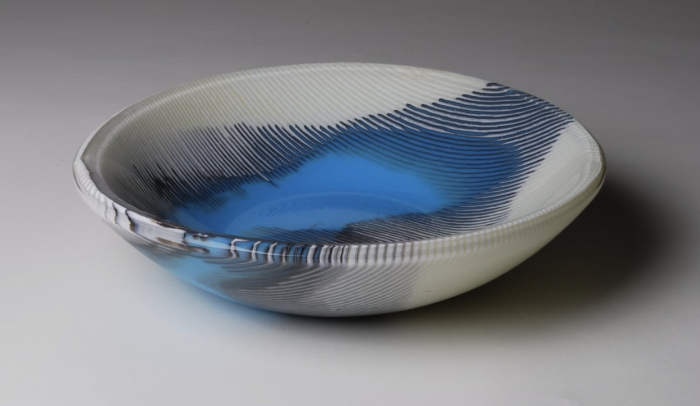 What is your favourite tool or piece of equipment and why?
Right now, for the 'Ancient Rings' series, there is no way I could place the more than 15,000 tiny pieces without my 15mm tweezers. The strip cutter is a necessary tool. I also love the 24-inch flat lap.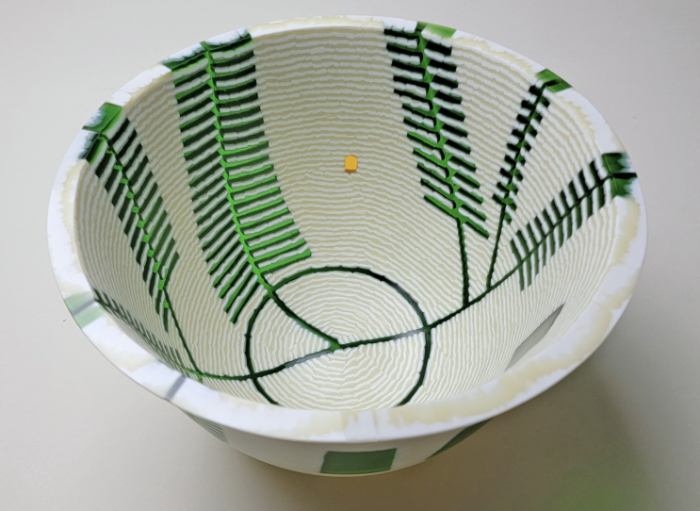 Do you have a favourite piece you have made? Why is it your favourite?
I really like all the pieces in my 'Ancient Rings' series. If I had to pick a personal favourite right now from what I have done so far it would be 'Ancient Rings 17', because it is quite different to all the others.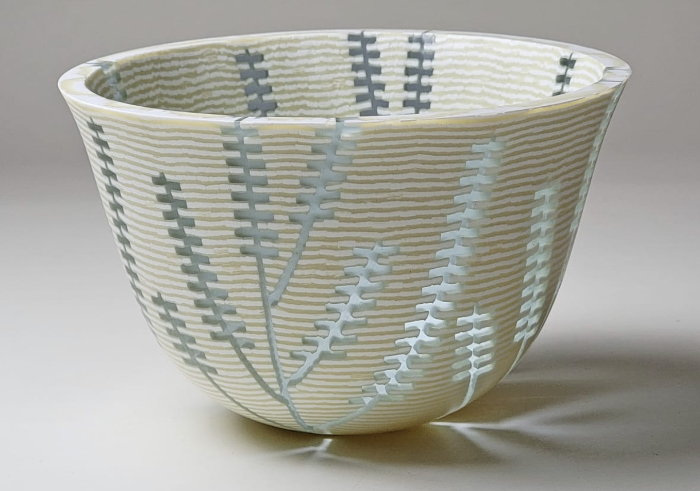 Where do you show and sell your work?
I am represented by Philabaum Glass Gallery in Tuscon, Arizona and Piece Art Gallery in Vail, Colorado. I am also represented by Artful Home and Springfield Art Association, which is a wonderful organisation that offers so much to Springfield, Illinois, and the surrounding area. In addition, all of my work can be seen on my website.
What advice would you give to someone starting out on a career in glass?
It's tough to make a living. I don't. But some people can. My advice on any career would be what I followed in my 'before glass' life. This is to study hard and learn to be the best at what you do. Work hard at your job. People notice. Continue studying and improving. Love your work. People notice.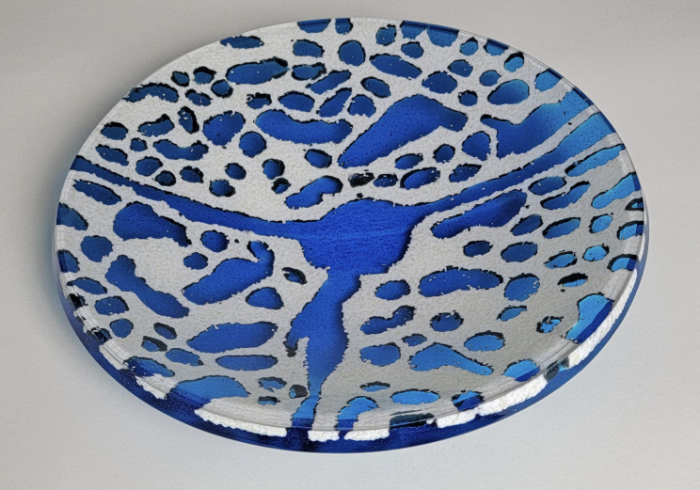 Do you have a career highlight?
Every time I have been to Pilchuck, in a class or residency, has been a highlight. I always come away with lifelong friends and inspirations for my art.
Another continuing highlight is the relationship I have with the galleries that carry my work. I am fortunate in that regard.
And finally…
I am in a show featuring my 'Ancient Rings', which opens on 4 February 2023 at Philabaum Glass Gallery.
 About the artist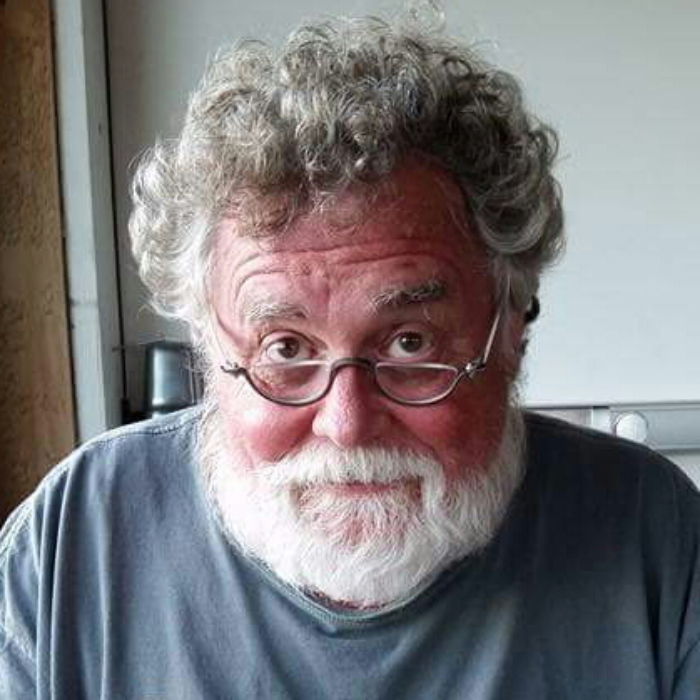 Jim Scheller works exclusively in glass, kilnforming at his Macoupin Prairie Glassworks studio in Staunton, Illinois near his childhood home of Mt. Olive.
In September 2018, after 27 years, he moved from his forest home and studio – Chehalem Mountain Glassworks in Schools, Oregon.
After a long career as an engineer and technologist he discovered glass kilnforming in 2012.
He finds great pleasure in pushing the limits and developing new techniques. His works are composed with glass sheets, crushed glass (frit) and glass slabs (billets), which are fired to over 1400 degrees Fahrenheit. The fired works are extensively coldworked to achieve the final finish.
Find out more about Jim Scheller and his work via his website or follow him on Instagram: @schellerjim.
Main image: 'Ancient Rings 12'. This series features many thousands of 9mm squares of glass that are slumped several times to achieve the deep bowl shape.
Glass Network digital brings you all the latest news and features about contemporary glass
Send your news, feature ideas or advertising requests to the Editor Linda Banks