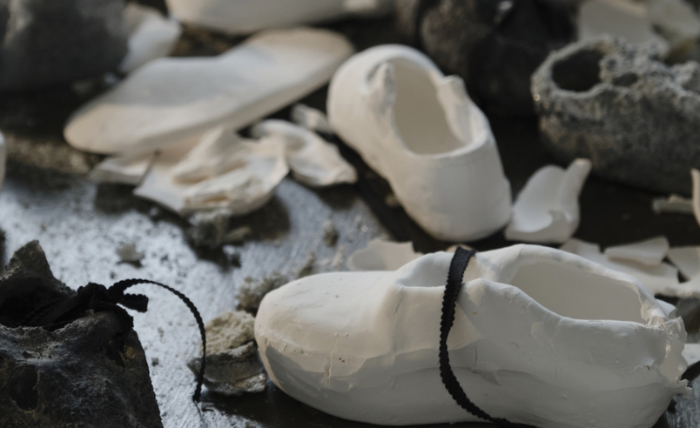 Alison Lowry's 'The Bystander Effect' exhibition in Dundalk
Glass artist Alison Lowry's solo exhibition, 'The Bystander Effect', confronts the treatment of pregnant women and unmarried mothers in Ireland over the past 300 years.
Having been shown at Golden Thread Belfast in 2021, this thought-provoking installation has moved to An Táin Arts Centre in Dundalk, Ireland, where it is on show now until 26 March 2022.
As Lowry explains, "The academic Dr James Smith coined the term 'Architecture of containment' to describe the systems and physical infrastructure that were utilised to incarcerate women and children in the 18th, 19th and 20th centuries in Ireland. These institutions included: Industrial schools, Children's 'homes', Mother and Baby Institutions and Magdalene Laundries.
"Women and children were 'hidden in plain sight' in these religious and state-run institutions, ostracised and 'othered' by society. The 'shame' that the unmarried mother brought to her family and the (complicit) wider community meant that after delivering her baby in secret, the mother was frequently coerced into signing her baby away to be adopted or placed into a children's home."
Attempting to exhume Ireland's most recent past, and its subsequent intergenerational trauma, Lowry's work draws on the recently published research reports, 'Mother and Baby Homes and Magdalene Laundries in Northern Ireland', the Historical Institutional Abuse Inquiry and the McAleese Report.
The exhibition employs windows salvaged from a derelict Industrial school as a construct and metaphor, and as a physical memorial to seeing/not seeing what was happening.
The piece '#onemillionbabyshoes' calls for the graves of the hundreds of thousands of babies and children who died in these homes all over Ireland to be marked appropriately.
The trauma – still suffered by birth mothers – is explored through performance, video and sound in the work 'Lost to Me'.
'They all had names' was documented outside the gates of Milltown Cemetery in Belfast where it is estimated that 35,000 babies lie in the Bog Meadows in unmarked mass graves.
'Apology now' demands that the recommendations laid out in the Hart report are finally acknowledged by the State. 'Stained' glass is created using testimony from the Hart report and an adult survivor's drawings of his time spent in Nazareth Lodge Boys Home in Belfast.
Finally, 'Dirty Laundry' examines institutional legacy using aerial performance, sound and a costume created from napkins recovered from one of Ireland's last standing Magdalene Laundries.
The An Táin Arts Centre is at Crowe Street, Dundalk, Co. Louth, A91 W20C Ireland. The exhibition is open from Tuesday to Saturday from 10am to 4pm. Website: https://www.antain.ie
Glass Network digital brings you all the latest news and features about contemporary glass
Send your news, feature ideas or advertising requests to the Editor Linda Banks