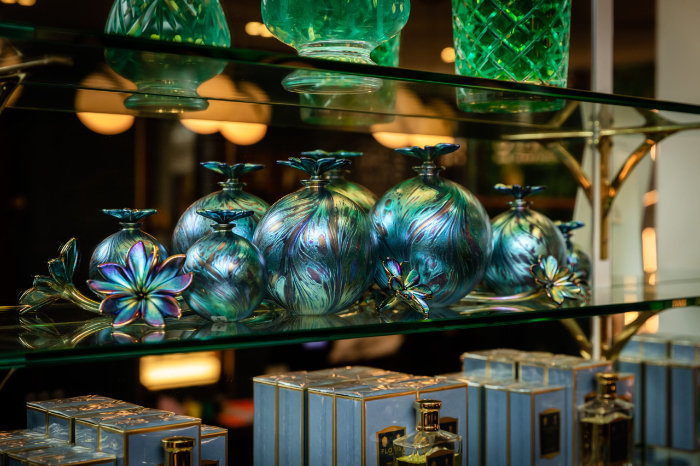 A QEST for glass training
For over 30 years the Queen Elizabeth Scholarship Trust (QEST) has funded craftspeople across the UK with grants for further training. Glass Network digital finds out how this support has helped glass artists develop their practice.
Are you a glass artist who would like to expand your skills with additional training or an apprenticeship? Is there a college course, vocational training, or one-to-one mentoring that would help you to develop personally, while at the same time keeping Britain's long heritage in craft alive?
Twice a year, the Queen Elizabeth Scholarship Trust (QEST) invites practising artists and craftspeople to expand their knowledge through its grant scheme. In fact, since it launched in 1990, QEST has awarded £5 million to over 600 individuals working across the UK in 130 different crafts.
Next month (July 2021), QEST will open for the next round of applications, enabling glass artists to put their case for funds to broaden their talent with training and education.
While applicants can apply for up to £18,000 for their proposals, QEST looks to provide support that goes beyond the money, through publicising scholars' work and offering participation in events that showcase their skills.
What is needed for a successful application? There are tips provided on the QEST website for those applying for scholarships and apprenticeships. Applicants need to be able to demonstrate excellence in, and a strong commitment to, their craft, as well as having a clear idea about how the training will advance their practice.
Although QEST can support transport, and other associated costs, the majority of the application has to be for the training itself. QEST needs to see how the training would help applicants contribute towards the craft sector in the UK.
How has QEST funding helped glass artists? Read on to hear more from previous successful scholars.
Timothy Harris
One of the first craftspeople to benefit from QEST support was Timothy Harris (Isle of Wight Studio Glass). He says, "In 1991 my QEST R. Twining & Company Ltd Scholarship enabled me to travel to the USA and study at Penland School of Craft in North Carolina and at Pilchuck Glass School in Washington State. This experience had an enormous impact on my work – 30 years later I still use the techniques I learnt there, and it instilled in me a 'go for it' attitude that has come into my work a lot ever since. The training is as relevant today as much as it was back then. I returned to Penland the following year as a technical assistant and learnt on the job – the best way possible.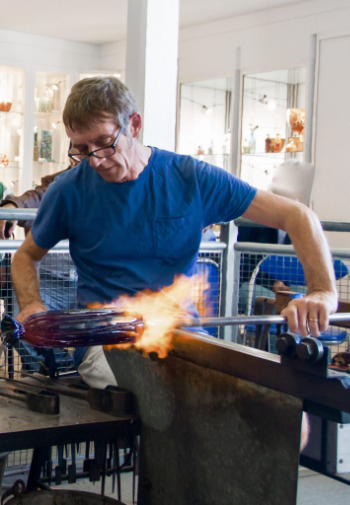 "I've attended a number of QEST events over the years and featured in exhibitions they have organised, including at Fortnum & Mason. It was great to be represented in QEST's book, A Celebration of British Craftsmanship, in 2018 and they have been continually supportive. The scholarship was a golden opportunity that I would otherwise not have had and I greatly appreciate it.
"QEST has also put me in touch with other scholars and I collaborated with QEST Scholar Daniel Durnin to produce a set of six whisky glasses and a water jug for Prince Charles' 70th birthday. It's always good to work with other makers. Most recently, my work was exhibited in the Floris store in St.James's, London, as part of the QEST Craft Trail for London Craft Week 2020."
Celia Dowson
More recent QEST scholar, Celia Dowson, says, "A 2017 QEST Tom Helme Scholarship contributed a significant sum towards my MA in Ceramics & Glass at the Royal College of Art, supporting me through my final year while also contributing to material costs. This offered me the freedom to continue the exploration and expression of my work without bounds, projecting me forward with confidence into my career as an artist.
"QEST are often in contact. There has been continual support in the promotion of my work, including magazine features, and I'm now looking forward to exhibiting with them in their first year at Artefact, a new contemporary craft fair at the Design Centre, Chelsea Harbour.
"I always enjoy seeing the team at shows or bumping into them at events. It is wonderful to be part of such a nourishing and supportive community of makers and patrons!"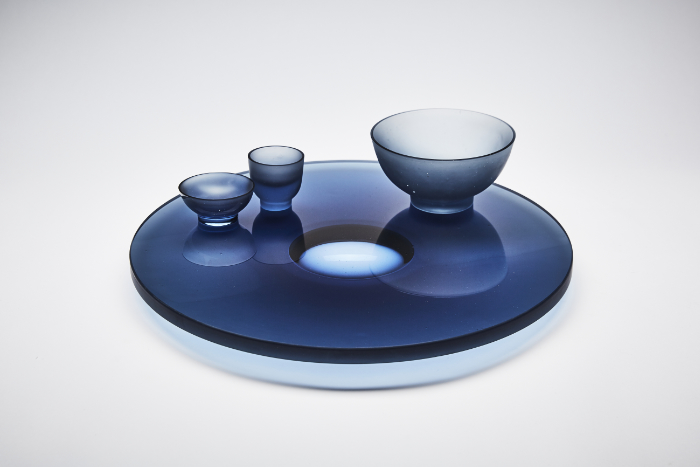 Scott Benefield
Scott Benefield (Benefield Spencer Glass) also received funding from QEST in 2013. He explains, "For the past 25 years I have focused my practice on Venetian cane techniques, first developed on the island of Murano during the 16th century, and that I learned from studying with Lino Tagliapietra. I have spent many years designing and producing serial production using those techniques for the American and UK markets, as well as exhibiting unique pieces in galleries and exhibitions.
"Since 2004, I have regularly taught workshops that were grounded in those traditional techniques, but also explored innovative developments that built on that body of knowledge. Workshop teaching allowed me to travel to many different countries, and eventually brought me to the island of Ireland, where I have lived and worked for the past 10 years.
"My QEST scholarship in 2013 provided funding for me to study glass chemistry and learn the basics of formulating, mixing and melting coloured glasses. It's a subject that has a long history in industry, but today is rarely taught outside of material science programmes.
"Doing your own chemistry was a feature of the early studio glass movement, where some basic information crossed over from ceramic glaze calculations, but most of that development stopped with the introduction of a wide palette of compatible colour rods in the 1970s. There is still a small coterie of glassblowers who started in the '60s and still make their own colour, but that generation is retiring and a lot of their knowledge is being lost. It's not an academic approach, or even scientific, but more like cooking: a practical, empirical, hands-on understanding of how to transform raw materials with predictable results.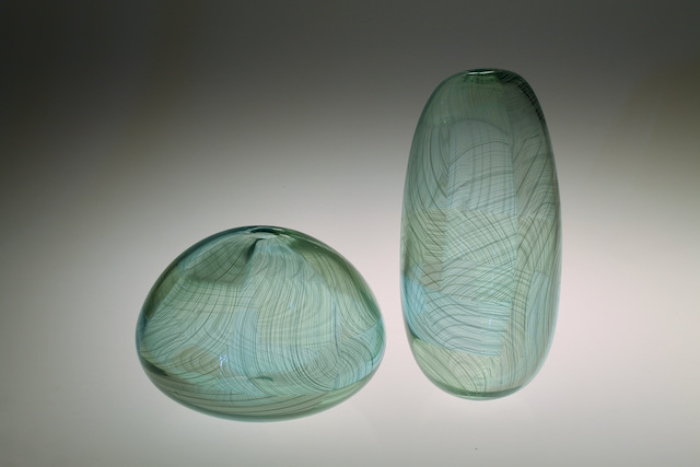 "QEST is very good at continuing to network and stay in touch with its alumni, which can be quite valuable in terms of contacts and current information. They're always active on social media. They offer regular opportunities for exhibition and public exposure – mostly London-based, but of a reliably high quality. They also hosted a programme of professional development webinars during the pandemic with extraordinary presenters, which was quite useful. I was flattered to be included in their publication, A Celebration of British Craftsmanship, which profiled 100 past scholarship recipients."
Kaja Upelj
One of the first glass artists profiled in Glass Network digital when it launched in 2020 was Kaja Upelj (You can read that feature here).
Kaja expands on the thinking behind her glass art: "My interest is to modify the perception the observer has about the material and highlight how very simple it is to create an illusion, through which one is enticed into different thinking and decision making. Firm perceptions of glass as being cold and fragile, along with fear of the material, dissipates by creating tactile artwork featuring soft lines and an iridescent flow within glass.
"With my works of art, I want to highlight the existence of ideology and the related problem of its ubiquity in today's society. Everything that surrounds us on a daily basis is subtly wrapped in attractive objects, stories and ideas that entice us to trust them and follow them blindly. With my artwork, I want to draw attention to the importance of a realistic view of everything around us. In appearance, the soft and mystical glass objects invite you to touch the glass surface by the abstract image and flowing colours, thus distorting the true image of glass as a material that is still cold and fragile.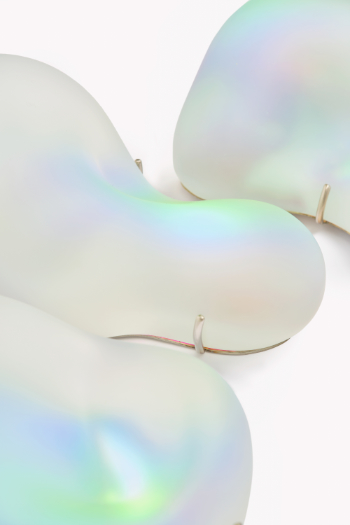 "I always strive to find methods and material that will correlate with my concept and my vision. This can often be quite challenging, but it leads me to discover new materials and ways of working.
"Innovative materials are highly priced or might not be easily accessible, factors which affect the costs of making. Therefore, being granted a QEST scholarship enabled me to continue my research by attending Corning Museum of Glass's course in the United States. With the financial support I received, my focus was merely the exploration of glass and the results, without any worry about the costs of travel or materials.
"Not only am I very appreciative of this opportunity, but also of QEST's ongoing support. They exhibited my work on their stand at Collect 2020, and it featured in the QEST magazine. As an emerging artist I am continually learning how to build my career, and when searching for advice I find support in the QEST community."
Vivienne Kelly
As well as funding glass artists creating new work, QEST supports those wanting to follow careers in conservation. Vivienne Kelly is one such recipient. She says, "I am interested in both historical and contemporary Scottish stained glass and how its conservation can inform a resurgence of the craft form in a contemporary light. My own work comes from historic research, which is informed by my practice as a conservator.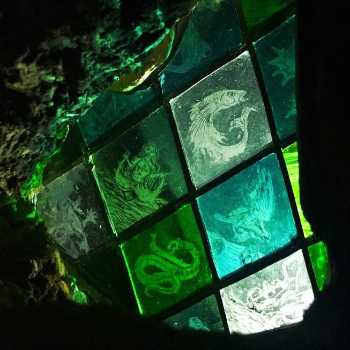 "My QEST Pilgrim Trust Scholarship has enabled me to advance my conservation practice and practical glazing ability through a scholarship to attend a two-year Masters course at the University of York on stained glass conservation and heritage management. This is the only course of its kind in the English-speaking world and has produced many leading conservators worldwide.
"Currently I am in year one of the MA and have achieved distinctions on several papers focusing on Scottish stained glass, one of which may help me gain funding for further conservation of a window I have written about. This May, I assisted ICON-accredited conservator Linda Cannon with the conservation of Douglas Strachan's stained glass at the Scottish National War Memorial in Edinburgh Castle, overseen by Historic Environment Scotland.
"On 14 June 2021 I started a placement at world-leading stained glass conservation studio Glasmalerei Peters in Paderborn Germany, where my practical glazing skills and theoretical conservation knowledge will be put to the test."
Grace Ayson
Another stained glass artist and conservator is Grace Ayson. She brings this review of QEST scholars right up to date, being one of two glass artists to receive funding in 2020.
Grace comments, "I have a deep respect for the traditions of my craft and have spent a great deal of my professional life restoring historically important windows using traditional materials and techniques. In my work as an artist, I always strive to push the possibilities of traditional techniques and materials to make new work and engage with the materials of stained glass in new and exciting ways. I firmly believe that the craft of stained glass in its traditional form can be reinvigorated and carried forward by looking beyond the usual parameters of conventional practice. I want to combine contemporary art and the innovative use of traditional craft. I like to combine the precision of line and spontaneity of brush stroke in my painting style.
"Due to the pandemic my scholarship activities have been delayed and are just about to begin. I'm so excited! However, since being awarded the scholarship, I have already felt the benefits of being a QEST Allchurches Trust Scholar in the interest in my work."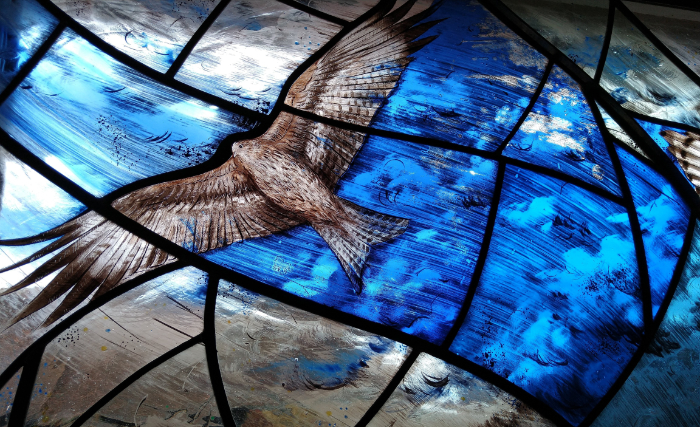 Katherine Huskie
CGS members may have seen Katherine Huskie's live presentation about her work as part of the series of CGS Talks on Wednesday evenings. Katherine is also well known as half of the Devereux & Huskie glassworks duo. Additonally, she was a successful applicant for QEST funding in 2020.
Katherine explains, "I have been a glass blower for over a decade and have such a passion and love for glass. It has taken me all over the world and I have worked with, and for, a number of incredible artists. I am drawn to texture, whether it is in nature or manmade, and my hot glass reflects this.
"In 2019 I took a course in neon and instantly realised I needed to know more. I began experimenting and soon knew that I needed formal training. I was awarded a QEST Company of Arts' Scholars Scholarship to do a month one-to-one training with a neon master. I will begin my formal training this month (June 2021).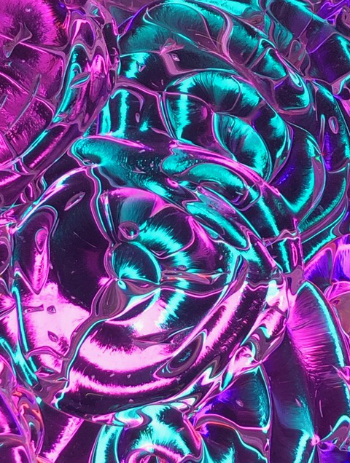 "I am currently combining my passion for hot glass and neon by making large-scale neon wall art that has a hot glass panel. QEST is an incredible organisation – not only with the scholarship, but with the lectures and online support. Everyone wants to help and further your journey with them."
Read more about each of these glass artists – and many more – in the Directory on the QEST website.
The next round of applications for QEST funding is open between 12 July and 16 August 2021. Find out more about what is needed for your application on the QEST website.
Main feature image: London Craft Week 2020 glass by Timothy Harris, on display at British perfumers, Floris. Photo: Dan Weill.
And finally, if you are not yet a member of CGS, why not join today and get access to a host of glass artists and glass collectors providing informative and entertaining talks on video about their work and collections? This is just one benefit of becoming a member.
Glass Network digital brings you all the latest news and features about contemporary glass
Send your news, feature ideas or advertising requests to the Editor Linda Banks