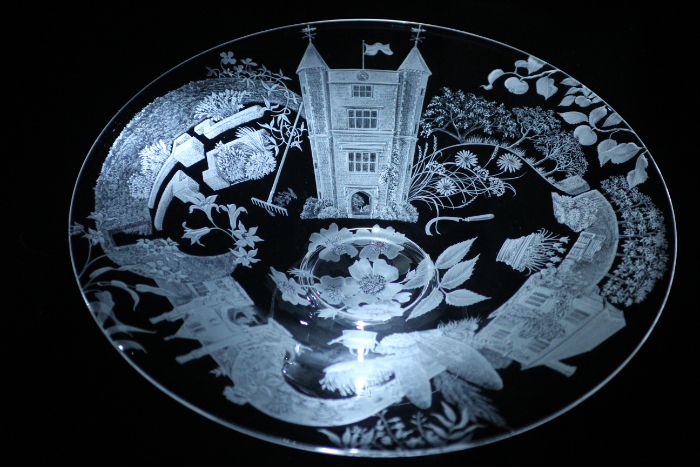 Glass engraving
| 20-11-2023
A cut above the rest
Tracey Sheppard has perfected her glass engraving techniques for over forty years. This experience has kept her skilled work in demand throughout her career, with commissions ranging from small objects to architectural projects. Linda Banks finds out more.
What led you to start working with glass?
I happened upon glass engraving by accident. I was studying for a combined degree in English Literature and Fine Art. My drawing tutor noticed that I was obsessed by small detail and interested in textures and tone. He suggested that I should go to the local Adult Education Centre and join a class where I would learn how to engrave glass. I knew nothing about the medium, but within two weeks I was hooked. The tutor, who became my dear friend and mentor, Josephine Harris was inspirational and unfailingly generous, passing on the skills and insights that she in turn had learned from Peter Dreiser at Morley College. Those classes, in a draughty, breezeblock building in Isleworth, were the beginning of a career which, to date, has lasted 43 years.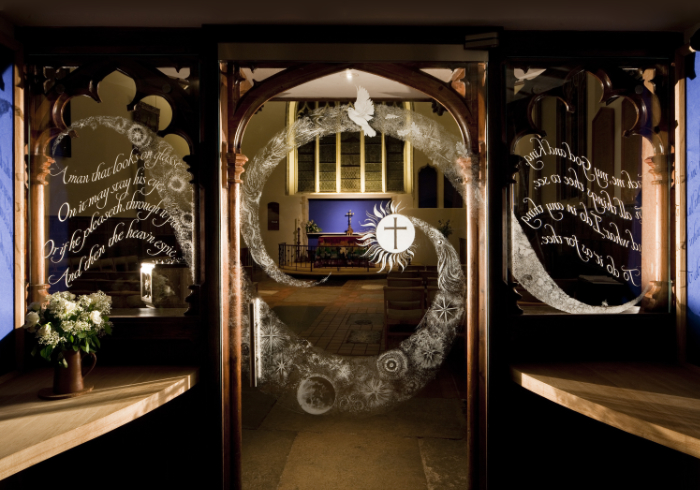 What glass techniques have you used and which do you prefer?
Drill engraving was my introduction to the challenge and delight of working with glass. It remains my first love, but I have also explored the myriad possibilities of sandblasting and acid etching. I have been extremely fortunate, working with two maestros. Sally Scott, friend, colleague and master of sandblast gave me the first glimpse of the scope of her medium. A little later, master craftsman Dave Blackwell patiently taught me how to work with black and foil, hand-cutting stencils and applying embossing black in a painterly way. He has broadened and freed my approach. Mixing the three techniques – drill, sandblast and acid etching – has been a revelation! Very exciting and huge fun.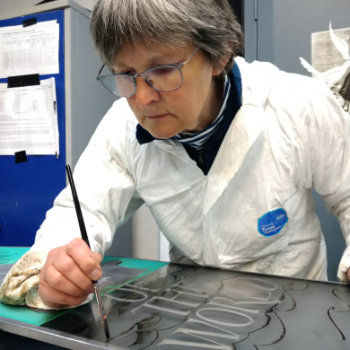 What is your creative approach? Do you draw your ideas out or dive straight in with the materials?
Drawing is essential. Drawing is what drew me to glass! I think through the whole engraving process while I draw, planning which tools to use for each element of a project. Making mistakes and adjusting or erasing them is best done with a spirit-based pen before committing with the drill. Everything is carefully drafted in great detail.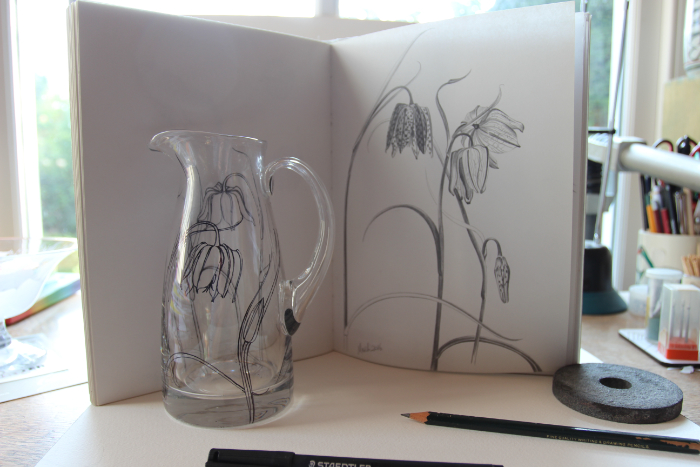 As I draw, my ideas develop and grow. The process of moving the pen across and around a vessel helps me to understand and respond to its shape and adapt my design to fit sympathetically.
I love the process and feel of mark making on the lively surface. It is not entirely predictable, and can be unforgiving, but, treated with patience and a light touch, all kinds of miracles happen. Lines can distort, textures magnify, images reflect and refract. It is so exciting.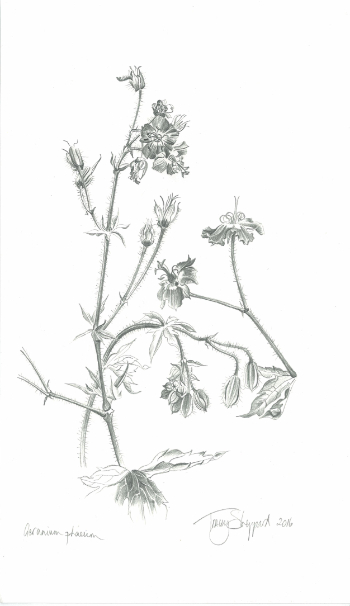 What message(s) do you want to convey through your art?
What message do I want to convey? That is a tricky question, and not one with a straightforward simple answer. I hope that each piece I make is 'fit for purpose' – that it celebrates the individual, or the occasion, for which it was commissioned. Or, that it captures something of a subject and my particular way of seeing, perhaps drawing the viewers' eyes to something they may have overlooked. I hope to create worlds within the glass – places of wonder and magic.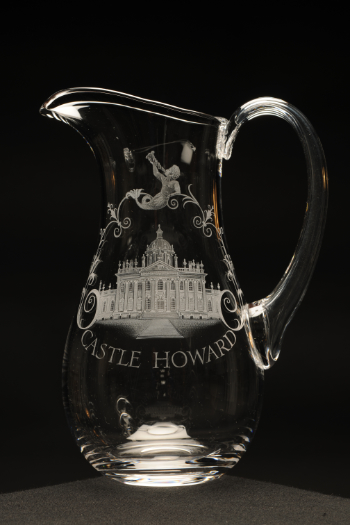 What is your favourite tool or piece of equipment and why?
When my parents asked what I would like for my 21st birthday I asked for a Secco pendant motor! For many years it was my absolute favourite thing in the whole world and still hangs at my bench: my talisman! However, after some protest and resistance, I was converted to a micro-motor which is now the permanent extension to my right hand. I have a mass of burrs – stones, diamonds and polishers – in a dazzling array of shapes, sizes and grades. If I had to choose just four to take to a desert island, they would be a small, fine ball diamond, a rat's tail diamond, a green cone shaped stone and a flexible polishing wheel. I reckon I could entertain myself with those!
Do you have a favourite piece you have made? Why is it your favourite?
It is impossible to choose one favourite piece from all my years of engraving. There are, however, a few pivotal ones. The first 'proper 'piece I ever engraved was a goblet with ivy trailing around it. It taught me what was possible, and how far I had to go.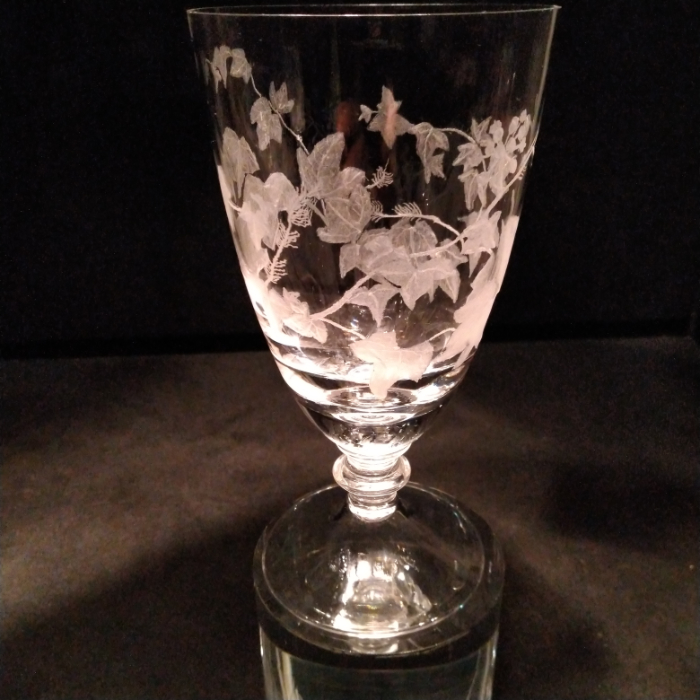 It was a huge honour to be commissioned to engrave two panels for the Epiphany Chapel in Winchester Cathedral. The project introduced me to the delights of working with, and for, a committee and how to carefully research and approach designing for an ancient and venerable setting.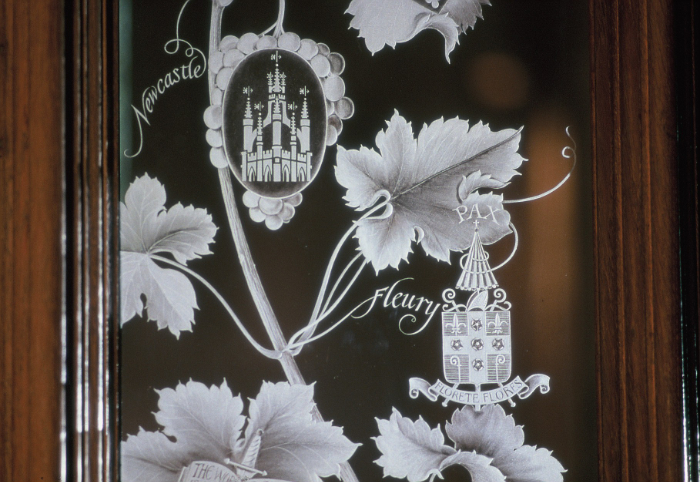 I have always loved lettering and designing and executing the 'Benedictus Plate' just confirmed it as a subject area for future ventures.
Architectural subjects have been a rich vein for me to mine. The challenges of textures, structures and perspective are fascinating and absorbing.
The 'Sissinghurst Bowl' is a piece made simply for the joy of engraving, allowed me the opportunity to play with perspective and to endeavour to capture what the late, great John Piper called 'the spirit of place'.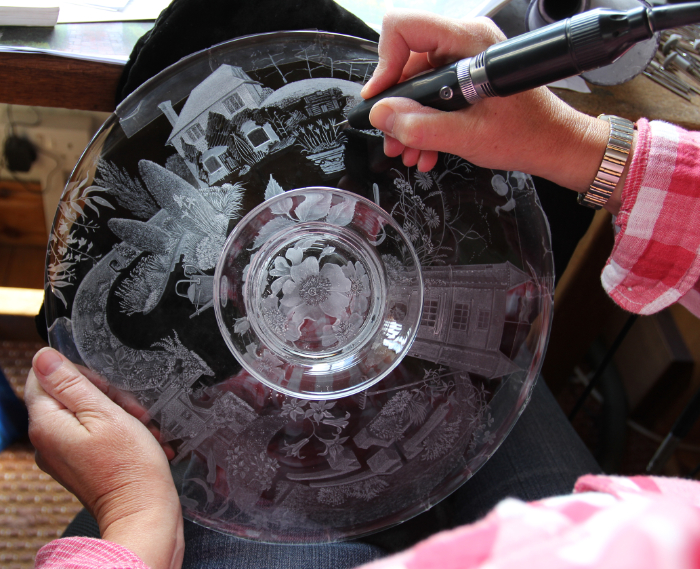 Mixing sandblast and drill with acid etching on the doors for All Saints Fulham – the first time I had experimented with this cocktail – was hugely exciting and simply left me wanting more…
Where do you show and sell your work?
I have been fortunate and have worked to commission almost constantly throughout my career. Working with a patron is a fascinating and rewarding process and can lead to challenges and changes of direction in process and technique, design and execution. It is also an exercise in trust and I relish it.
I have exhibited in a variety of places, taking part in all Guild of Glass Engravers National Exhibitions since I joined in 1982, and participated in many Branch shows. My own Open Studio events are an exciting way to exhibit work and immerse visitors in my working environment. I have also shown at the Art Workers' Guild and in various commercial galleries, particularly Rachel Bebb Contemporary. Any opportunity to exhibit engraved glass and to show what is possible in this wonderful medium should be embraced.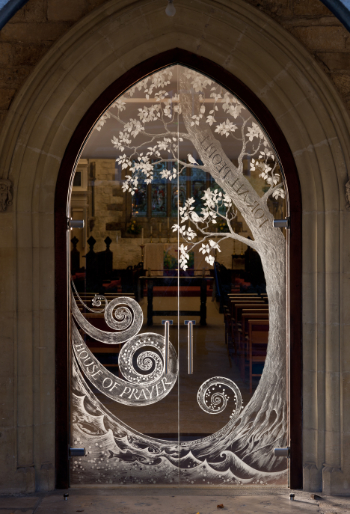 What advice would you give to someone starting out on a career in glass?
There are so many different aspects to the world of glass. I am not really qualified to give advice on career paths, but my own experience has been that focusing on a technique and pushing it – not being afraid to meet new challenges head on – has brought me opportunities and stretched me, which is always good. Never say no!
Do you have a career highlight?
Career highlights? Oh, my goodness! I have had such fun! It was wonderful to be made a Fellow of the Guild of Glass Engravers and to be elected a Brother of the Art Workers' Guild. In both cases, this was affirmation that I was heading in the right direction. The various architectural projects have been immensely exciting. The commission from the Historic Royal Palaces to make a piece for our late Queen, Queen Elizabeth II, was right up there. And I was utterly thrilled to be awarded Heritage Crafts Maker of the Year 2021.
However, every project is exciting. The moment when I of hand over a completed piece to a patron and receive positive feedback…That is mustard!
Where is your glass practice heading next?
I really enjoy the opportunity to pass on the skills that I have learnt. Teaching, both in the local Adult and Community Learning Centre and at West Dean College is immensely satisfying. Watching beginners grow in confidence, and seeing more accomplished engravers push their own boundaries, is a deeply rewarding experience. It is something which I would like the chance to do more of in the coming years. I believe it is vital to pass on expertise to keep this craft, and so many others, alive.
Where am I going now? I have no idea. The phone might ring, or an email might sail into the Inbox. I just hope to keep on meeting new challenges and opportunities and to continue scratching away.
About the artist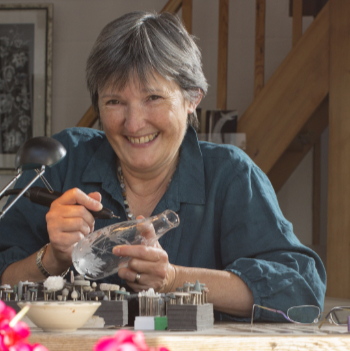 Tracey Sheppard began engraving at evening classes in 1980 while studying for her English Literature and Fine Art degree. She was accepted as a Craft Member by the Guild of Glass Engravers in 1982. She was awarded Highly Commended as a First Time Exhibitor in the National Exhibition in 1983, elected Fellow of the Guild Glass Engravers in 1987and served as chairman from 1998 to 2002. She became Guild President in 2013.
Tracey was elected Brother of the Art Workers Guild (AWG) in 1996 and was Master of the AWG in 2021.
She enjoys working on a variety of scales, from small, personal, commemorative and presentation pieces to architectural installations. Her engraving may be seen in a large number of public buildings, private houses and places of worship, including the cathedrals of Winchester, Bristol and Portsmouth, Romsey Abbey and the Minster at Ilminster.
Tracey has a passion for plants and enjoys drawing and engraving botanical subjects. She is also drawn to the challenges of textural variations and perspective in architectural studies.
She was commissioned to engrave carafes, a jug and tumblers as part of a suite of glasses presented by The Glass Engraving Trust to Number 10 Downing Street.
A fascination with lettering design, spaces and flow has led her to produce many works that combine words with imagery. She received the Christopher Russell Lettering Prize, presented at the Guild of Glass Engravers National Exhibitions, in 1998, 2004, 2012 and 2015.
Find out more via her website: www.traceysheppard.co.uk or Instagram: tracey.sheppard_
Main feature image: 'Sissinghurst', designed and engraved by Tracey Sheppard.
Glass Network digital brings you all the latest news and features about contemporary glass
Send your news, feature ideas or advertising requests to the Editor Linda Banks