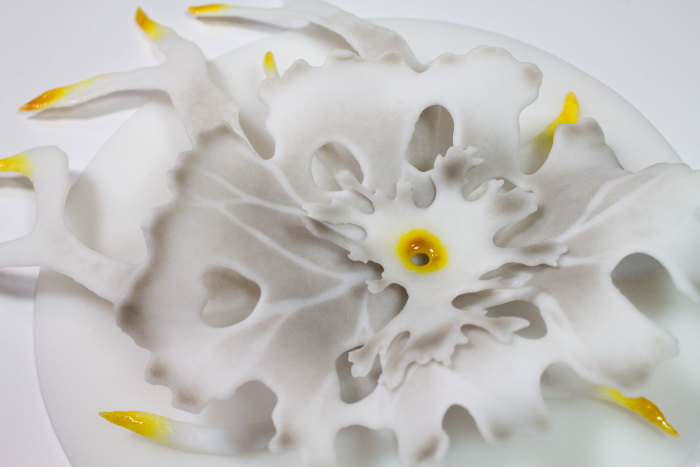 A communion with Nature
Glass artist Verity Pulford imbues her work with the spirituality she finds around her in the mountains, forests and meadows of North Wales. Her delicate glass art is inspired by the smallest details of organic structures, like algae, fungi, lichen, moss and ferns. Linda Banks finds out more.
What led you to start working with glass?
I have always loved making things and enjoyed Art in school, but I never really considered it would be my career. In my early 20s I travelled to Barbados and lived with an artist called Aziza. She encouraged my friend Sarah and me to draw and paint, and this started us on the journey that led us both to become artists.
I went to Art school and discovered glass, specialising in Architectural Glass on my degree. Glass as a material instantly intrigued and fascinated me. It is also such a challenging material. It takes courage, vision, hard work and dogged determination to work with it. So many failures! So many disappointments! Yet, when you make something that has that indescribable magic, there is no feeling like it. It is a love affair.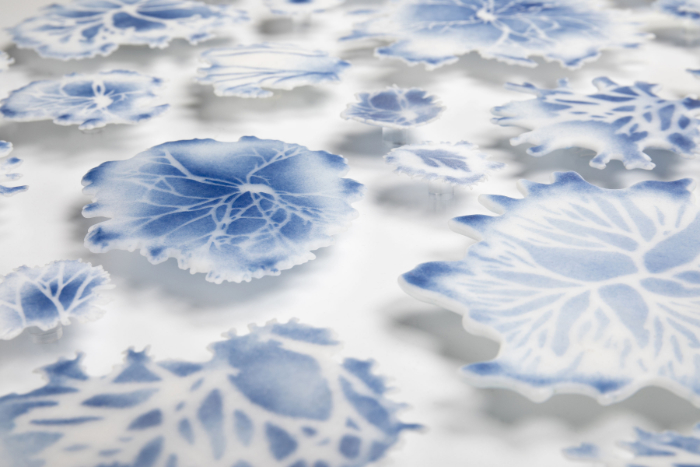 What glass techniques have you used in your career and why do you have a preference for the methods you use today?
During my degree I was introduced to painting, screen-printing, etching, sandblasting, slumping and fusing. All of these are still part of my practice. My final show was a series of conceptual pieces, which told of secret moments in my life. There were boxes and drawers, which were underlit and had to be opened to reveal screen-printed vintage photographs, layered patterns and plant forms.
When I returned to glass, after teaching Art at a secondary school, I developed a more commercial body of work, using painted details and stencilled frits in fused float glass.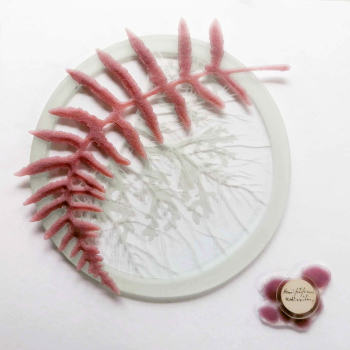 In my more recent work, developed since working on my Arts Council of Wales grant-funded project, 'Gardens of the Mind', I have learnt and developed new techniques. One of these involves working with gravity in the kiln to shape vessels with more fluidity and an organic feel. I went on a masterclass at The Glass Hub and spent time with Amanda Simmons at her studio to learn the techniques. Then I developed my own interpretation of the method. I have also found a way of working with glass powders to create intricate and delicate shapes, which is leading me to exciting places.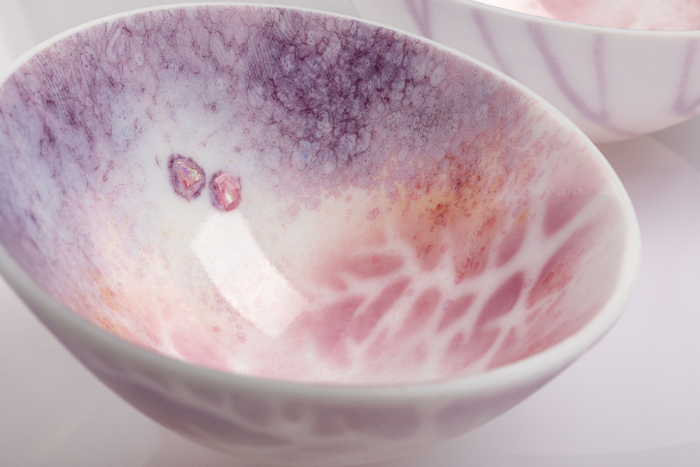 Following a scholarship at The Glass Foundry with Fiaz Elson I have also been incorporating cast glass into my work.
I like to combine different techniques and often spend a long time playing with the bits of glass I have made. It is almost like making a 3D collage.
Can you tell us something about how you developed your glass working methods? Do you draw your designs out or dive straight in with the materials?
I like to create 'collections' of objects. These are glass pieces that I make and combine with natural found objects, like dried seed pods, pieces of lichen and moss, flower heads, elements of vintage microscopic slides and handwritten labels. These collections feed into my other work and act like 3D sketches, as well as becoming pieces in their own right.
I also draw and paint quite a lot, normally using watercolours. These 2D explorations are never really designs, but more ways to play with colours and shapes, creating unique aesthetics by combining structures and forms, using tone and pattern. From here, I work through ideas mainly using glass. This means that I have a lot of seconds and things which get discarded, because it takes me a while to refine and achieve what I want. But this seems to be the only way I can move forward with a piece or technique.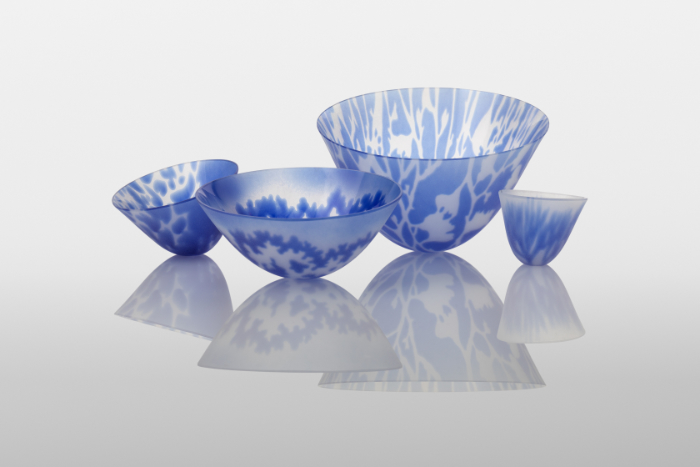 What is your favourite tool or piece of equipment and why?
It's got to be my kiln, of course. I am lost without it and, if it's ever out of action, I feel like half a person. I never tire of that early morning walk to the studio to see how a firing has gone. Any disappointments are simply lessons for the next firing. It's a journey. I always want to push the limits of what I can make and test if ideas will work. Whether the work will sell or be well received has become less important to me; I just want to be on that journey of creating what comes from within me. And I love my sandblaster, my grinder and my Dremel too!
What message do you want to covey to your audience through your delicately patterned and intricate work?
I want to share the joy and wonder of nature – the spirituality it gives me. I feel awe when I look closely at a macro world of mosses and lichens, the beautiful patterns and textures of plants and trees, the dappled light on a forest floor. I have a feeling of expansion and lightness when walking through a summer meadow or the deep woods. This is what inspires me and leads me to make the work I do. I hope my work communicates some of this to the viewer.
Do you have a favourite piece you have made? Why is it your favourite?
My favourite piece is always my latest one; once I feel a piece is finished, it is my favourite for a while. It is like writing the perfect sentence which describes how you feel and communicates it simply and beautifully. It is that, but visually.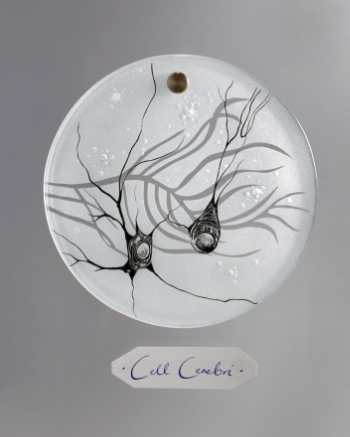 Where do you show and sell your work?
I have several extremely supportive and loyal galleries, including The Bluecoat Display Centre in Liverpool, Ruthin Craft Centre and Craft in the Bay, which have been invaluable, especially during this latest making period. They have supported my grant applications and invited me to take part in residencies and exhibitions. I couldn't have got this far without them. I also sell at other galleries and from my home studio.
Do you have a career highlight?
My times as artist in residence in health care settings have been truly inspirational. Specifically, I mean the honesty, strength, bravery, kindness and humour of people in difficult situations, plus the way art can be used as a medical tool – physically and mentally. Art and making are often seen as an 'add-on', a hobby, a luxury. However, to me as a maker, it is part of who I am. It enhances my life and gives me a tool for expressing what is inside me. It is a physical manifestation of my spirit.
These experiences confirm to me that, once people let go of their fear of failure, art can bring great joy and healing. Every group I have worked with demonstrates this and staff often say that they wish it were more integral. Art brings people together. It is a great leveller and encourages people to talk and open up about their lives, memories and fears. It engages, encourages use of affected limbs (as with stroke patients), gives satisfaction and pride, can give patients a new interest or help them rediscover a love of art, unpicks hidden emotions, and provides an alternative form of communication. It has made me believe even more deeply in the power of art.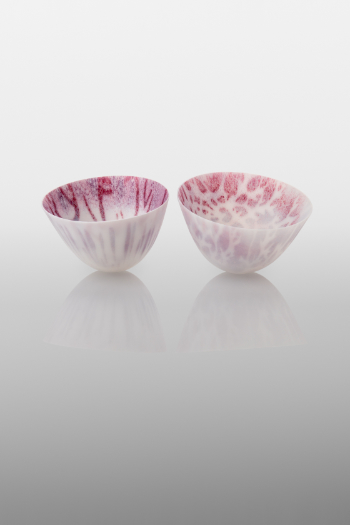 Who or what inspires you?
Nature inspires me. I have always felt a deep connection to the natural world; it is vital to who I am. I live and work in an isolated, rural location, surrounded by wild and beautiful mountains, forests and meadows. I walk most days and being in nature gives me calmness and a feeling of belonging. It nourishes and inspires me. I have always loved plants and I am a keen gardener. The structures, the small details, the shapes, textures and colours, plus the magical abundance and diversity of life, all amaze me.
I am particularly fascinated by lichens, mosses, ferns and fungi. My work takes inspiration from these elements, but I also aim to capture the ethereal qualities I feel when I am in, and absorbing, nature – the spirituality and connection I feel, the magic.
How has the coronavirus impacted your practice?
It has been difficult because I have found it hard to assess the success of my new work because the galleries have been closed. Yet it has given me space to refine the work and time to meditate on my practice and really consider why I make and who it is for. I have concluded that I make for the pure pleasure of it. Expressing myself in a visual way satisfies me like nothing else.
I am letting go of the need for external validation. It is obviously wonderful if others like my work and selling work is essential, if I don't want to drown in it! But this is not why I make and this strange couple of years has been a time where I have become more authentic about my purpose and my practice.
It has also given me time to start applying for competitions and other opportunities. I have been accepted by The Michelangelo Foundation's Homo Faber Guide and Design Nation. In addition, I have been awarded a scholarship at The Glass Foundry to develop my cast work.
I am also excited to have been accepted into the Fuller Craft Museum's 'Glass Lifeforms' exhibition in the USA, which is my first chance to show internationally. I am so grateful for all these opportunities, which will enrich my practice and my journey as a maker.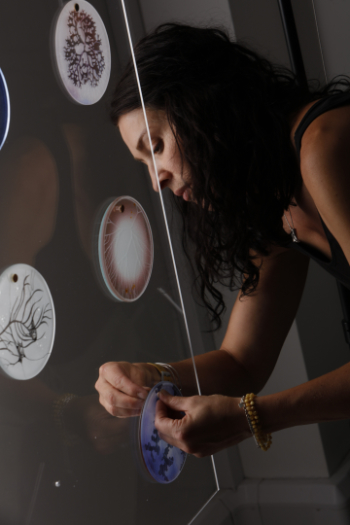 About the artist
Verity Pulford is a glass artist living and working in rural North Wales.
She has created several public art commissions, including pieces at The Walton Centre, Liverpool, and Betsi Cadwaladr University Health Board, North Wales.
Verity is a qualified teacher and has worked as artist in residence in schools and hospitals, developing workshops and creating collaborative artworks. She also teaches workshops from her home studio and Wernog Wood in Ruthin.
Her piece 'Studies of Algae' has been selected for 'Glass Lifeforms' at The Fuller Craft Museum, Massachusetts, USA, opening in November 2021.
Her latest exhibition 'Gardens of The Mind' is at Craft in the Bay, Cardiff, until 26 September 2021. A touring exhibition from Ruthin Craft Centre is due to move to The Biscuit Factory in late October 2021 and is on until January 2022.
Verity is a member of the Makers Guild in Wales.
Find out more via her website: https://www.veritypulford.com/
You can also watch a 'Meet the Maker' video here: https://youtu.be/6TKpb5hdbDY
Main feature image: Lichen studies detail from a triptych wall piece by Verity Pulford.
Glass Network digital brings you all the latest news and features about contemporary glass
Send your news, feature ideas or advertising requests to the Editor Linda Banks