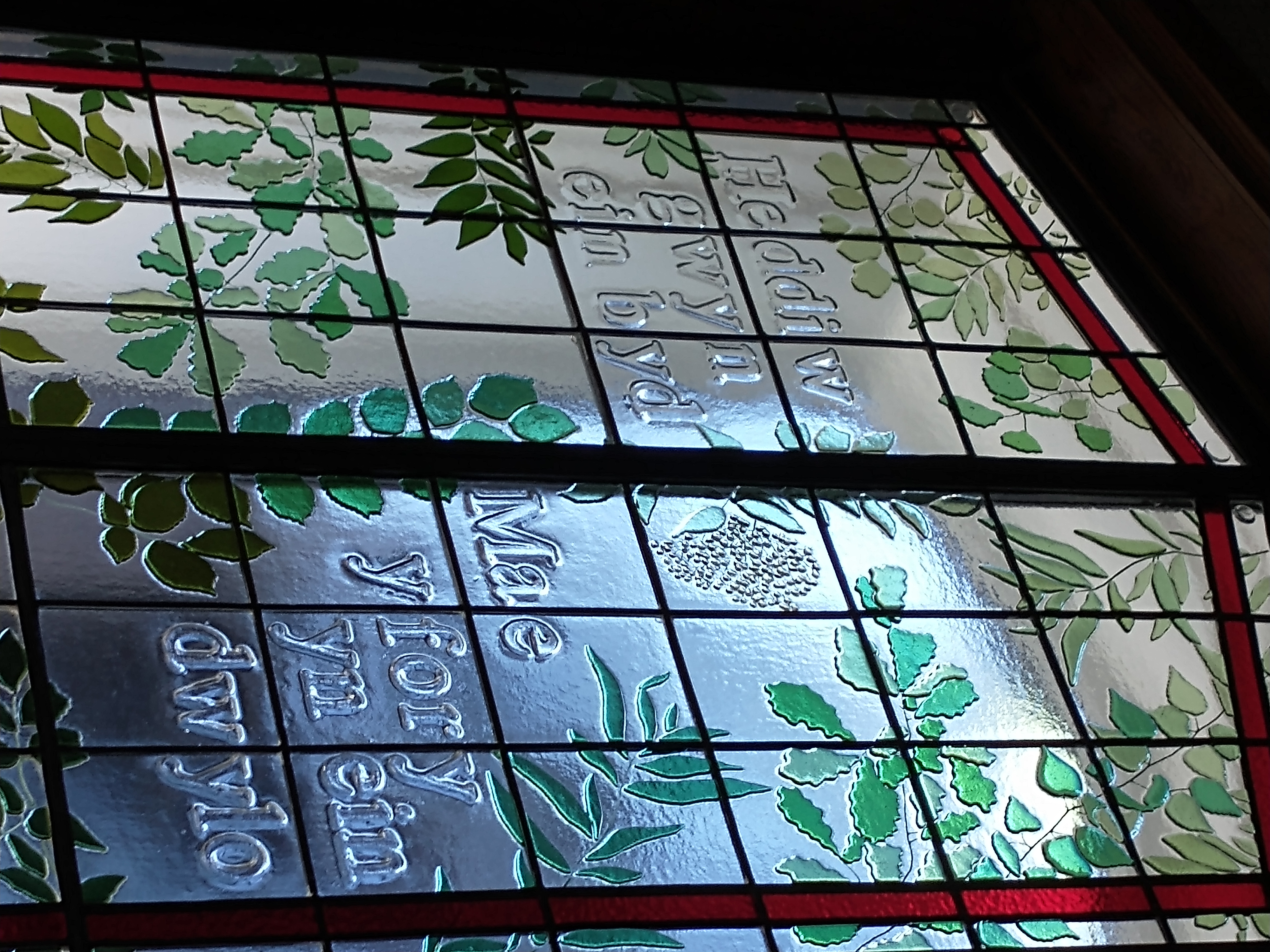 Phone:07765 711002
Email:djulianpitt@gmail.com
Region:Wales
Technique:Casting, Kiln work, Leaded and stained
Occupation:Artist
Discipline:Architectural, Decorative, Public art
Areas of Interest:Competitions, Exhibition, Manufacturing
Product:Architectural, Commission, Design/ Functional/ interiors, Public art, Windows
Country:United Kingdom
Julian Pitt
I design and make leaded glass windows, incorporating kiln-cast and fused glass to achieve more complex and subtle light effects. Specialisms include clear glass composition and glass typography which I use to convey thought provoking content. I aim to create windows that enhance the character of buildings and uplift the spirit of viewers.
During 2021 I have completed some fused and cast leaded glass windows to insert into domestic doors (see illustration – 'Wild salmon whirlpool').
In August 2020 I completed a large window for the hall in the Pensychnant Nature Reserve Centre near Conwy. This is my biggest commission to date, comprising about 2 sq metres of leaded glass. The design features foliage from 12 tree species typical of the Reserve, made of hundreds of cut glass pieces fused onto clear glass base panes. An inscription in Welsh is cast into clear glass (instead of the usual technique of painting letters in enamel).
In 2019 I completed a commission for a domestic setting that celebrates the glazier's craft in Venice. 'Venezia, La Serenissima' is a tumble of subtly coloured kiln-cast rondels. The composition was inspired by the austere rondel windows in the palaces and churches of the Serene City. But my work aims to dazzle with a complexity of light effects.
My second largest commission to date was installed as part of the permanent exhibition at the National Holocaust Centre and Museum in Nottinghamshire – see www.holocaust.org.uk .
Commemorating the 80th anniversary of Kristallnacht in Germany, the window is viewed at the moment it is smashed by a thrown brick which is intended to vividly evoke the violent destruction of the November 1938 pogrom. Almost no glass survives from pre-War synagogues in Germany, so the design was inspired by windows in the synagogue at Targu Mures in Romania.
A window composed entirely of clear glass illustrates a poem about bereavement by the 17th century metaphysical poet Henry Vaughan (see illustration of whole window and a detail). The outline of deceased people is kiln-cast in 50 separately cut and assembled panes of glass, thereby creating a ghostly illusion 'beyond' the window plane itself. The inscription, also cast into the glass itself, is taken from the poem: 'They are gone into the world of light! … I see them walking in an air of glory.'
Forthcoming projects for 2022 include feature windows for the newly refurbished London offices of Anvil Industry Ltd.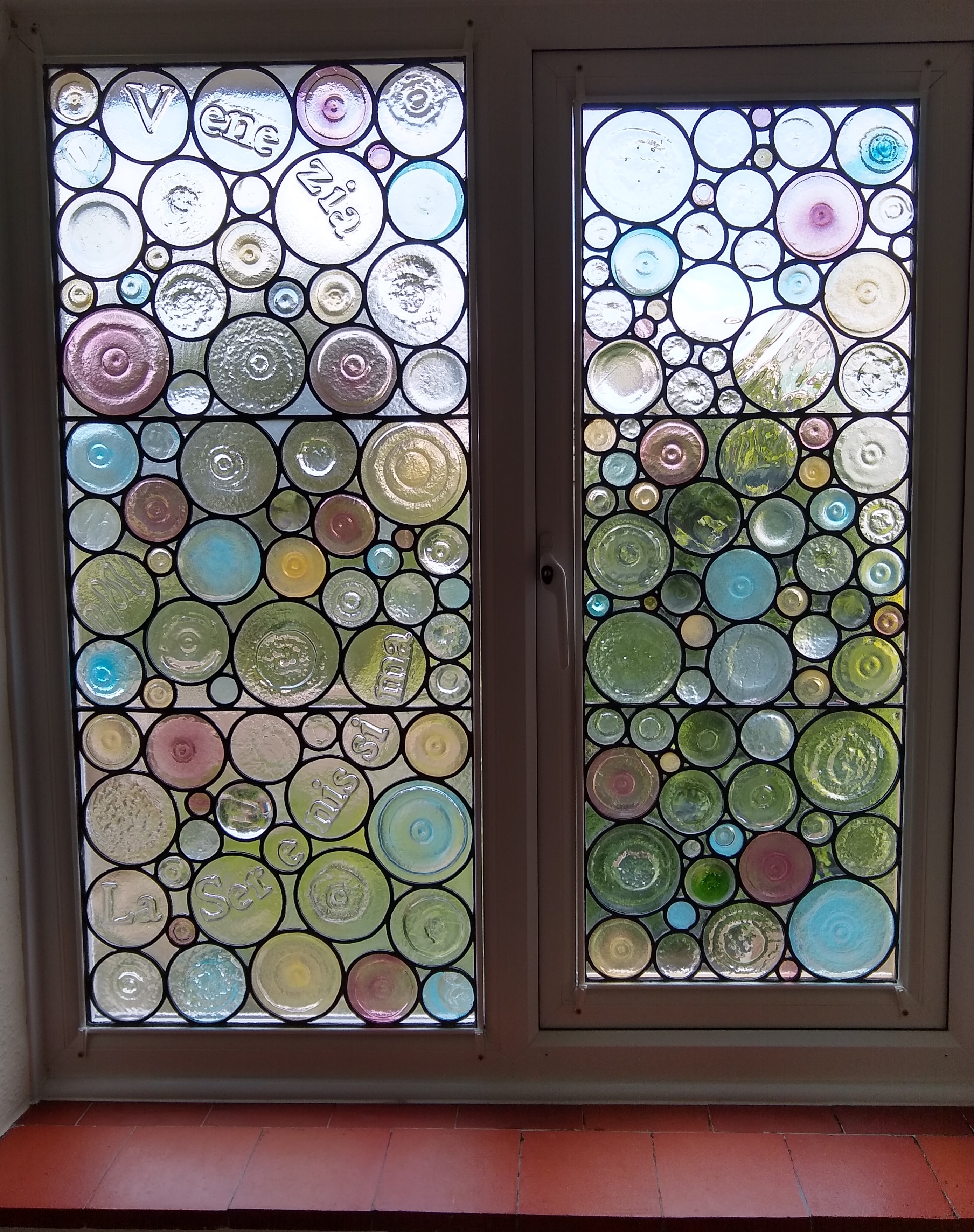 'Venezia, La Serenissima' Media: Kiln-cast float, cathedral and tecta glass. Note how the translucent glass picks up the colours of vegetation beyond the window.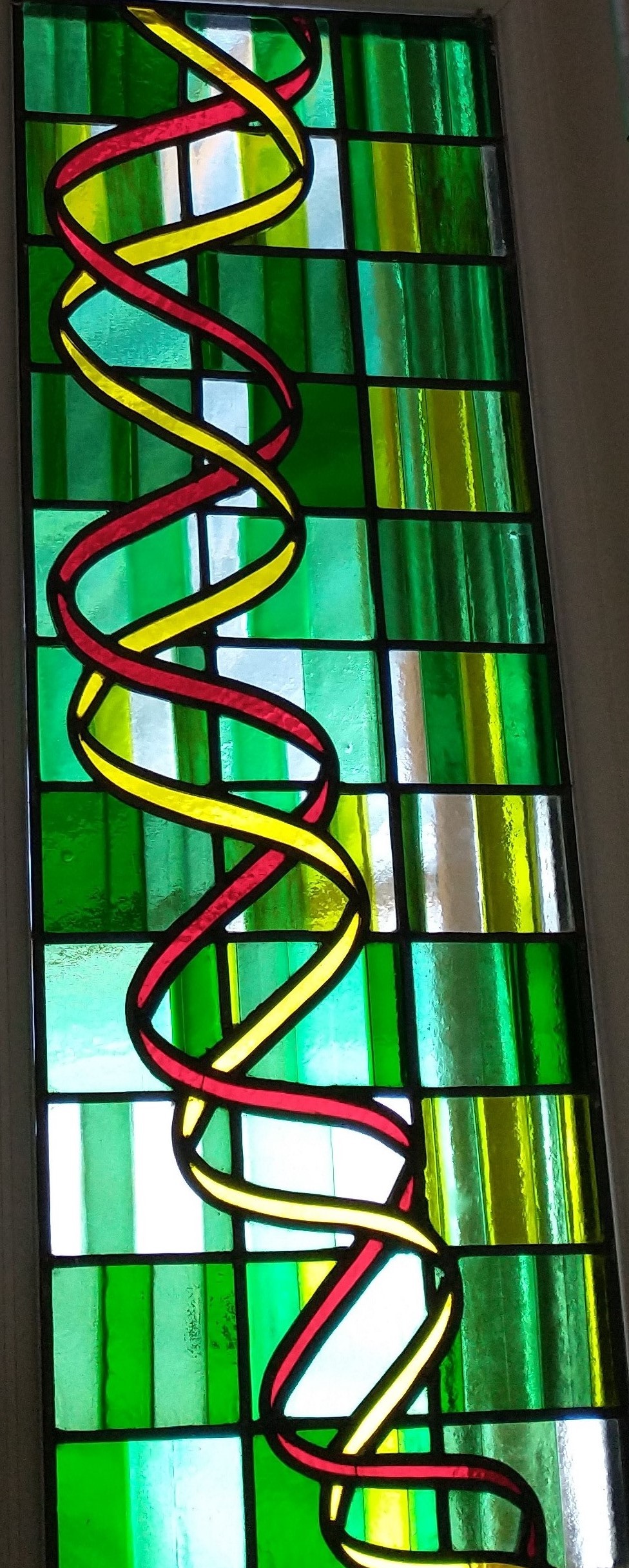 'Code of Life', a modern design in fused and cut cathedral glass.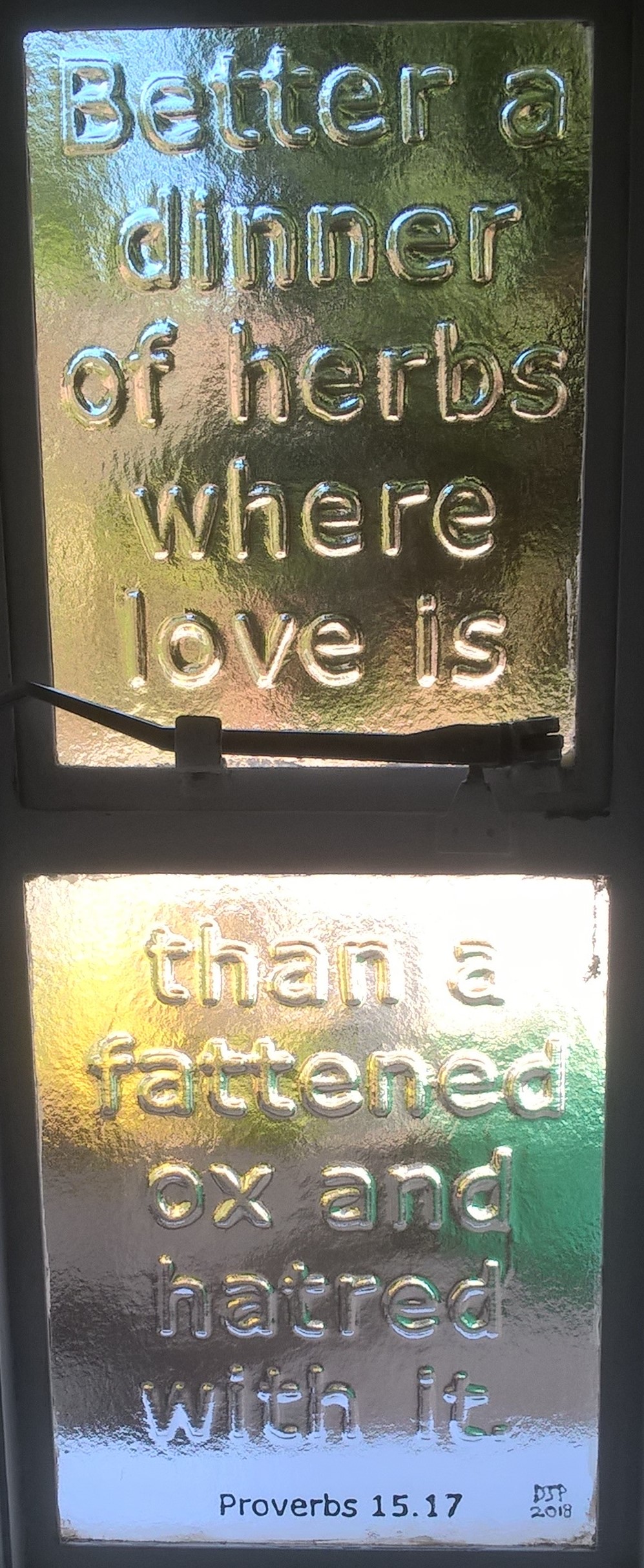 'A cautionary proverb' -- glass for a small domestic window. Medium: kiln-cast tekta glass. Note how clear glass becomes saturated with the colours beyond.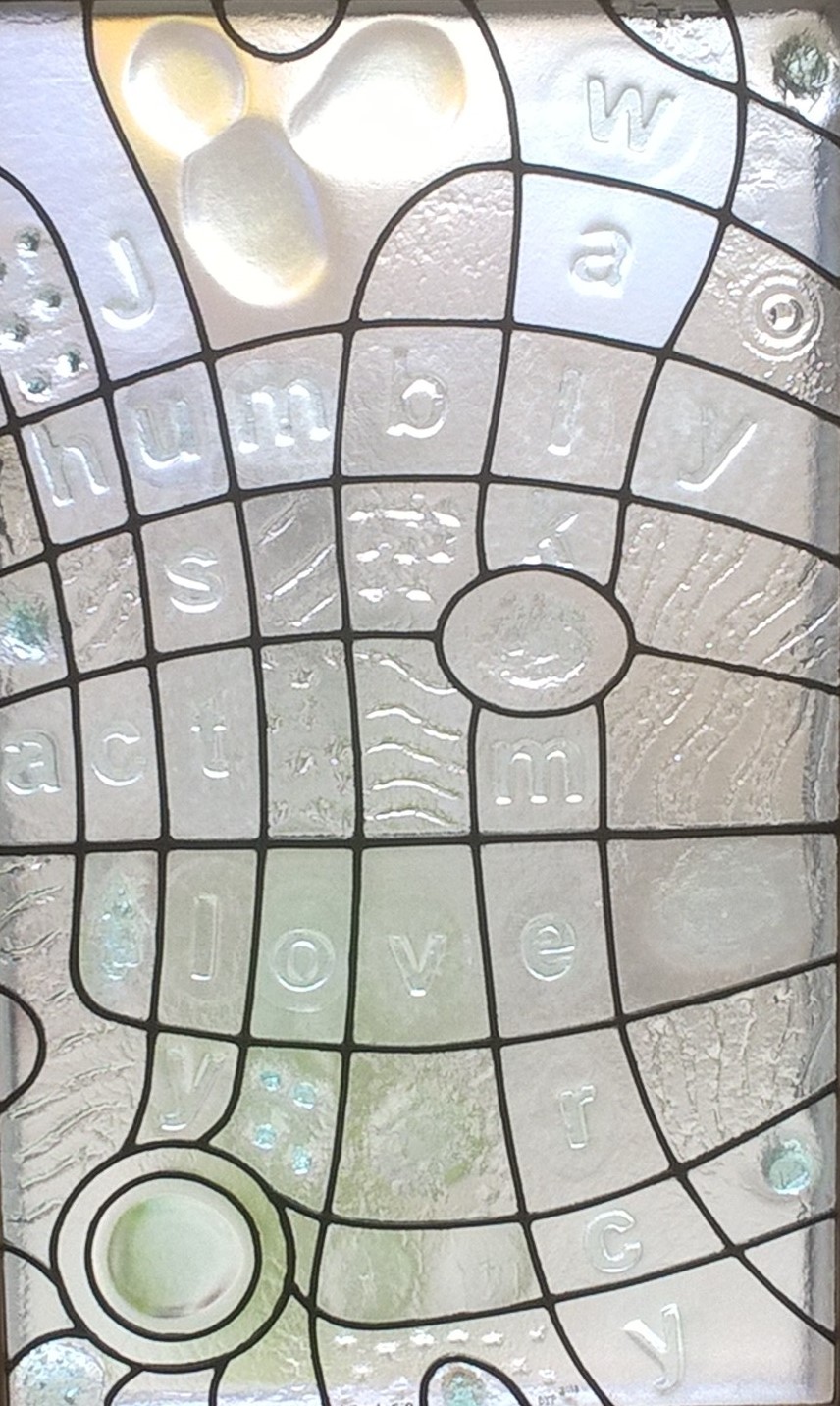 'Act justly, love mercy and walk humbly with your God' (Micah 6.8). Medium: kiln-cast float glass.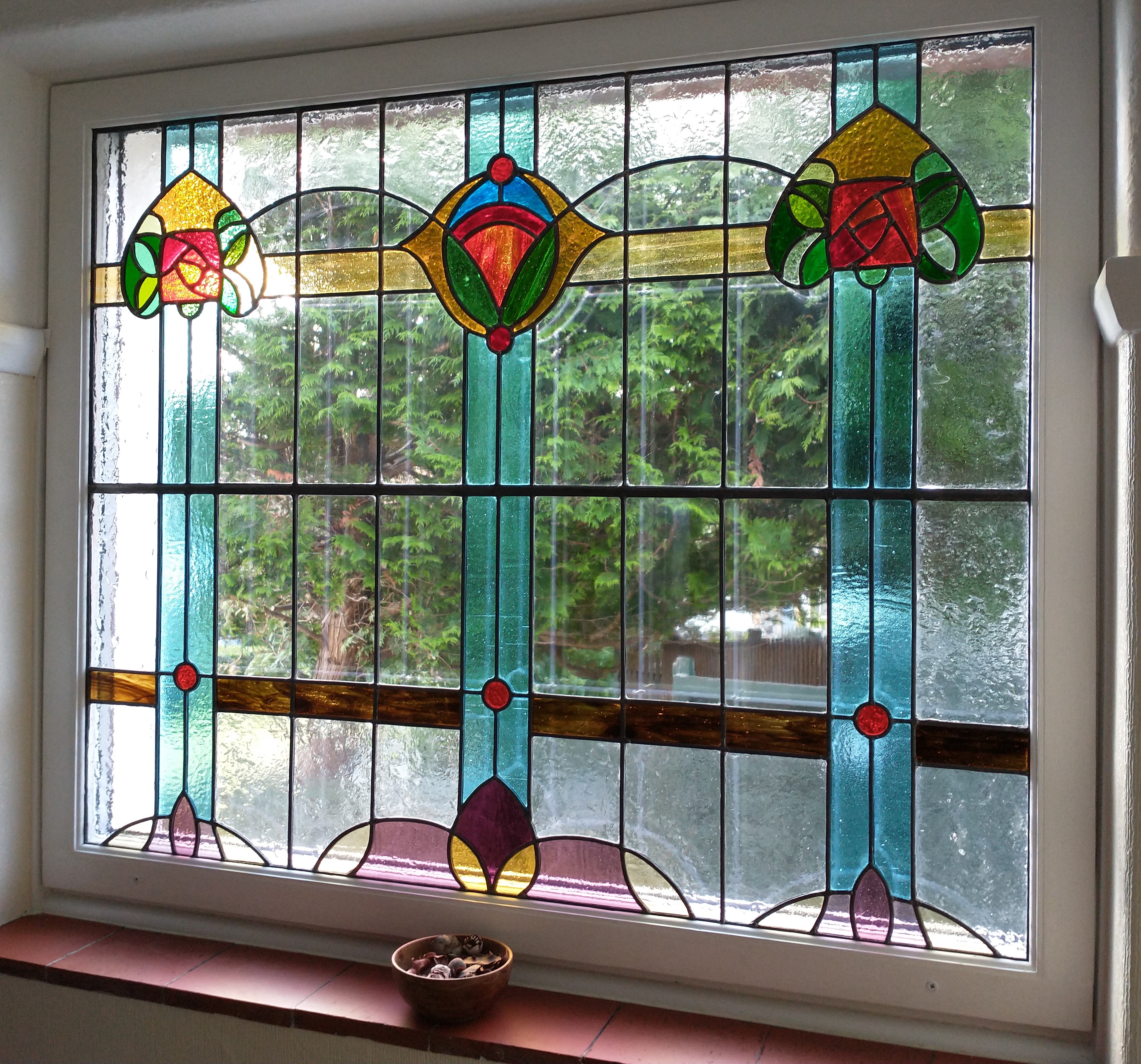 Another art nouveau design, this inserted behind a double glazing unit.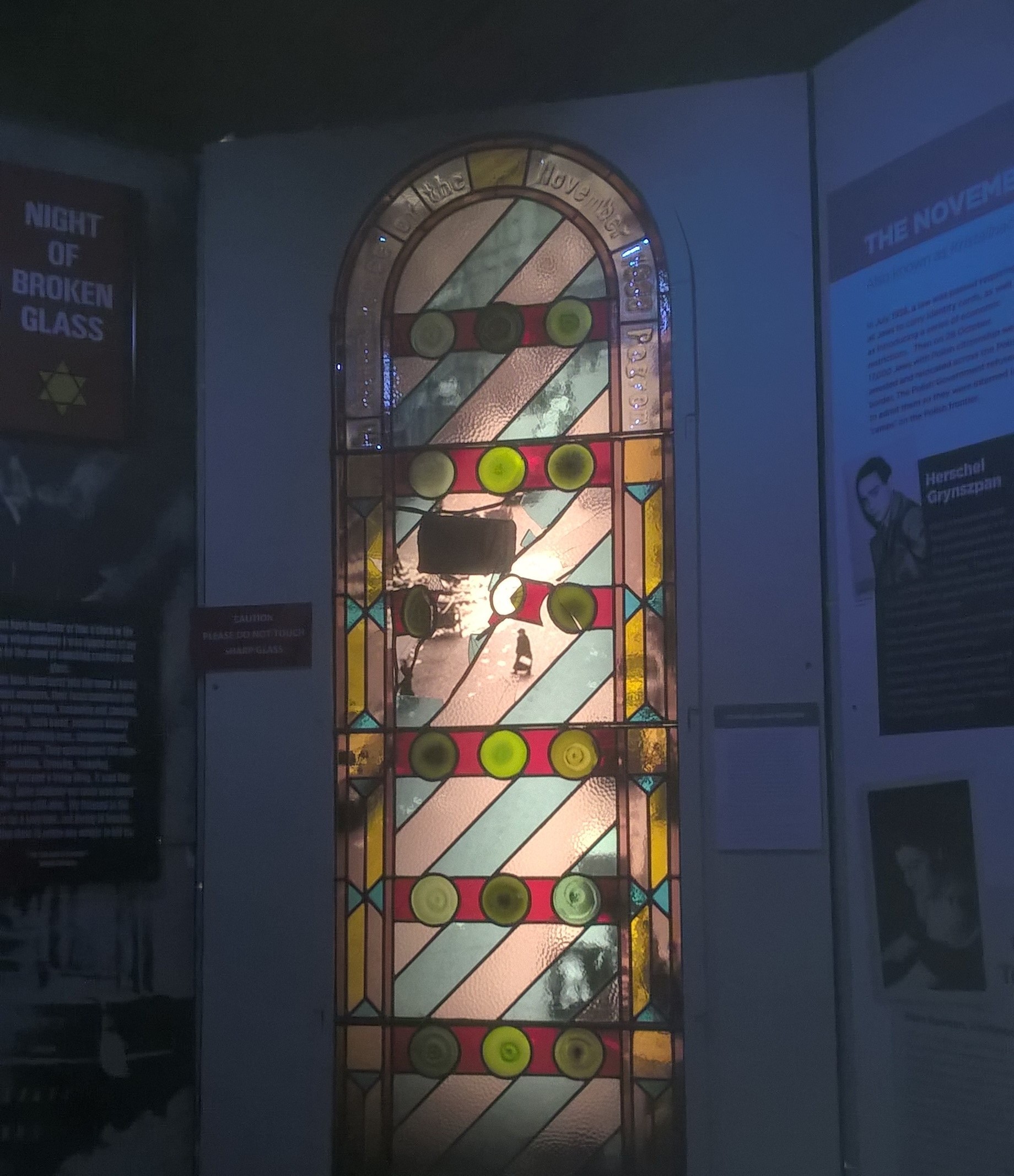 Kristallnacht commemorative window. Media: Leaded glass including kiln-cast inscription and individually moulded green rondels; hollow fibreglass 'brick' coated with acrylic paint.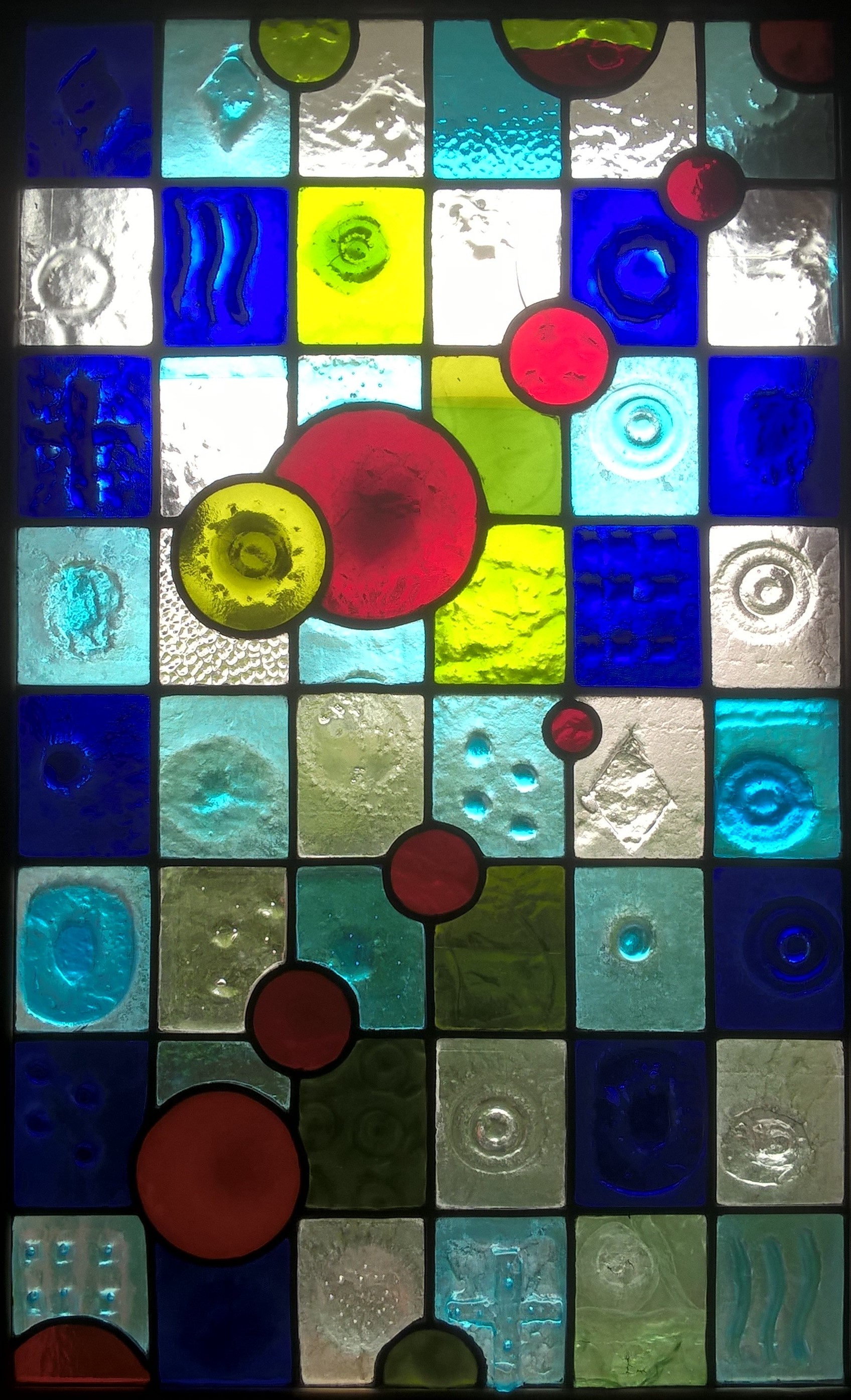 'The dichotomy of colour and form'. Media: kiln-cast bullseye and cathedral glass.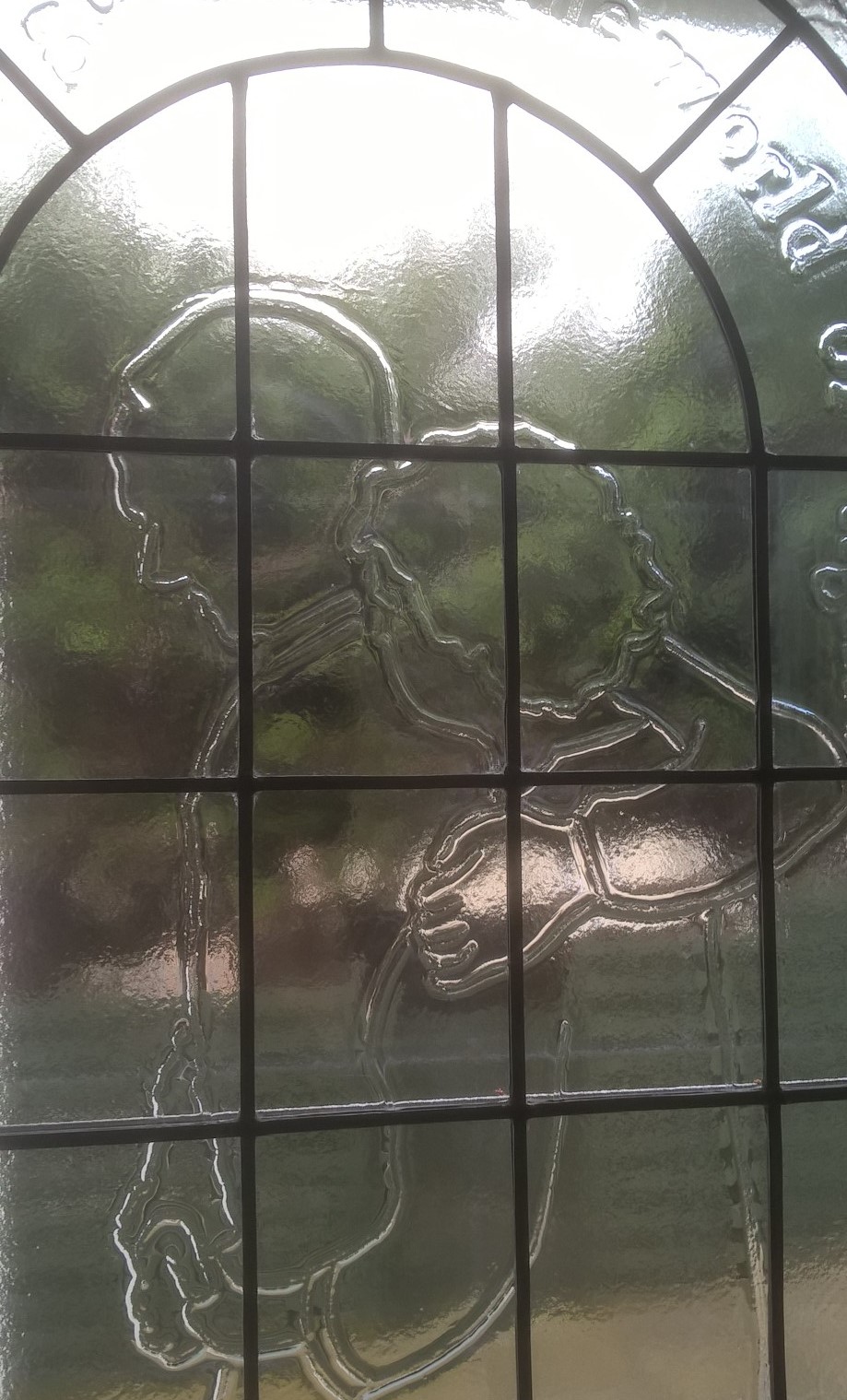 'The world of light', detail. Medium: kiln-cast float glass.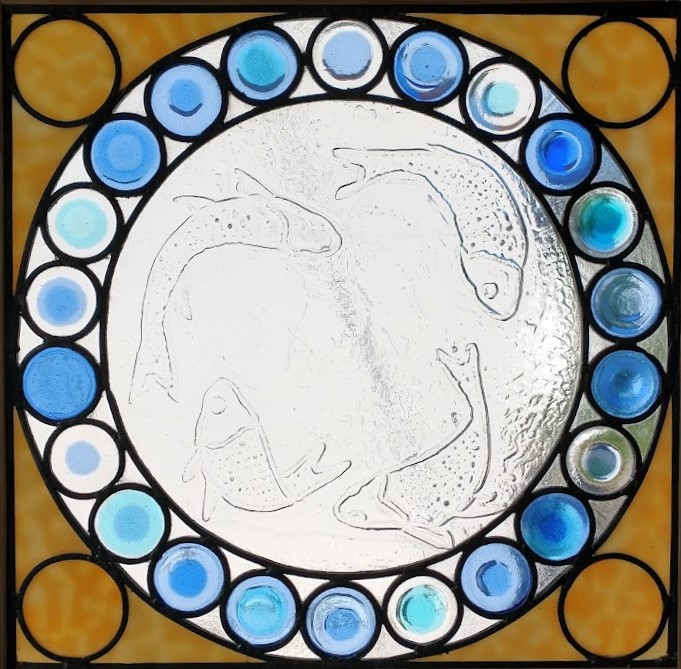 Wild salmon whirlpool