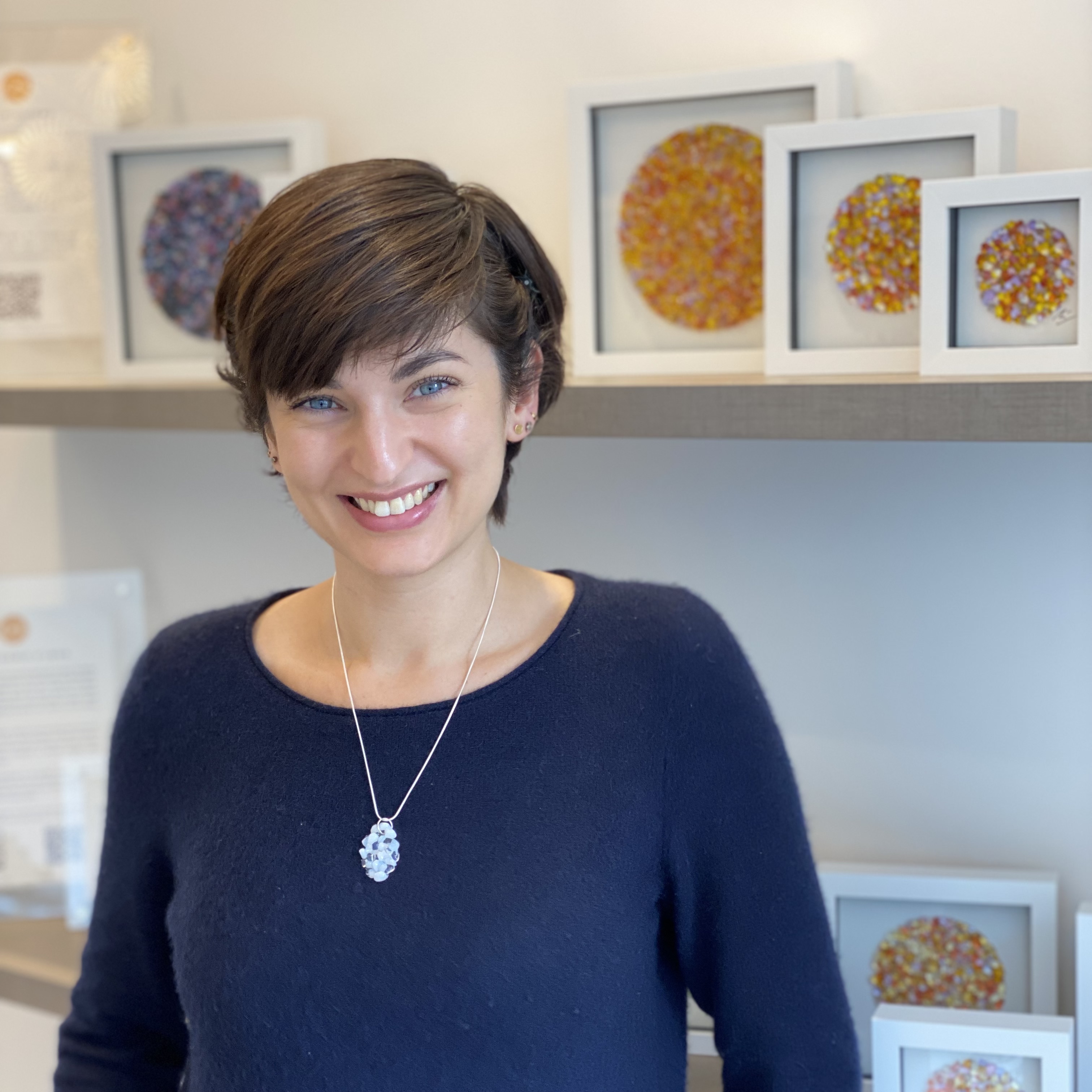 Technique:Casting, Cold work, Kiln work
Occupation:Artist, Student
Discipline:Design, Fine art, Sculptural
Areas of Interest:Competitions, Exhibition, Workshops
Product:Commission, Design/ Functional/ interiors, Fine Art, Installations, Sculptural, Sculpture, Wall pieces
www.kpkinanglass.com
https://www.instagram.com/kpkinanglass/?hl=en
Kira Phoenix Kinan
I am a London based artist and designer. My work brings together fine art and craft through works on paper, inimitable glass sculptures, ephemeral installations and multi-exposure photography, which are sustainably and ethically produced in my studio in London. Today my collections are known for their rich colour palette, dynamic lines that intertwist into one another and works that are in constant visual flux. My love of art and creating began at an early age. I grew up in a vibrant community of artists on Lamma Island and would spend my weekends exploring the island where I developed a close connection to nature. Living on Lamma Island also allowed me to fully explore my own imagination, which came across in the stories I would tell and creative works I would create. This love of story telling has developed through into the artwork I make now, with each artwork series/project acting like a stories narrative with a beginning, middle and end. In 2012 I took a once in a life time trip where I travelled on my own to Hong Kong, Bali, Singapore and Thailand. During this time I created a series of watercolour works on paper that explored colour washes and the strength of the line. Upon returning to the UK I applied to the Ceramics and Glass course at The Royal College of Art. During the masters course I developed a technique of translating my two-dimensional works on paper into three-dimensional glass sculptures known as the Relief Glass Drawing technique. This labour intensive, hands on process allowed me to experiment with surface textures by carving into plaster batts and combining different glass colours for a vivid outcome that responds to the natural light by creating shadows that dance on the walls or shift their tone depending on the type of light they sit in.  This exploration of drawing has also been an outlet for me to be able to express myself over the years, when at times my dyslexia made it hard to communicate in the way I wanted to. Since 2020 I have been devaluing into colour, how we see colour and how colour in glass can create emotion in the viewer in a similar way that music evokes emotion. My collections have grown organically through my studies and two residencies, one at Konstfack, Stockholm, Sweden and the other at Edinburgh College of Art, Scotland. I design from my shared studio in Wimbledon, London. I sell globally to a dedicated clientele spanning the UK, Scandinavia and USA. Each artwork now sits in loving homes or in commercial settings.  I continue to exhibit globally with particular highlights being Bullseye glass competition Emerge Bullseye 2018, shortlisted for the Ashurst Emerging Artists Prize in 2019 and a finalist for The Visual Arts Open 2020. 
Superposition series
Superposition: the action of placing one thing on or above another, especially so that they coincide.
I have been working on a new series of free standing glass sculptures exploring the transparent nature of fused glass when each individual layer is placed upon another. These translucent, almost unreal sculptures look like they should be as light as a feather or as sweet as sugar. The interaction with light in both the inner and outer surface is delicately beautiful, at times reflecting the colours around the piece to channeling the light through the centre.
The Glass Ishihara series
With the Glass Ishihara series, I wanted to explore the experience of seeing pure colour using glass and incorporate Colour Theory into each work. As I have been developing the glass colour mixes and observing how they interact in the kiln firing process, I have taken inspiration from the colours of the changing seasons and tonal changes seen in the sky throughout the day.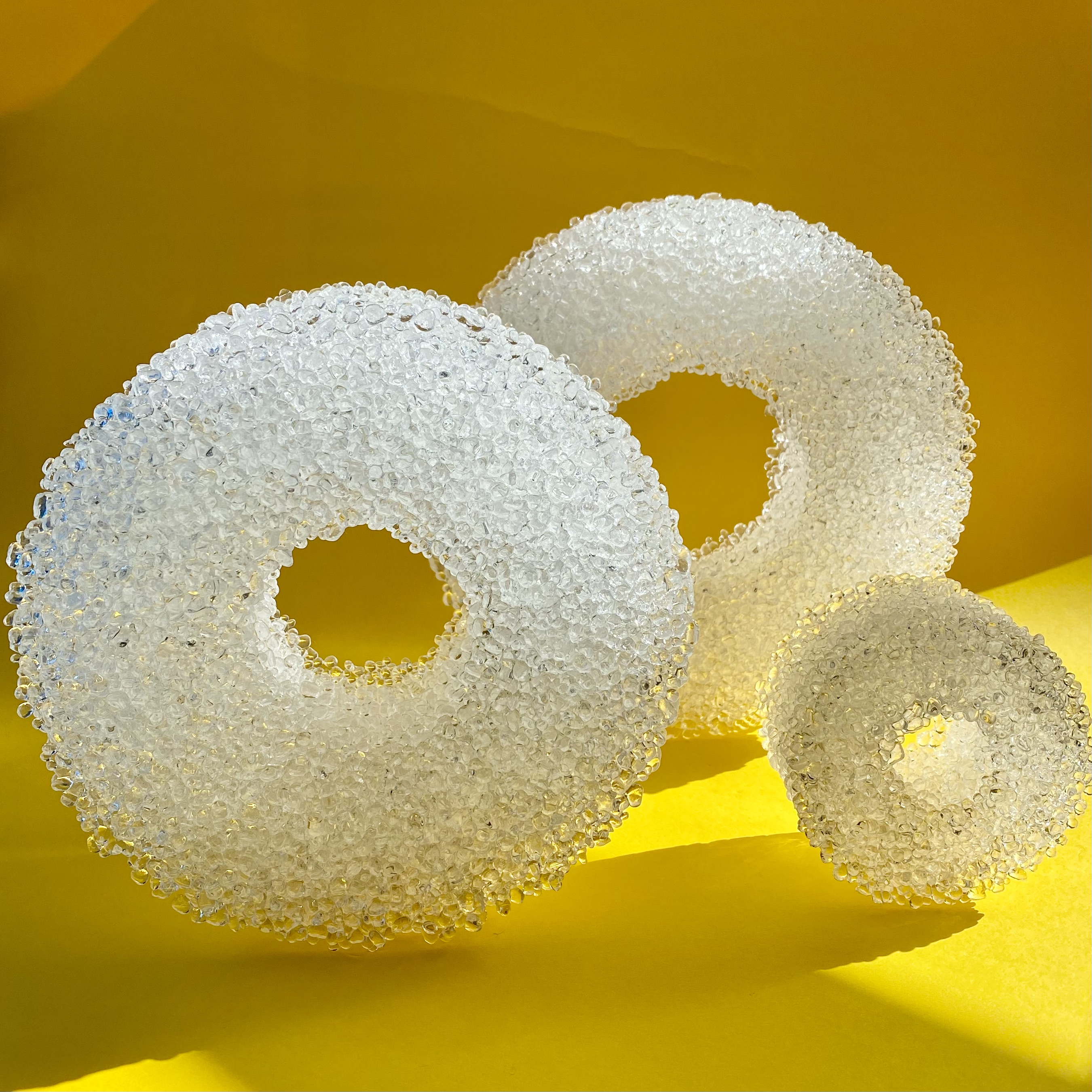 Superposition series , Kira P Kinan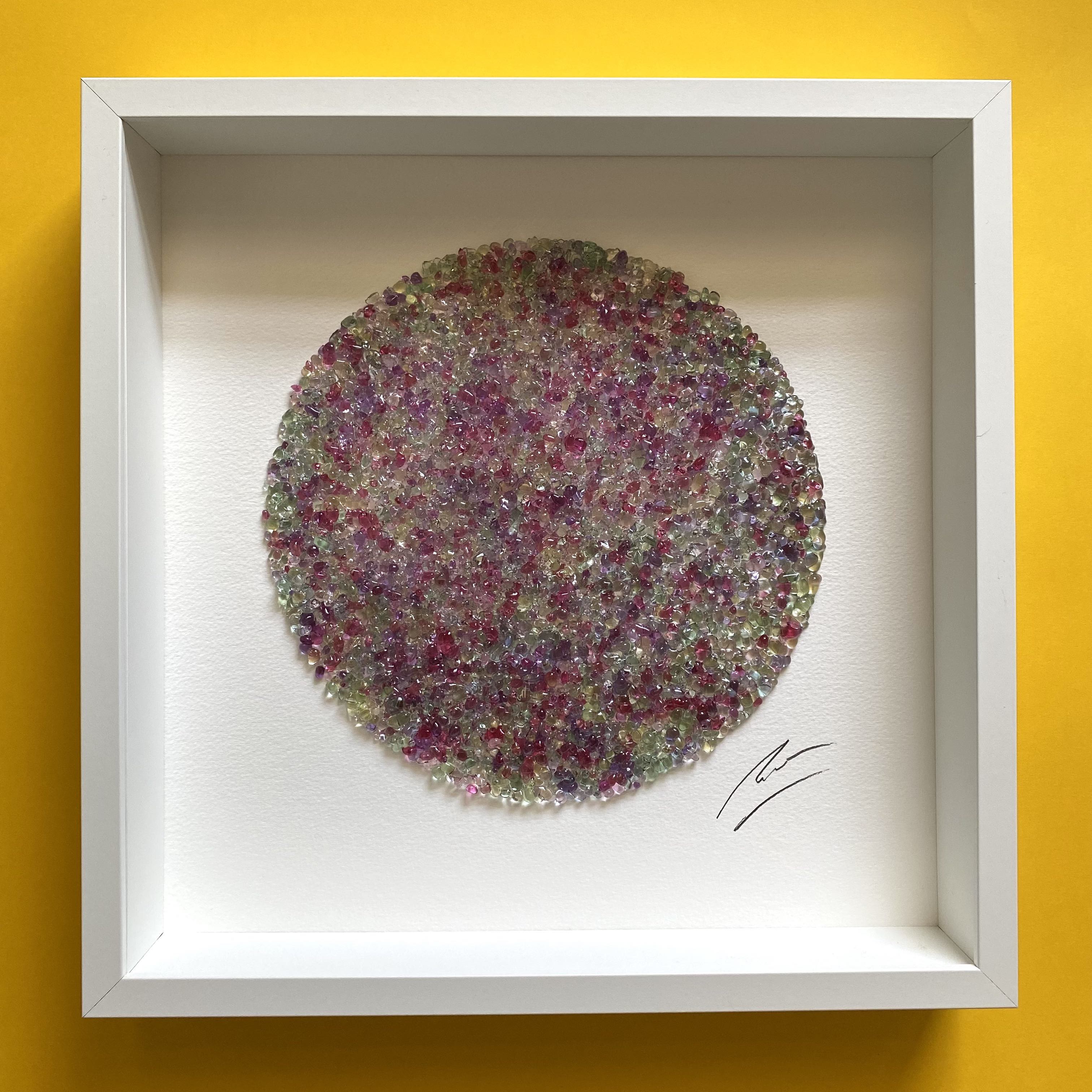 Glass Ishihara 'Lilies' , Kira P Kinan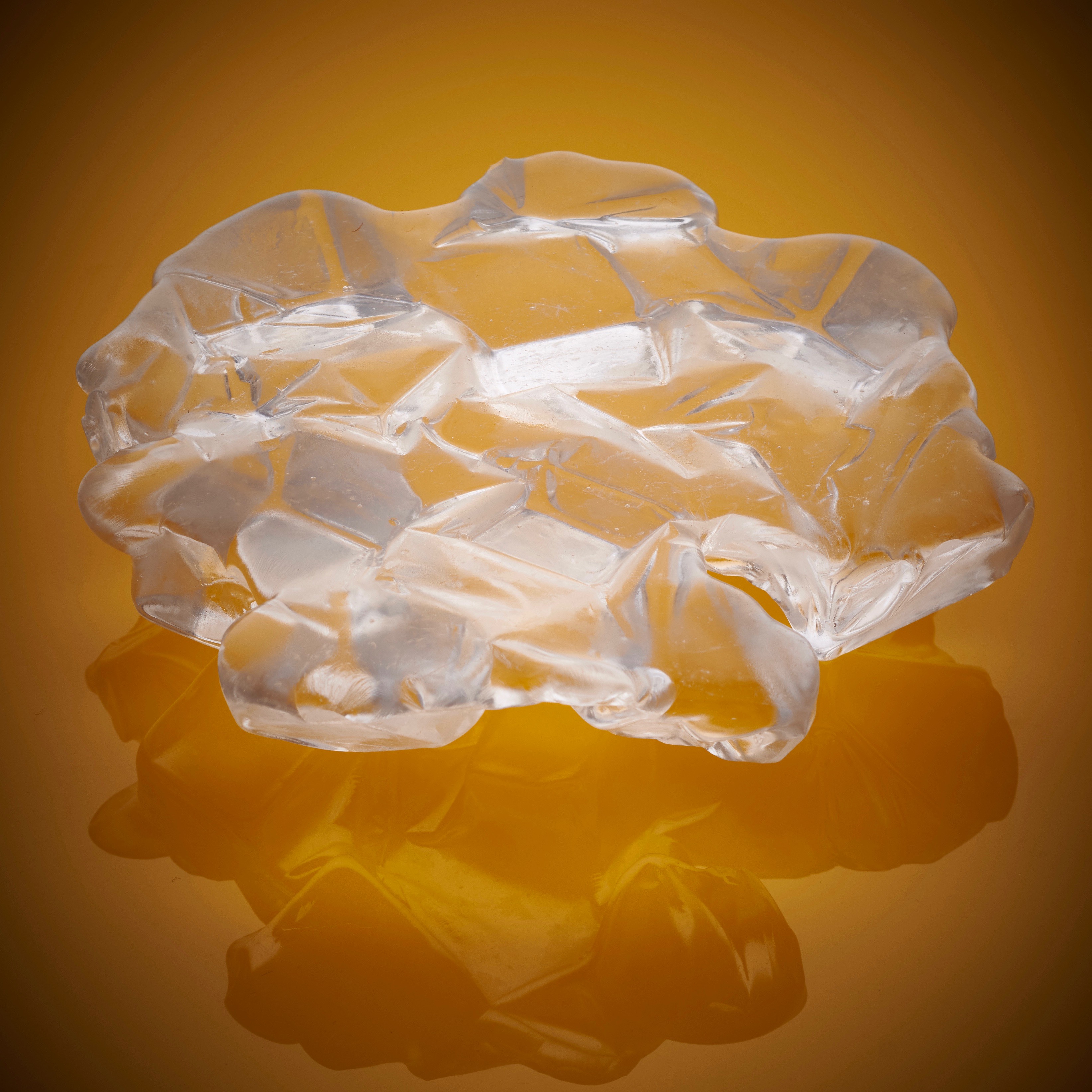 Optic Cloud , Sylvain Deleu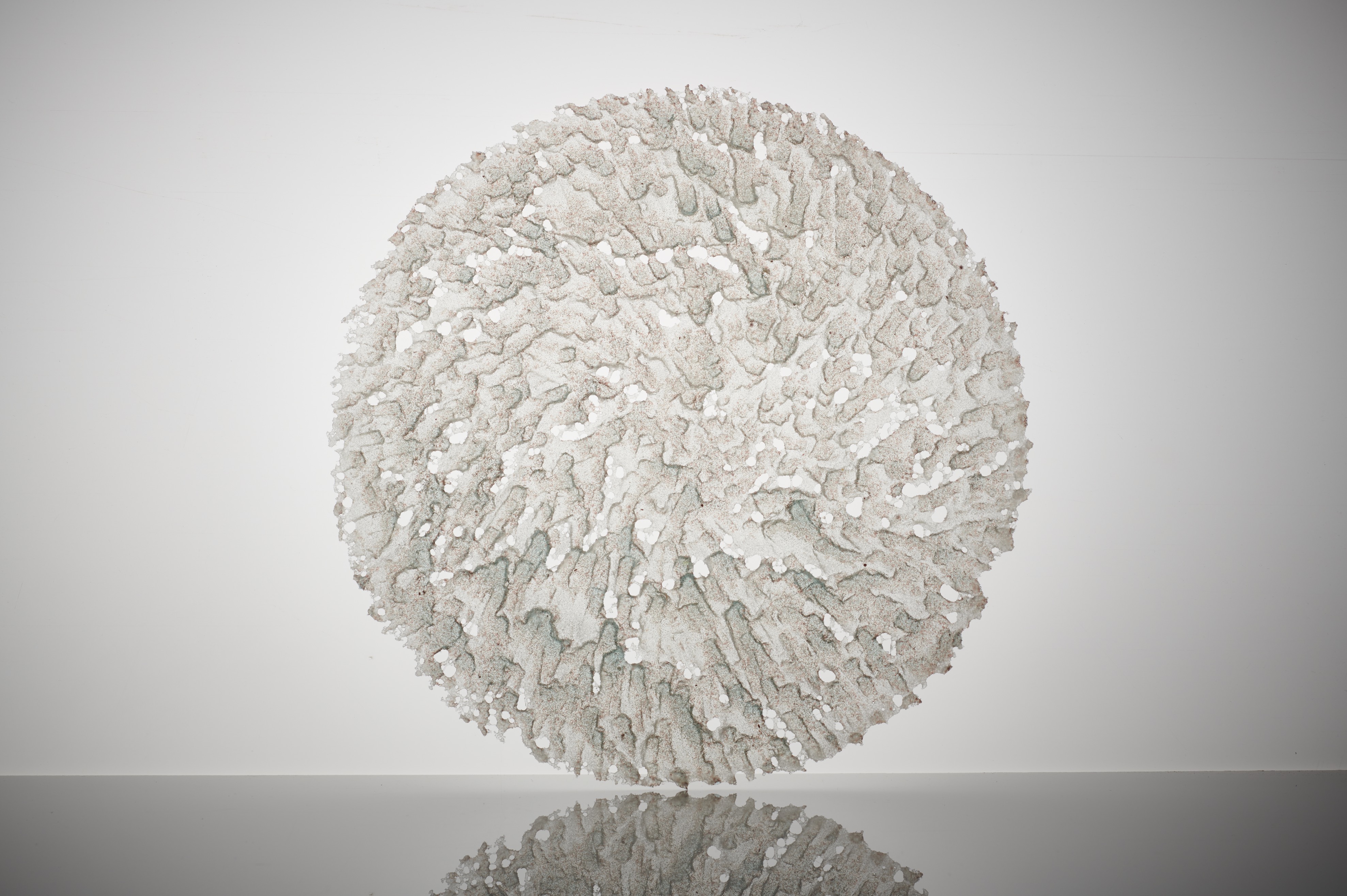 Sierra in Pale Blue , Sylvain Deleu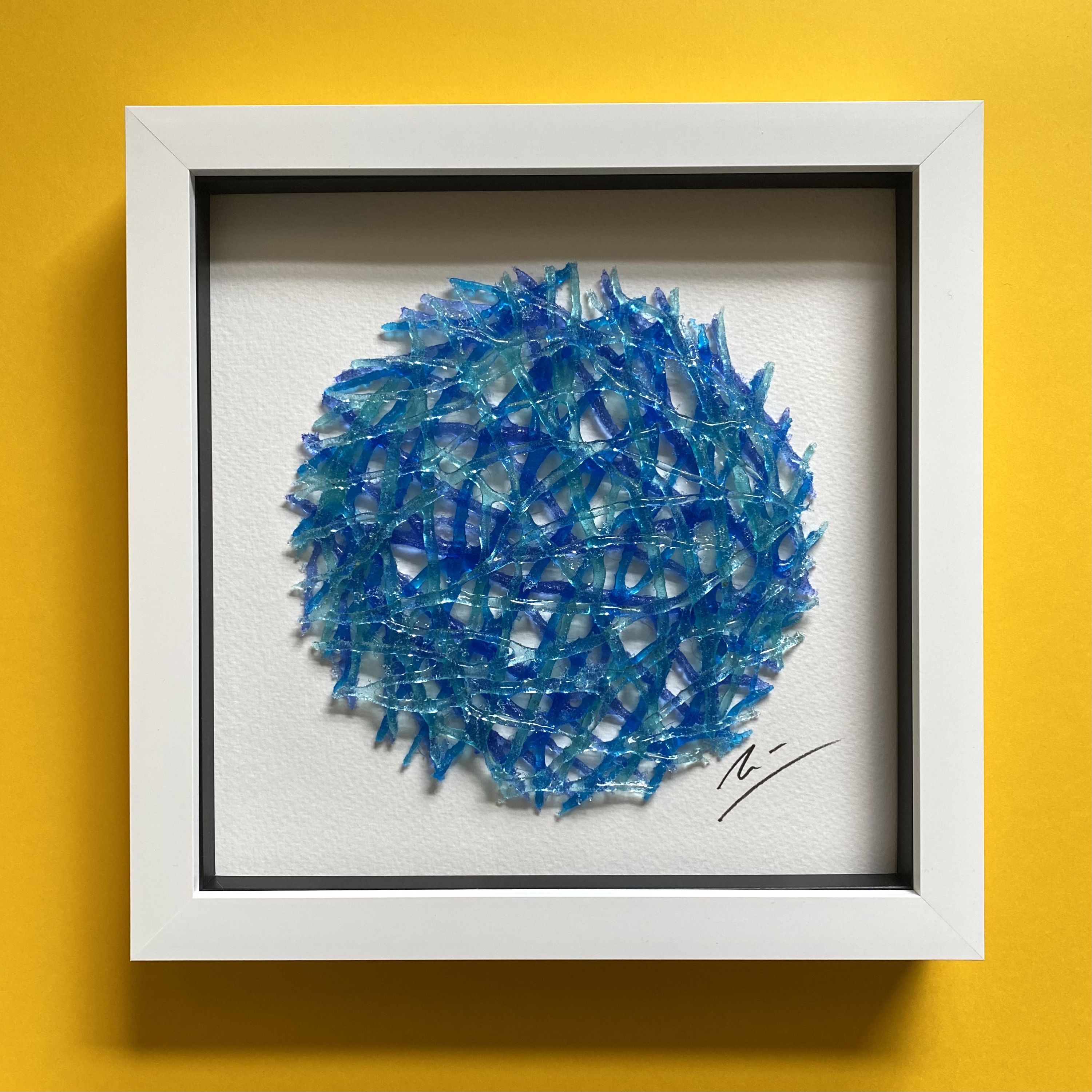 Constructure in Bright Blue , Kira P Kinan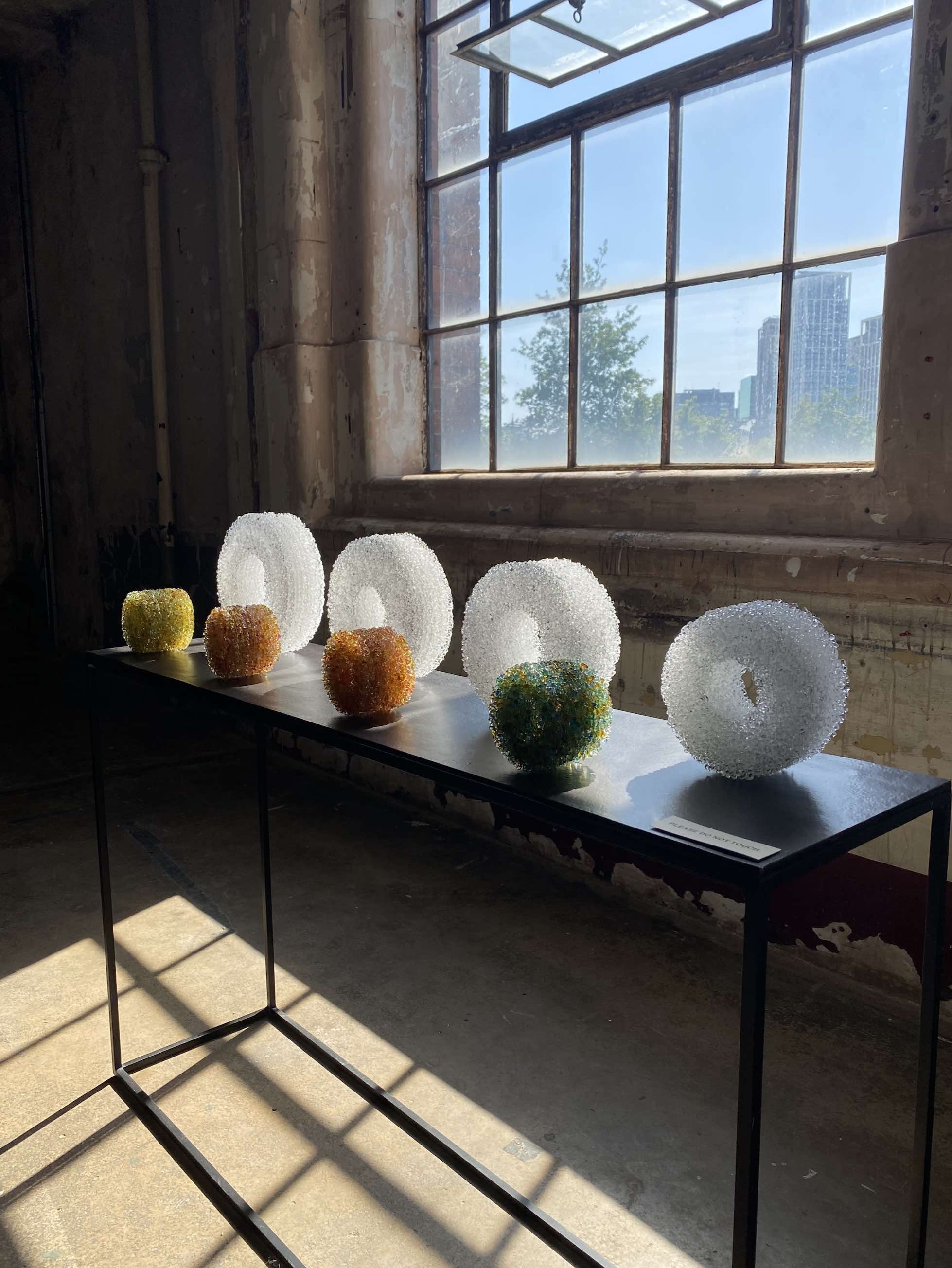 Superposition series at London Craft Week , Kira P Kinan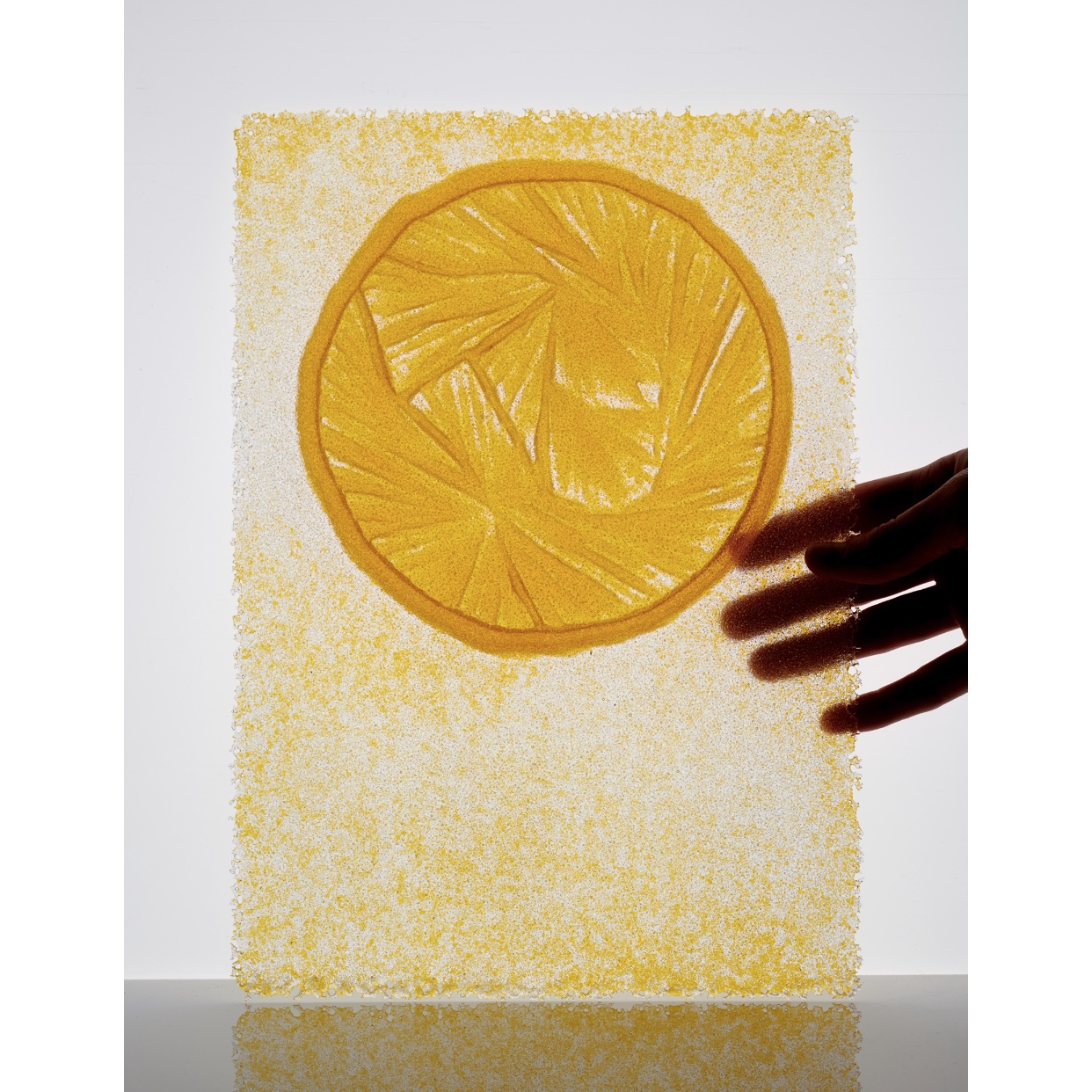 Marigold Frame, Circle , Kira P Kinan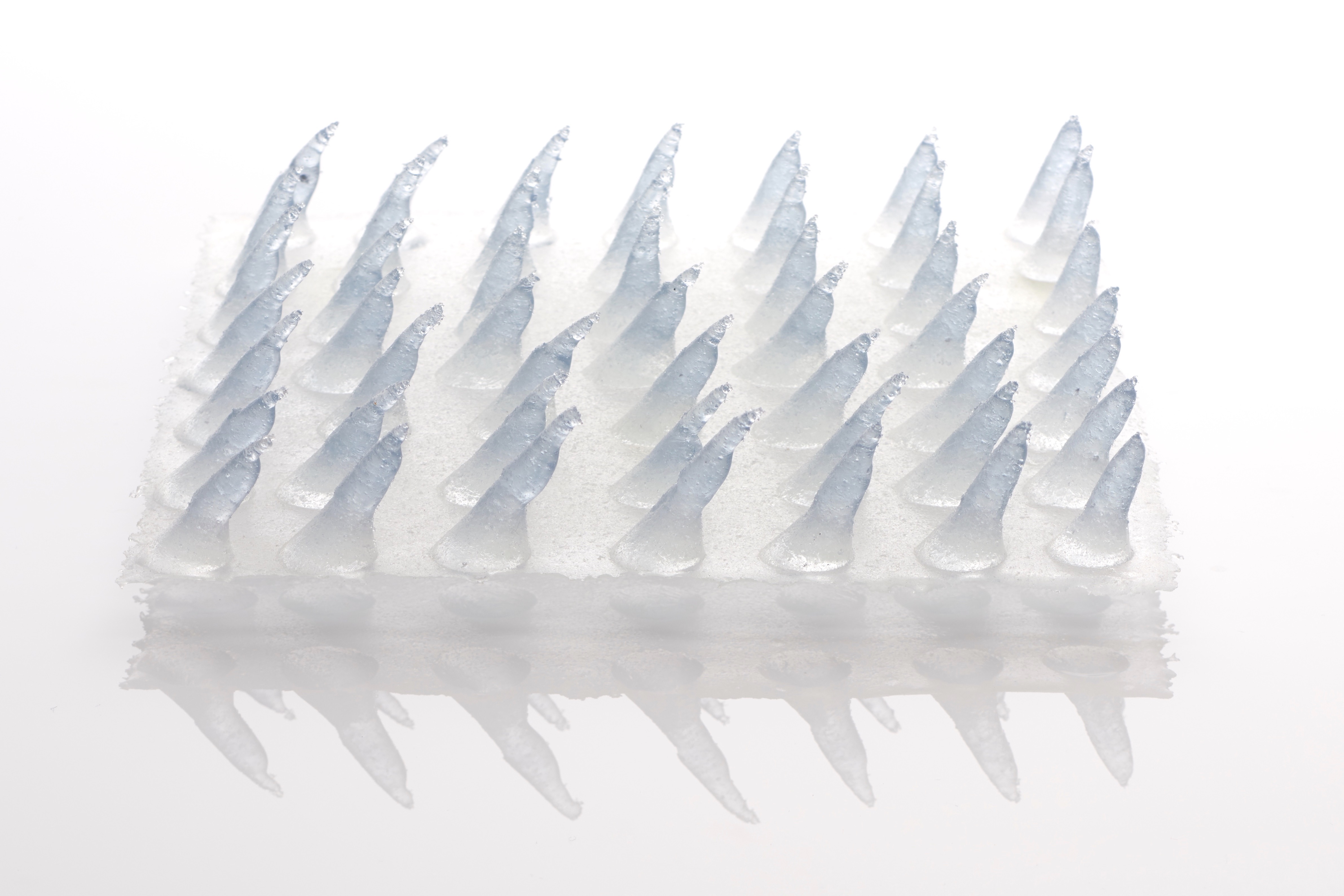 Pale Blue Spikes , Sylvain Deleu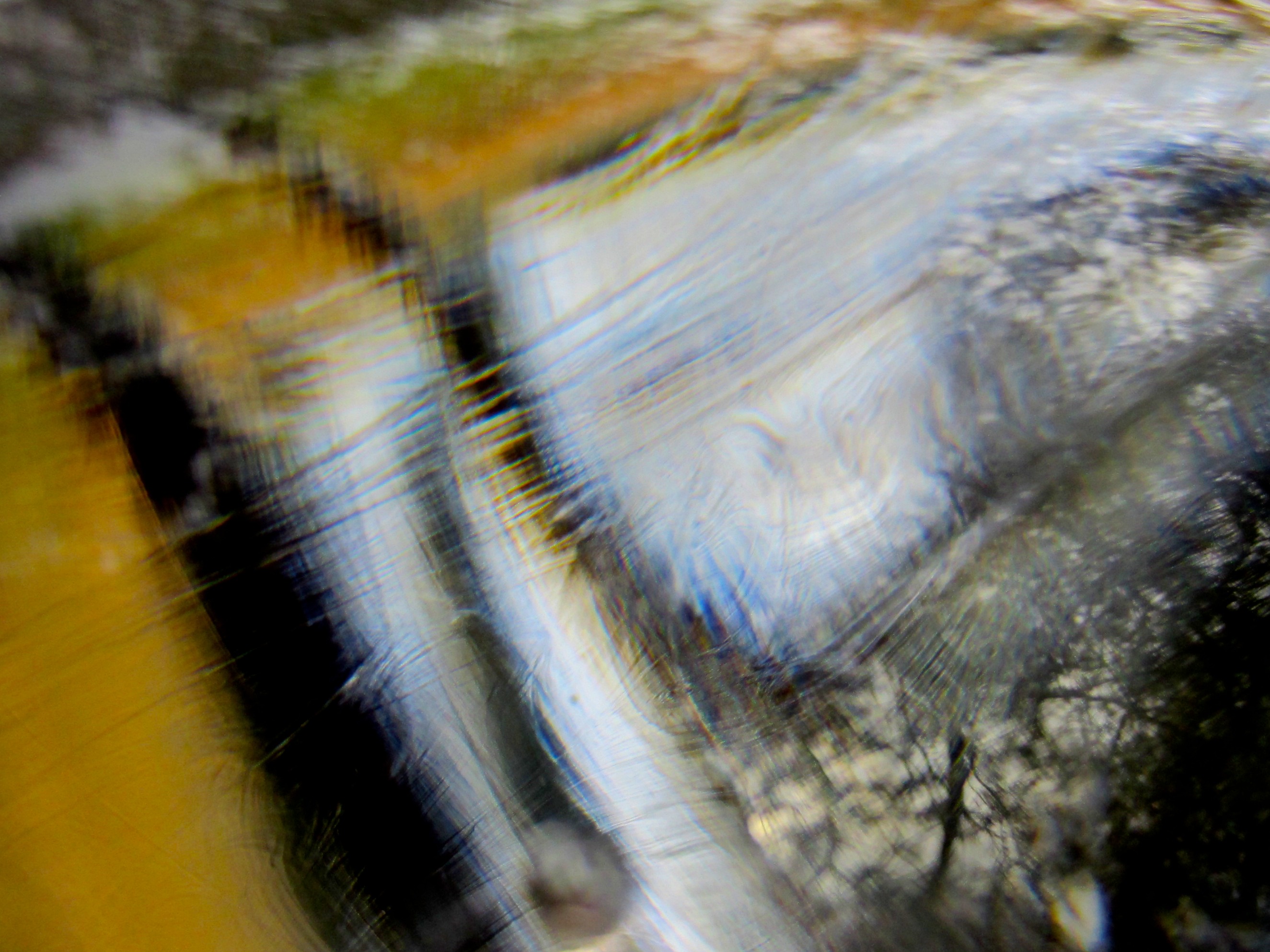 Glass Eye , Kira P Kinan