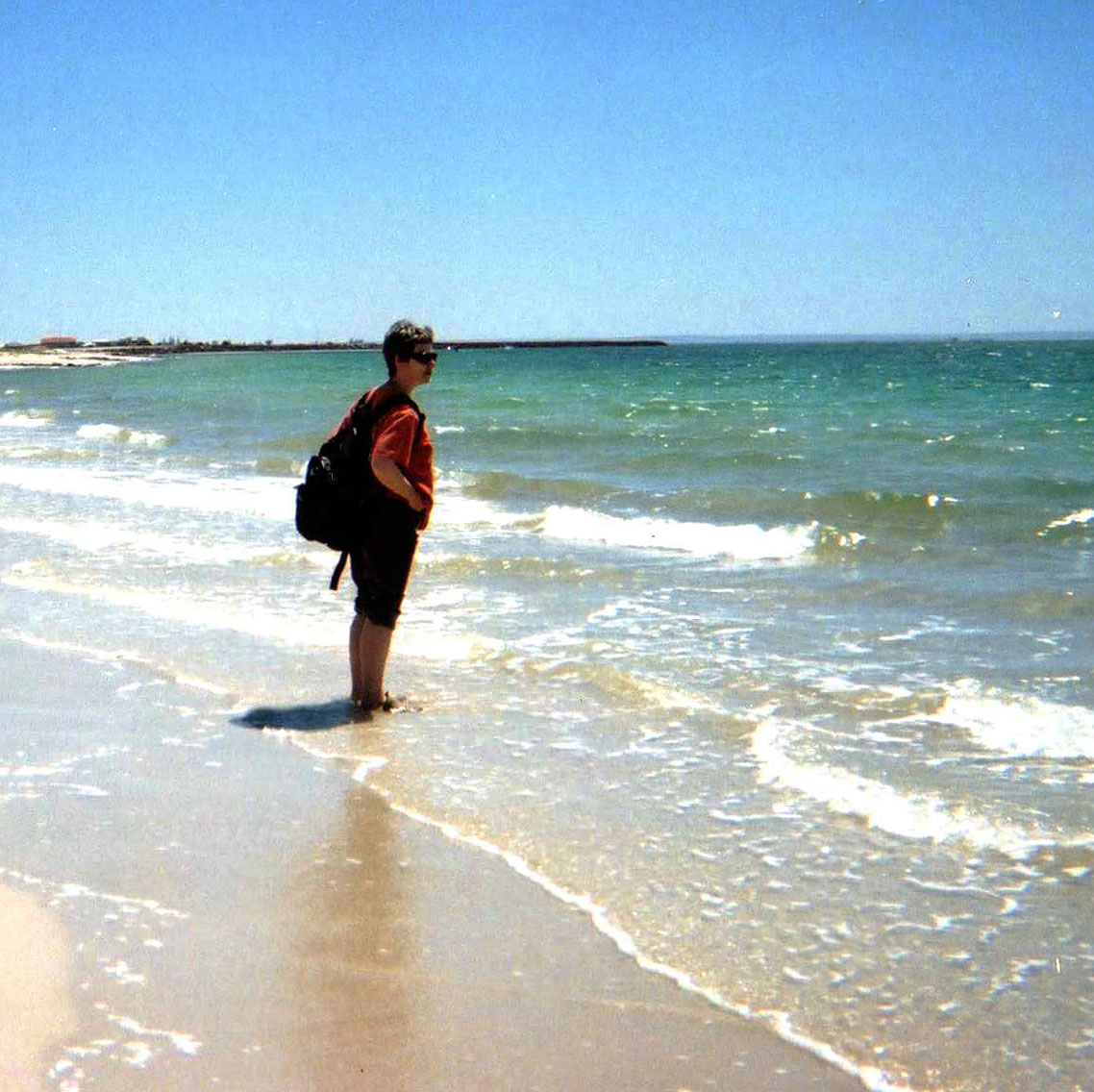 Deborah Harding
I am now living in East Anglia, and have a studio, at 'Butley Mills', which, as their website says is 'located in the depths of rural Suffolk, at the head of Butley Creek an area of outstanding natural beauty'. I have been away from glass for 2 or 3 years, travelling the 'globe', particularly Western Australia where I have family and friends. I first learned stained glass making at Hereford College of Arts, where I later also completed a Fine Arts Foundation Degree. Inbetween, I spent a year at the International Glass Centre in Brierley Hill, West Midlands discovering glass-making in all its forms. My visual art-making is a 'life journey' and speaks of fundamental human experiences, emotions and ideas. The process of my artwork helps me discover 'who I am', how the 'world' and I inter-relate, what is happening in me and around me; an ever growing, more deeply conscious understanding. My main joy is working with artisanal glass and 'light'. I also work with photography and microphotography, paper, book arts and the written word, and built sculpture in natural or recycled materials.
Currently I am exploring waste blown glass muff and rusty wire. I don't yet know how this will play out …
I am also in early stages of thinking about some stained glass panels on ideas of 'light and line, ethereal and boundary, 'heaven and earth' '. Currently beginning with oil pastel and watercolour on paper.
My most significant work has been 'Ocean Cathedral'. This was exhibited at Sculpture by the Sea (SxS) Bondi Sydney 2013 and SxS Cottelsoe Perth 2014. They were two separately made physical structures. The photo was taken at Cottesloe.
The statement originally submitted to SxS read:
'Ocean Cathedral' is a sculpture integral to the landscape/ seascape. Although suggestive of the stability of stone window tracery, it is transitory and ephemeral; the structure sways and bends with the wind; it is created on-site and then similarly disassembled. The view through, as if the magnificence of stained glass in a high vaulted Cathedral, is of the real, sparkling, deeply coloured powerful ocean, and vault of the sky. The view through, is infinite and too great for our senses to truly comprehend. Newly cut green bamboo, lashed with plant-tie cord, 4.9m x 2.7m x 0.1m. Ephemeral.
The accompanying indoor exhibition of smaller sculptures included my 'Elemental Light II'.
I have included some of my sand microphotography work in the images; for me there is the ever present reference to light, and ideas of the infinite in my work. And of course sand has a very close material link with glass!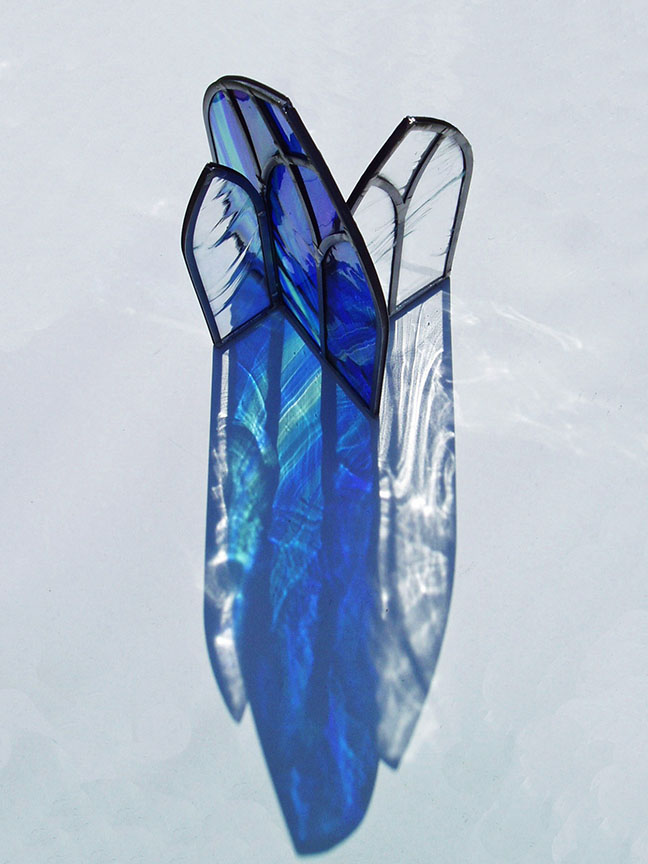 'Elemental Light II' from above , Deborah Harding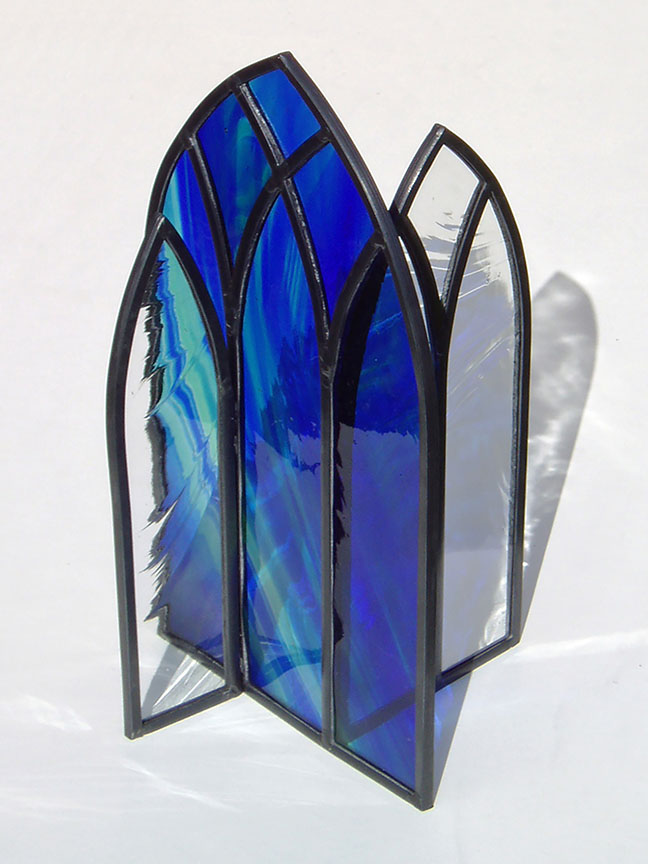 'Elemental Light II' , Deborah Harding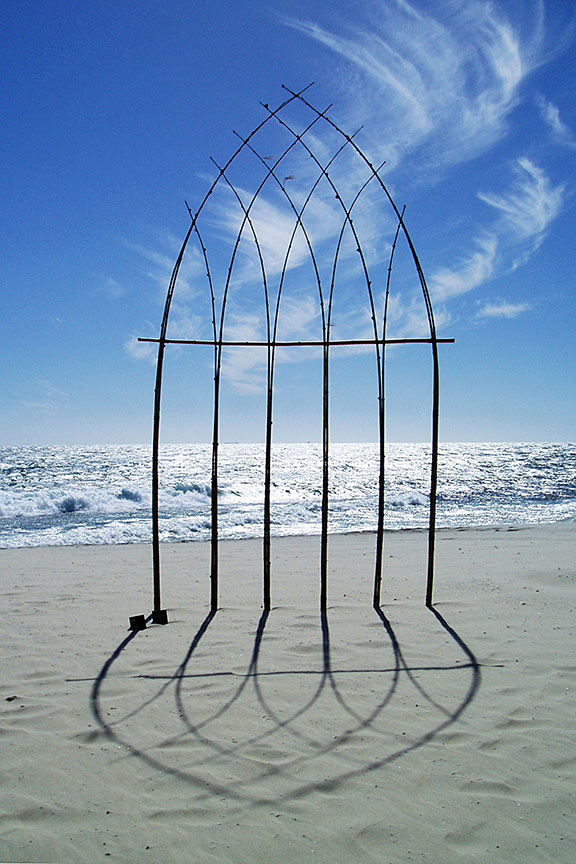 'Ocean Cathedral' bamboo sculpture , Deborah Harding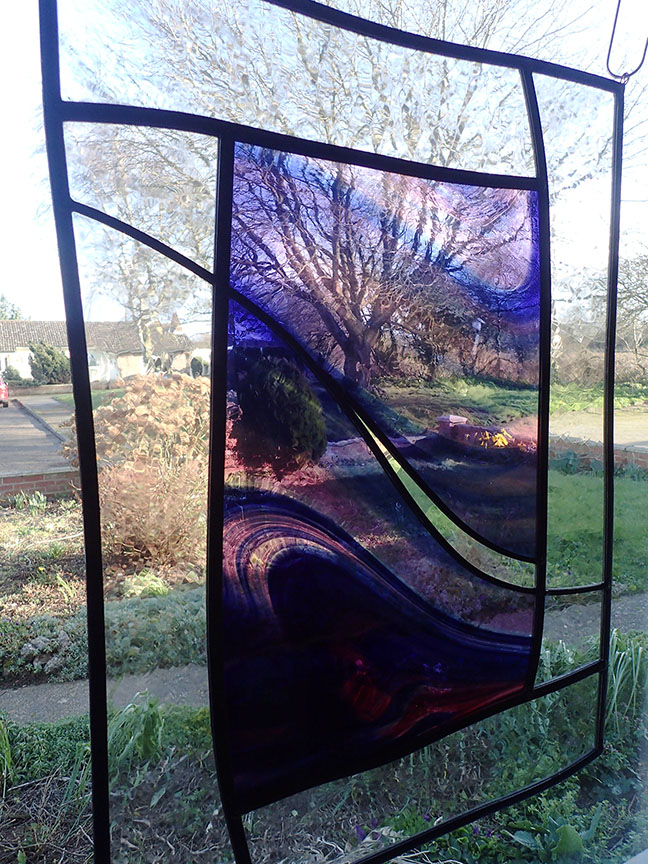 'Vessel of Perfect Imperfection II' , Deborah Harding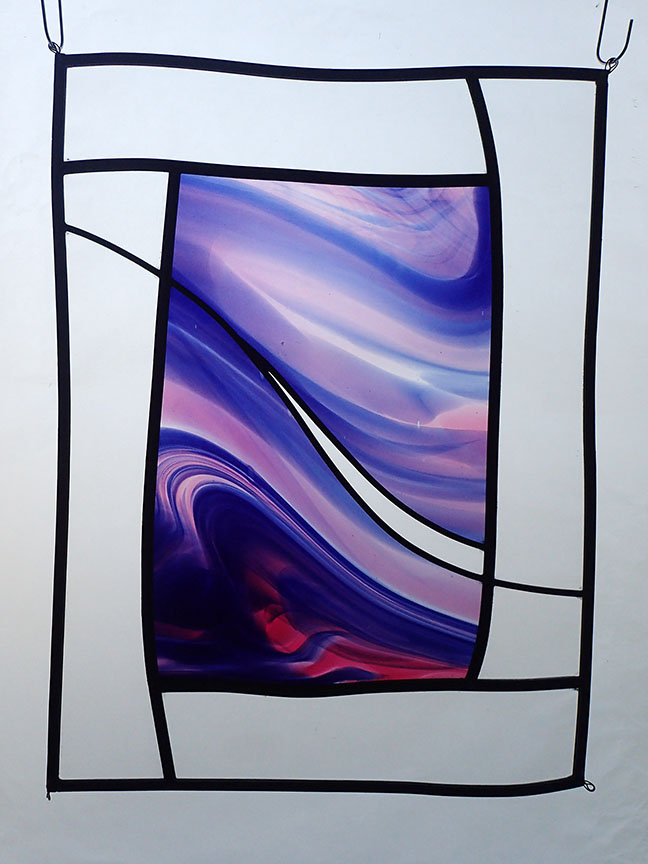 'Vessel of Perfect Imperfection II' white background , Deborah Harding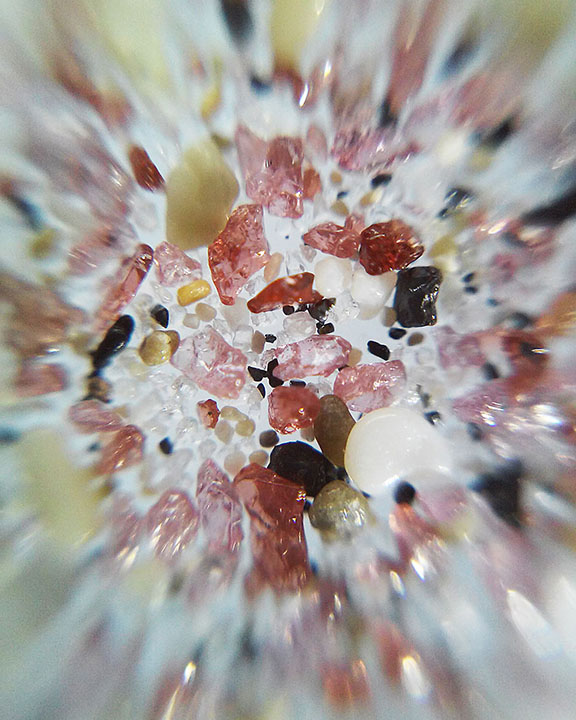 'Pink Sand' microphotograph of beach sand collected Western Australia , Deborah Harding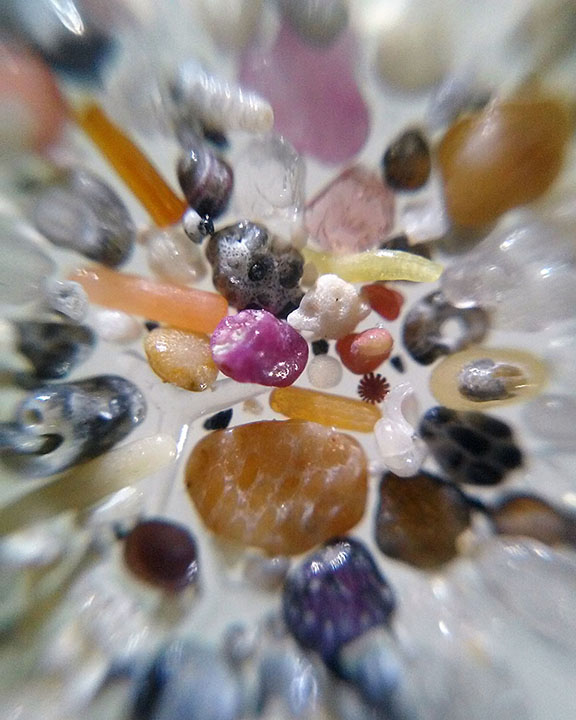 'Sand and Bryozoa' microphotograph of beach sand Western Australia , Deborah Harding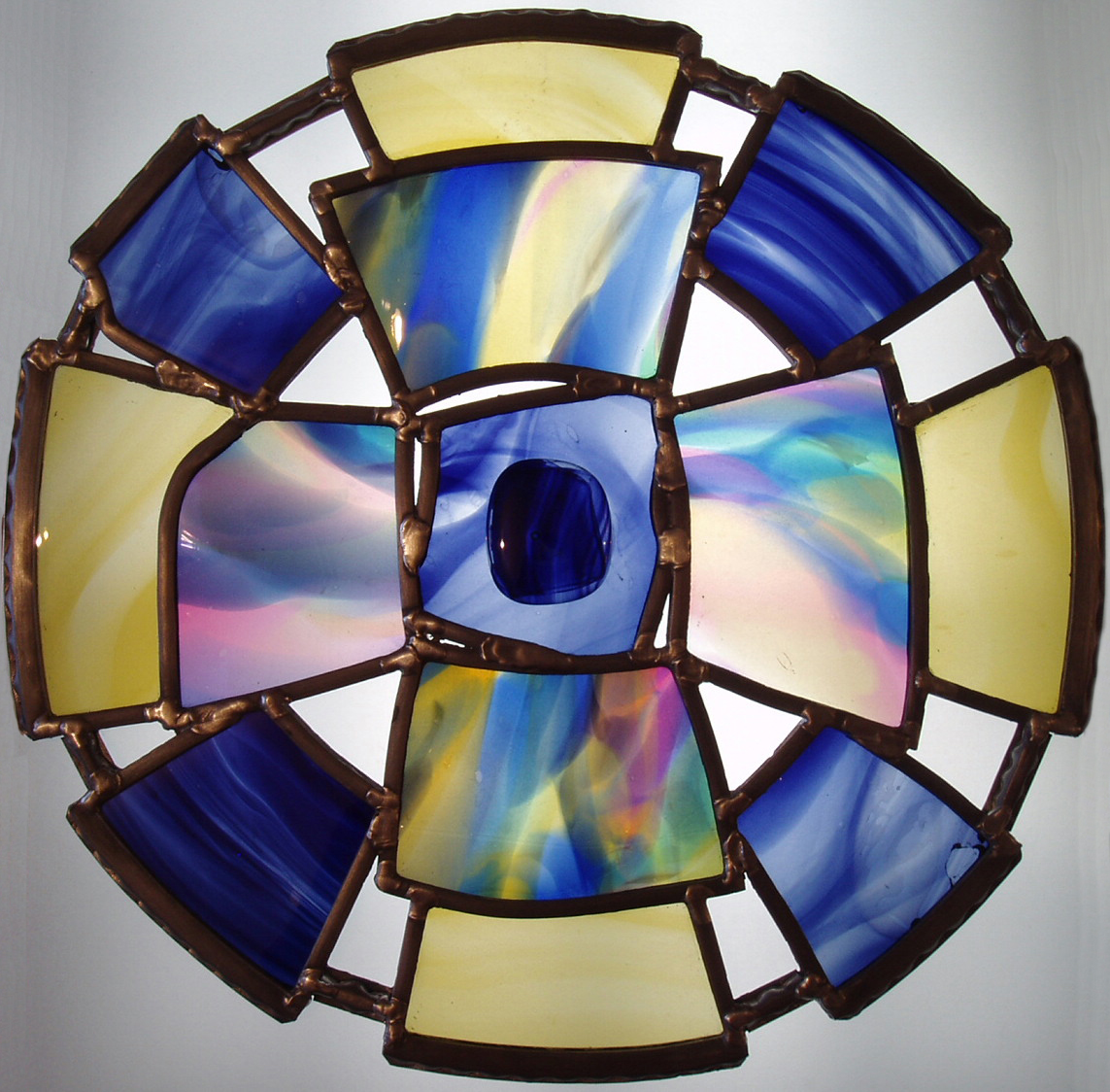 Cross , Deborah Harding